The concept of buying nothing, sharing abundance, and enriching lives has been around for decades. But the movement didn't take off until users harnessed the power of social media to connect communities.
In Hawaii, one of the most popular Facebook groups is Buy Nothing Oahu 2.0. Each day, members are gifting, receiving, and enjoying being a part of a fun, judgement-free ohana.
Here are three stories of gratitude from members who've been positively impacted by the buy nothing movement.
Generosity in bloom
When Vivian Ishimaru joined BNO2.0 two years ago, she thought she was just doing her part to keep garbage out of landfills. But she found so much more. "Janey, the primary administrator of the group," says Ishimaru, "keeps things fun, fair, and full of aloha."
One day, Ishimaru saw a post in the group about a member who had been discharged from the hospital and had no food in her house. "Many of the BNO2.0 members responded quickly – they made soup, baked fresh bread, and delivered easy-to-prepare meals so that she could focus on recovering," says Ishimaru. "It was amazing how everyone came together for someone they'd never met in real life!"
Ishimaru has also been on the receiving end and appreciates the seeds, plants, and flowers she's been gifted. "The members who nurture plants and then give them away are a blessing," she says. "I love tending to my home garden that I have because of the generosity of the group." Her garden is a reminder of the aloha that BNO2.0 members have for each other. "Everything we share strengthens our relationships and makes the community stronger."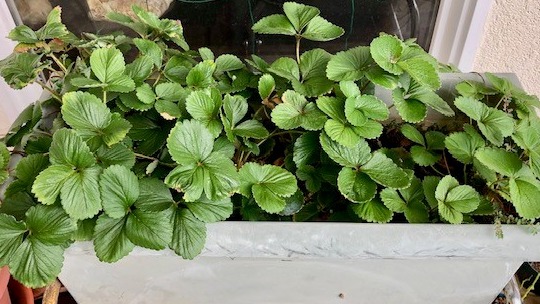 Strawberry plants Ishimaru received thanks to the BNO2.0 group. Photo by Vivian Ishimaru.
Jamming together
Sunshine Choe joined the Buy Nothing Oahu 2.0 group several years ago after a friend told her about the concept. "The more I read about it, the more I've bought in to the concept," she says, "which is offer things you have in abundance and ask for things that someone else doesn't need."
One of Choe's favorite experiences was gifting some ripe mangoes. "The person I gave them to offered me a bag of calamansi when she picked them up, Choe says. "I used those to make mango-calamansi jam that I then gifted to her. It felt like making a new neighbor!"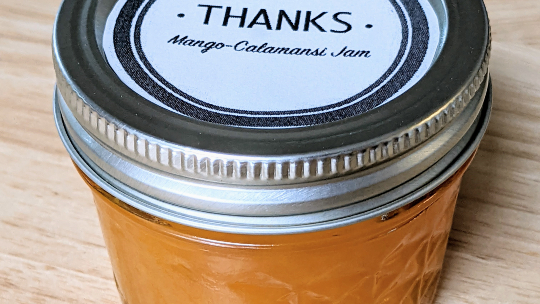 Choe's homemade mango-calamansi jam. Photo by Sunshine Choe.
Friendly people, friendly honu
When Jackie Woolf moved to Hawaii from the Mainland for a job opportunity in January 2002, she brought only two totes and a suitcase. A month later, she joined the BNO2.0 group at the suggestion of a friend. Soon, she was able to fill her apartment with the necessities she hadn't been able to bring with her. "Giving items a second home helped the gifter and me," Woolf says. "I loved the helping-others-and-yourself concept of the group."
When she joined the group, she admits that she was shy. She never commented until she saw a woman offering a necklace with a turtle. "It resonated with me because when I came to the islands, my first beach experience was at Kailua beach," Woolf says. "I was swimming and all of a sudden, a honu popped its head up, like it was saying hello." Woolf later brought a friend to the same spot. "As I was telling her about the friendly honu, a honu popped its head up as if on cue!"
Woolf shared these stories with the gifter of honu necklace and was honored to be chosen to receive it. "When I went to pick up the necklace, the gifter surprised me with a beautiful honu statue!" she says. "I had tears in my eyes as I was so touched!"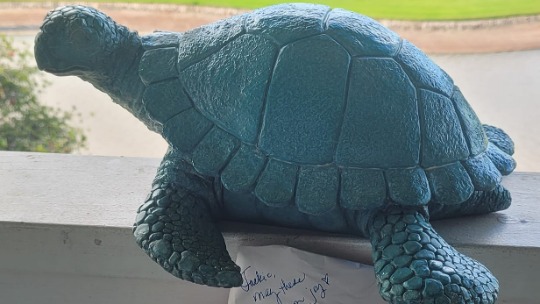 Woolf's beloved honu statue. Photo by Jackie Woolf.
When Woolf's grandkids came to visit her, she took a chance and asked the group for a crib. "And the group came through," she says, "someone actually gifted us a crib!" Once the visit was over, Woolf used the group to gift the crib. "I like that the group gives people the opportunity to express their need. Some needs are greater than others and everyone gets it," she says. "The administrators of the group, like Janey, work hard to stay on top of things and keep it fair."
For more inspiration about saving money or to learn about the Buy Nothing movement, visit Buy Nothing Project or the Buy Nothing Oahu 2.0 Facebook group.

Learn how BNO2.0 members spent Buy Nothing Day and what it was like for an avid shopper on the Big Island to stop shopping for an entire year. And check out the Buy Nothing Oahu 2.0 Facebook group story, giving, receiving, and living aloha in the Winter 2023 issue of Island Scene.