Charcuterie board, cheese tray, deli platter, grazing station. Whatever you call it, this easy and customizable way to present food is perfect for parties especially when your guests range in age and food preferences!
Instead of spending Independence Day sweating over a grill at your backyard BBQ, gather the kids and make these fun and tasty charcuterie boards that are sure to delight the entire family.
Supplies
Food-safe tray or board
Small dishes or containers
Skewers
Star cookie cutters
Ingredients
Fill your board with your favorite red, white, and blue foods. Use a variety of fresh or dried produce, sweets, and savory snacks. You can also use what you have in your fridge and pantry.
Here are some suggestions:
Red foods we used
Apple slices
Fruit leather
Grape tomatoes
Lychee
Mini cookies with red frosting
Pepperoni
Red candy shell chocolates
Red fish crackers
Salsa
Strawberries
Strawberry gummies
Watermelon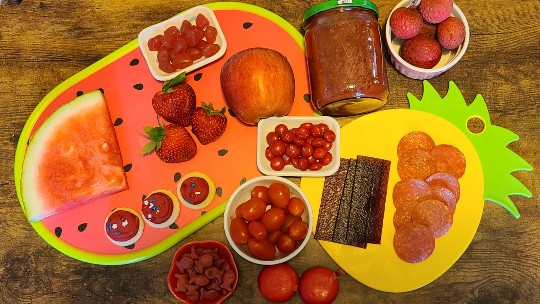 Suggestions for other red foods
Cherries
Raspberries
Red bell peppers
Red licorice
Salami
Sun-dried tomatoes
White food we used
Cheese wedges
Crackers
Edam cheese
Macadamia nuts
Mini cookies with white frosting
Mini cupcakes with white frosting
Fresh mozzarella balls
Provolone cheese
White candy shell chocolates
White chocolate
White queso
Suggestions for other white foods
Brie
Cauliflower
Cashews
Cream cheese
Mini marshmallows
Popcorn
Ranch dressing
Swiss cheese
Yogurt-covered pretzels or raisins
Blue foods we used
Blueberries
Blue candy shell chocolates
Blue corn chips
Gummy sharks
Mini cupcakes with blue frosting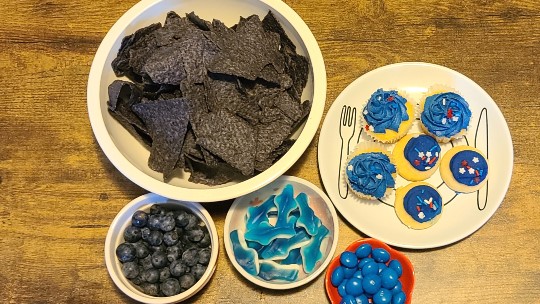 Suggestions for other blue foods
Blackberries
Concord grapes
Get creative
Use cookie cutters to make stars out of cheese, fruit, or anything you want to star-ify.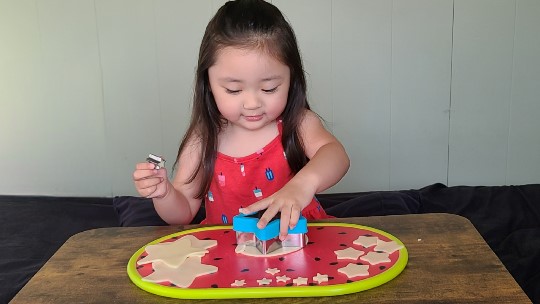 Fun fact: Star-shaped cheese tastes better!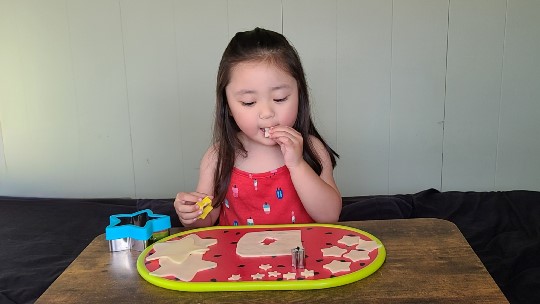 Make watermelon and blueberry wands with your skewers or skewer mozzarella and cherry tomatoes for caprese on a stick. You can also make banana, strawberry, and blackberry skewers!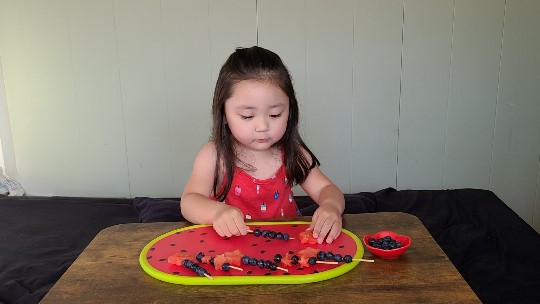 TREE STUMP PLATTER
Assemble
This board was mostly savory with a variety of cheese, fruits, pepperoni, and sweets. The tiny pepperoni stars helped make the cheese wedges festive. We layered the rest of the pepperoni with cheese.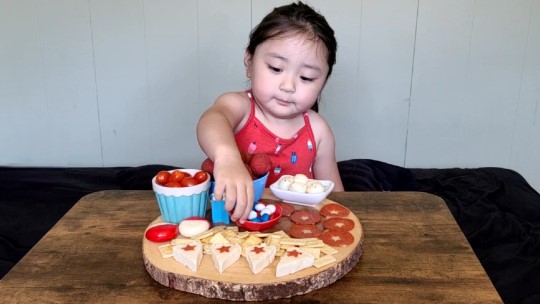 Finished product
Since this platter didn't have a lot of blue, we used the star cookie cutter as a container for the mini white chocolate chips and a blue bowl for the lychee.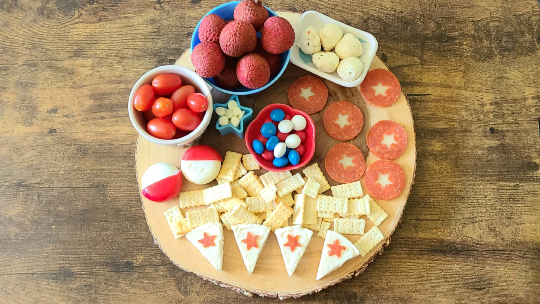 Taste test
Our taste tester sampled everything on the platter, even the tomatoes, which she usually doesn't care for. It may be a good parenting hack to present foods in different ways to increase their appeal.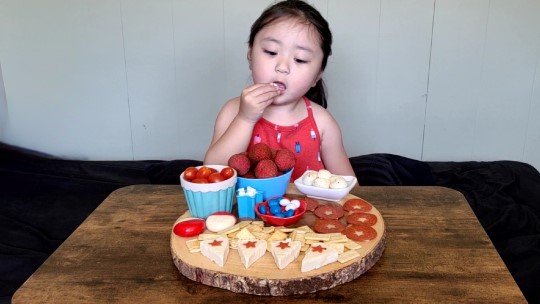 WATERMELON BOARD
Assemble
We started with a watermelon cutting board and added gummy sharks chasing red fish crackers.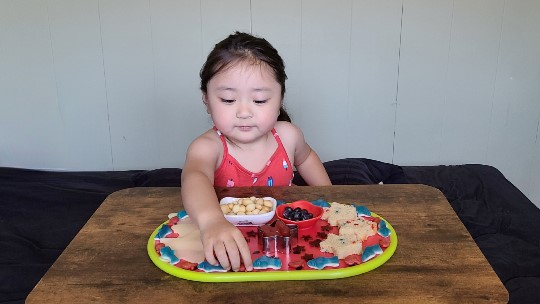 Finished product
With the star-shaped cheese, cake, and fruit leather combined with the sharks and fish, this board felt whimsical. The macadamia nuts and blueberries balanced out all the sweets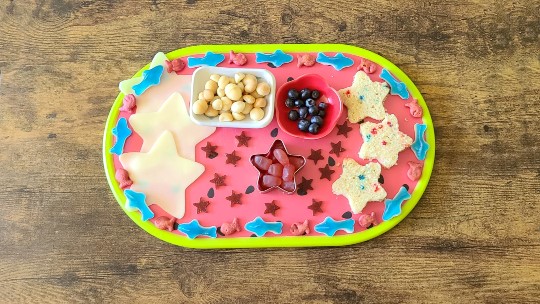 Taste test
The star fruit leather was a hit. Our taste tester thought it was pepperoni, so when she ate it, she was delighted! She also enjoyed the macadamia nut and blueberries probably because they were in fun containers.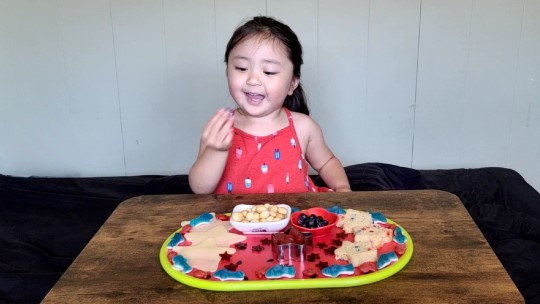 AMERICA BOARD
Assemble
The skewers were the highlight of the America board. From caprese skewers to watermelon blueberry wands, we populated the continental U.S. with fun foods on a stick. Then, we filled the rest of the platter with pepperoni and cheese stars.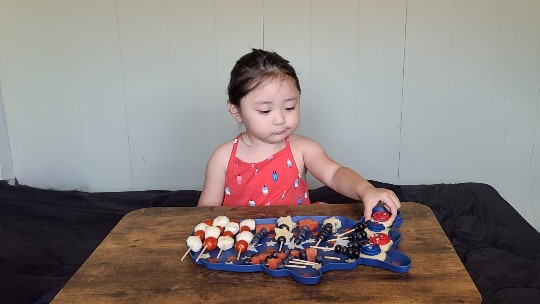 Finished product
The America-shaped board from a big box store was inexpensive and brought the Fourth of July theme to life. The cheese/tomato and fruit skewers balanced out the sweet mini cookies.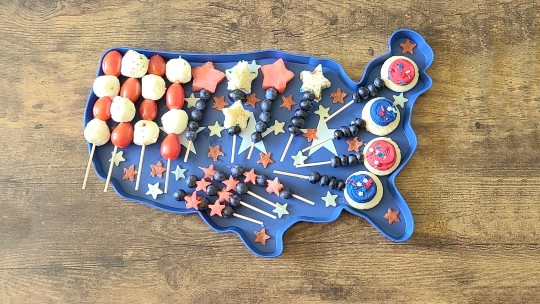 Taste test
Though the mini-cookie wand was the taste tester's favorite, she sampled each wand. Food on a stick is magic for picky eaters!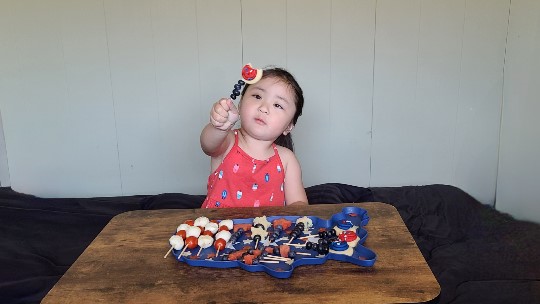 FESTIVE FLAG BOARD
Assemble
Placing blue tortilla chips with cheese stars helped give the board an American-flag feel. We tried to alternate red and white for the stripes, but we had more red than white and also some mini cupcakes with blue frosting to use.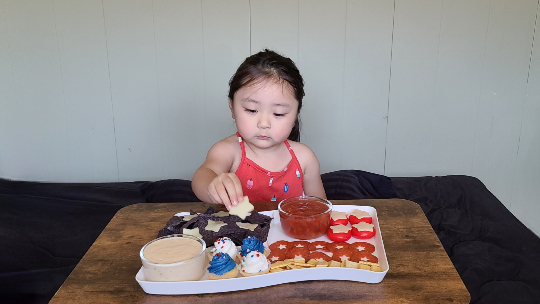 Finished product
The salsa and the queso were nice savory additions, perfect for dipping the blue corn chips and crackers. The mini cupcakes added a nice amount of sweetness.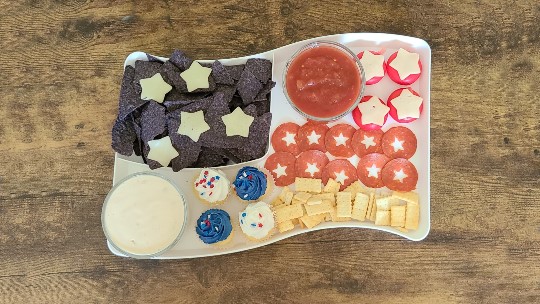 Taste test
Our taste tester couldn't decide what to eat first, but she tried a little of everything. It was her first time eating chips and salsa and queso and she enjoyed all of it.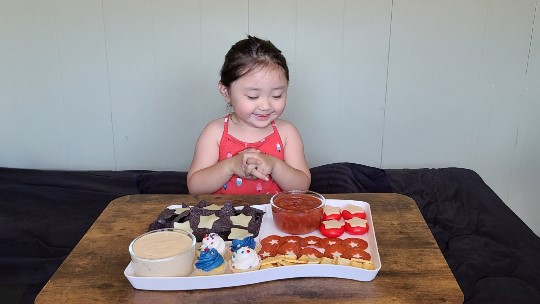 We hope you have as much fun making and enjoying the charcuterie boards as we did. Happy Fourth of July!