Depending on who you ask, aloha shirts are effortlessly cool or a little bit cheesy. But with so many options, including those passed down from dads, uncles, and relatives, you'll usually find more of the former. Here's what three locals say about their ties to Hawaii's favorite shirt.
Palaka: "Hawaiian denim"
Before the contemporary aloha shirt, there was palaka—the checkered long-sleeved shirt worn in the 1920s by plantation workers. Known for its comfort and style, palaka is popular among politicians, ranchers, and those who want something different to wear to a first birthday luau. "Palaka is timeless," says Rodney "Sparky" Doo. "Everyone should have it in their closet."
Doo has been manufacturing palaka and vintage aloha shirts, including those made famous by American actors Montgomery Clift and Tony Curtis, for decades. He hopes to continue producing the shirts in Hawaii and selling them at local and international trade shows. "I want to make sure these shirts continue," he says.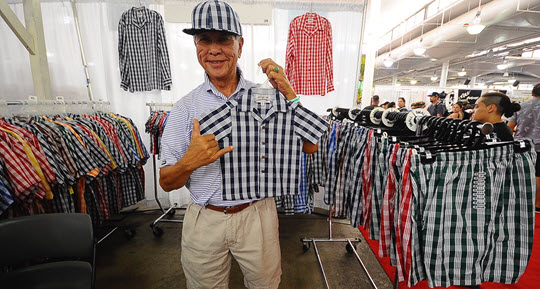 Doo selling palaka shirts at the Made in Hawaii festival. Photo courtesy: Rodney Doo.
Always reppin'
When media veteran Daniel Ikaika Ito was tapped to moderate a panel about the aloha shirt industry, he wasn't sure what to wear. He has lots of aloha shirts, so it was hard to choose just one, especially to talk story with a group of respected local designers. He chose one from Hilo, his hometown, made by designer Sig Zane.
"This particular shirt, Kaunaloa, has become one of my all-time favorites because it was given to me by one of my dear homies so I could match my son, Keaweokapohoku, who has the keiki version of the shirt," Ito says.
Ito describes his style as alanui (street) wear. His outfits usually include an aloha shirt, commuter slacks, sneakers, and a hat.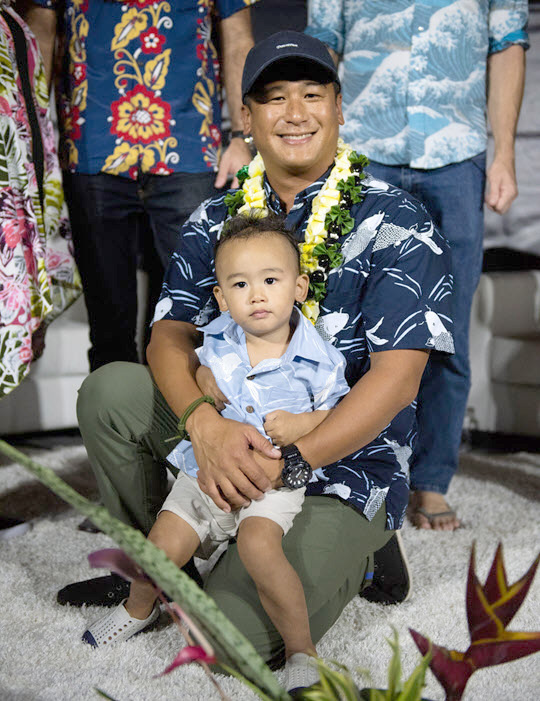 Ito with his son at the aloha shirt panel. Photo courtesy: Howard Hughes Corporation.
Every day is Aloha Friday
Eric Imada is a project manager at a local engineering firm who wears aloha shirts to work almost every day. During football season, he sports a green aloha shirt on the Friday before UH games. It's a tradition that his dad started.
Imada likes shirts with medium-sized designs that are large enough to see without being overwhelming. In addition to being stylish, he likes aloha shirts because they're versatile.
"You can show up to a barbecue, Mother's Day brunch, or go almost anywhere in aloha attire. I want to be that guy who's still rocking the aloha shirts when I'm older."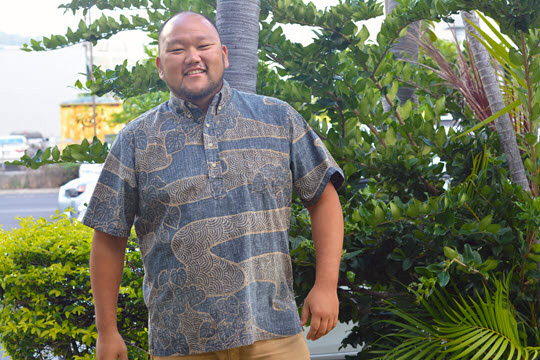 Imada in one of his favorite aloha shirts. Photo courtesy: Austin Tsutsumi & Associates.