I started yoga about the same time I started running. My first class was confusing. I didn't know the poses, I struggled to keep up, and after class the instructor kindly suggested I try a more introductory course. I kept at it and became more comfortable over time. There are still a few poses I simply can't do yet, but I always leave the mat a little more refreshed and relaxed than when I started. Overall, yoga keeps me flexible and feels as good for the brain as it does for the body.
I enjoy yoga and want to keep practicing. At the same time, yoga can be expensive. One of the ways I save a little on yoga is through HMSA365, a program that offers HMSA members discounts on health-related products and services such as fitness classes, gym memberships, and massage therapy. On the website, you can browse through the discounts by island or category.
One of the newest yoga vendors is MOJO Yoga, a website that offers recorded and live online classes that users can access from their home or wherever they choose to practice. With MOJO, I was able to take classes on my own time. There were a variety of classes to choose from, including one for runners and a flow to beat the Monday blues. It was easy to pick a class, roll out my mat, and enjoy a good workout. Best of all, the cost of a monthly membership is about the same as a single in-studio yoga class.
Maui residents Jean Marie and Scott Johnson founded MOJO Yoga to make yoga more accessible and bring together a community of teachers and students. I had the chance to talk to Jean Marie about what got her hooked on yoga and how she improves her well-being. Here's her inspirational story.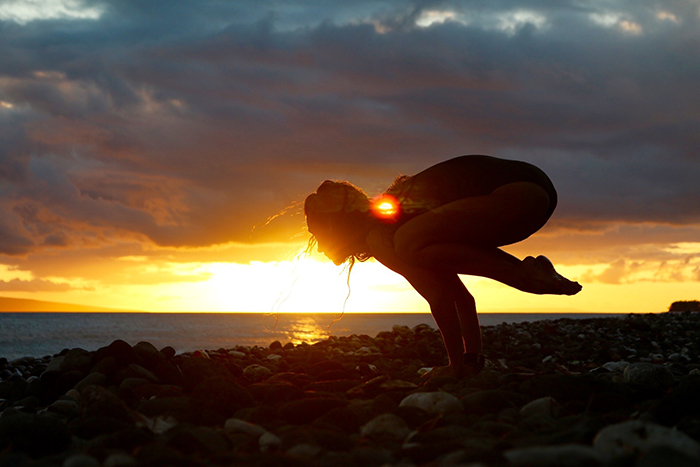 Jean Marie in crane pose at sunset.
How has yoga changed your life?
When I discovered yoga again, I was in a rough place. Fresh out of a failed marriage, I smoked half a pack of cigarettes a day, had neck and back pain, had frequent migraines, and drank quite a bit, too. I wasn't in a happy place in my body, mind, or spirit – even though I was newly living in Maui, one of the most beautiful places on earth. So, when I met my eventual husband and co-founder in MOJO, Scott, he was pretty quick to jump in and help me turn things around. In fact, the first day we really spent together was emblematic to the max. When we ran into each other, he was bounding out of two back-to-back yoga classes, just beaming, and I was sitting outside smoking and sulking.
Shortly after, Scott told me, "I bet you if you do yoga every day for 90 days, a lot of your problems will start to go away." I did yoga in my teens, so I was familiar with it and knew it wouldn't be awful to try again. I accepted the challenge and did at least a half hour of yoga every single day, for 90 days. I was more surprised than anyone to report that it completely changed my life. I replaced bad habits with good ones, added strength training, and found myself stronger and healthier than ever.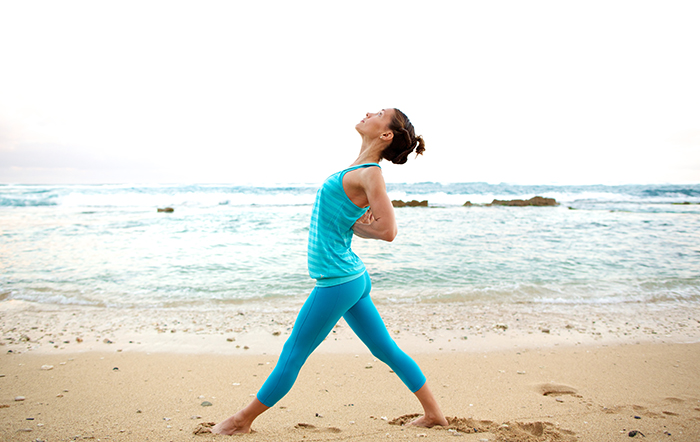 Jean Marie practices yoga on the beach. Photos courtesy of Jean Marie Johnson.
I loved the impact yoga had on my life so much that I felt I just had to share it with anyone else who might be interested. After all, if it could help me so much, it can definitely help everyone in some way. That's why I started teaching yoga, and that's why we created MOJO Yoga.
Besides yoga, what do you do to improve your well-being?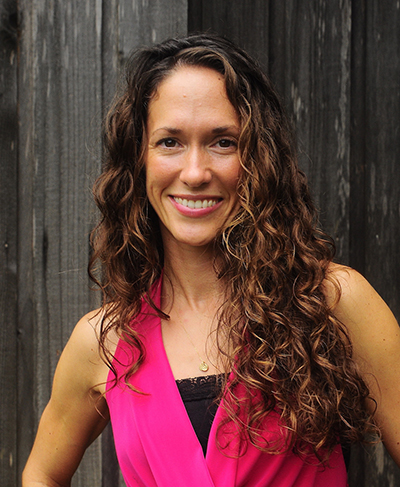 I strive to live a lifestyle that's as full and well-rounded as I'm capable of every day. I don't always succeed! In fact, I fall flat on my face a lot. Yet, the foundation that I've laid of daily yoga helps me get back up every time, and helps me get better at everything I do along the way.
Most important in this is a morning ritual to start my day on the right foot. It can include tea, meditation, yoga, journaling, or exercise. The consistency of dedicating that time first thing in the morning makes a huge difference in how I approach the rest of the day.
Jean Marie says she's her happiest and strongest self today.
I also love to surf. I've only been doing it for a little over three years now, but I hope I get to keep doing it for the rest of my life. There are a lot of similarities between yoga and surfing. When approached with respect and humility, they're both great teachers of how to be a better human being. Sometimes I think surfing is more effective than yoga at training me to be present and mindful, because I have to be in the present moment when I'm riding a wave or I'll wipeout!
Another positive change was inspired by the idea that we're the average of the five people we spend the most time with. When I started to pay attention to the relationships that get the majority of my attention, and shift away from some of the less positive ones, I really found a dramatic improvement in my overall well-being. In the last several years, my husband and I developed a close and carefully curated circle of friends who push each other to grow, improve, and do great things all the time. I'm deeply grateful for all of this, and for the life I've discovered in the process.
To learn more about HMSA365 and the MOJO Yoga discount, please visit hmsa.com/well-being/hmsa365.
Update: Since we first published this story, MOJO Yoga began offering free online yoga content instead of subscriptions.
For more health tips, register for Sharecare today!