At the start of the Ironman Triathlon in Nice, France, 3,000 people plunge into the glassy Mediterranean Sea. These are the first 2.4 miles of a 140-mile race.
Last summer, Tara and Tom McBride were among those thousands. They'd set out to finish the race together, but when she hit the water, all Tara could see were hands, feet, and bubbles. At around 200 yards, she'd lost Tom.
But she was feeling great. This was the swim of a lifetime. "The sun was coming up. It was just so beautiful," she says. "I remember looking at the French mountains and the warm water, such a beautiful gray-blue, and I was in a wonderful rhythm. Just enjoying it."
As she neared the end of the swim, she heard her name. She could hardly believe it when Tom's head popped up behind her.
Can't stop
The McBrides have always been athletes, from high school sports to becoming health coaches, and professors to opening the Koolau Wellness Center last year. Tara is Hawaii's Olympic weightlifting champion and Tom is an accomplished CrossFit athlete. They agree that the work they put in at the gym prepares them for difficult situations outside its walls.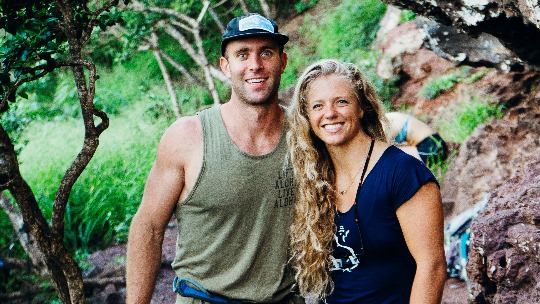 Courtesy: Tara and Tom McBride
Six years ago, Tom was forced to put this theory to the test when he was diagnosed with a degenerative spinal condition. It started with numbness in his foot that felt like rocks in his shoe and progressed to intense pain radiating from his lower back and partial paralysis in his left leg. The first doctor he saw said his active days were over.
But Tom got a second opinion and a third. Seven doctors later, he found a spinal specialist who told him that there was hope despite the fact that he had the spine of an 80 year old. He agreed to perform surgery to align Tom's vertebrae and relieve inflammation.
The surgery worked. "It was a miracle," says Tom. "Pains that I had, even as a teenager, that I thought were growing pains, gone. It was crazy waking up from that first surgery. It was kind of like taking off your boot at the end of the day, that relief. It was like that for my whole body."
Tom has had three surgeries in three years, the last of which brought him to a dark place. During his recovery, there were many days he couldn't get out of bed or tie his shoes. He says the experience gave him greater understanding and appreciation for depression and mental illness. With Tara's support, along with his friends and family, he was able to find himself again.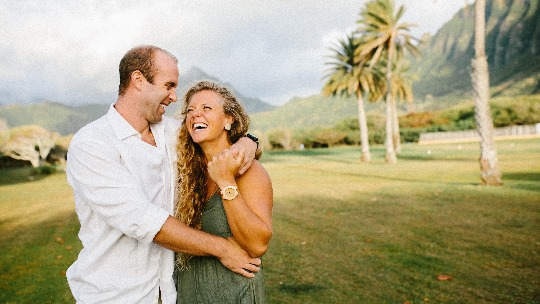 Courtesy: Mersadi Olsen Photography
There's no way to know if he'll need more surgeries down the line, but Tom isn't wasting time worrying about what the future could bring. It was a year after his last surgery that the couple decided to take on Ironman.
Won't stop
Tara remembers seeing the Ironman on TV for the first time when she was 15. She knew immediately that she wanted to compete. Tom remembers watching it, too. It's been a lifelong bucket list item for both of them.
Taking on Ironman in Nice was a no-brainer because the McBrides are world travelers. Before the two married, Tara backpacked through Southeast Asia and lived in Yellowknife, a mere 250 miles from the Arctic Circle. Together, they've run with the bulls in Spain, cliff-jumped in Croatia, found a church hidden in the Judean desert, visited ISIS-occupied Egypt, and witnessed an erupting war at the Syrian border.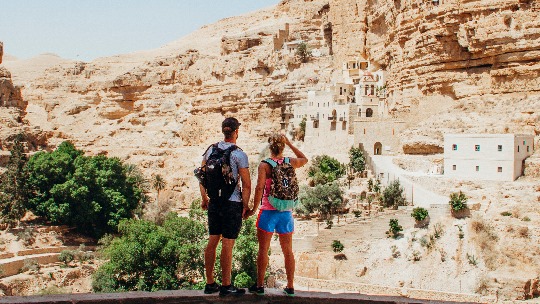 Courtesy: Tara and Tom McBride
"I feel like we take a piece with us every time we go somewhere," says Tara. "It becomes a value and experience that we hold close."
Ironman was no different. The crowd was electric as race day started. Tom and Tara finished the swim and headed into the French Alps for a 112-mile bike ride in record-breaking heat. Some competitors pulled ahead and others lagged as they rode through forests and villages and passed abandoned castles.
No matter how far they strayed, Tara and Tom kept finding each other. They started the 26-mile run together, which they say was one of their best ever. Over a thousand athletes wouldn't finish the race, but Tara and Tom finished together in under 14 hours as the announcer proclaimed them an "Iron Couple."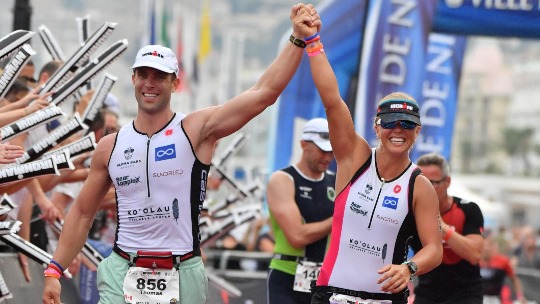 Courtesy: FINISHERPIX
The McBrides say anyone can take on this kind of challenge and the idea that Ironman athletes are wired differently is a myth. "Everyone's had a bad day — you're out and the car breaks down on the way home then you have to figure out how to pick up the kids and the groceries are going to melt and the tow company's an hour away. It's just this giant monster. But you get through it one step at a time. This is no different," says Tom. "Except that we chose it," he laughs.