Though we enjoy sunny weather in Hawaii year-round, the summer months are a popular time to soak up the sun and "vitamin sea." Before you head out to your favorite beach, remember to brush up on water safety guidelines and first aid skills. "Water safety and first aid are invaluable to island residents," says Diane Peters-Nguyen, CEO of the American Red Cross, Pacific Islands Region. "We grow up surrounded by water and often assume we're prepared for hazards or emergencies, but then find ourselves at a loss in a moment of crisis. Learning these skills provides an extra level of security and confidence to enjoying our islands' natural features."
Here are some tips to keep you and your loved ones safe during your next visit to the beach.
Water safety tips
Enter unknown waters cautiously.
Swim with a buddy so you can watch out for each other.
Be aware of weather and water conditions and heed warnings.
Know your swimming capabilities and keep within them.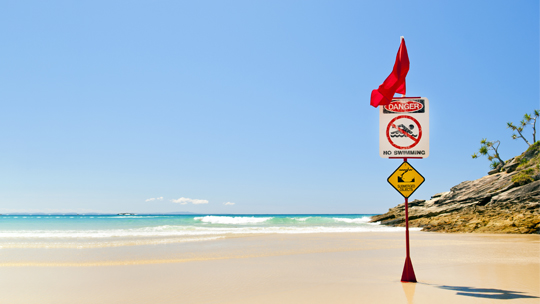 Pay attention to posted signs.
First aid tips
If the surroundings are safe, check to see if the person is responsive.
Call 9-1-1 or have someone present do so immediately.
If unresponsive, give CPR and use an AED, if available, immediately.
The pace of delivering chest compressions should match the beat of the song, "Stayin' Alive."
Don't move the person if you think they may have a head, neck, or spinal injury. Advise them not to move any part of their body that causes pain.
If you're interested in learning about water safety, how to deliver first aid, or use an AED, register for a Red Cross training class on their website.