Watch elephants roam, penguins waddle, and a sloth hang upside down from a tree – all without leaving Oahu. The Honolulu Zoo is home to hundreds of animals for families to visit. But the zoo is more than an attraction; it's an opportunity for locals and visitors to learn about its conservation efforts to protect and preserve wildlife.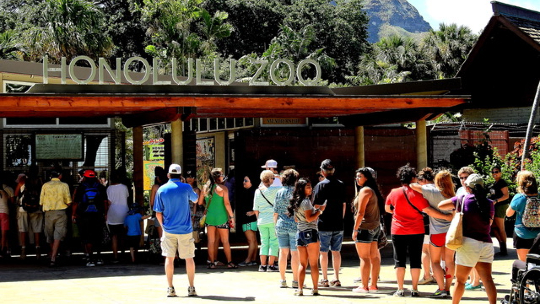 Visitors outside the entrance of the Honolulu Zoo. Photo courtesy Rod Kuba/Honolulu Zoo
"Conserving endangered species is why we exist," says Laura Debnar, Honolulu Zoo general curator and chair for the Honolulu Zoo's Aloha Aina Conservation Fund. "We breed endangered species to prevent them from going extinct, to secure populations for sustainability in zoos, and sometimes to release back into the wild. We teach the community about why these animals are so important, the care that wild animals require, and tell the story of illegal wildlife trafficking to educate folks on why it's so hazardous."
Zookeepers take on that role daily, sharing their knowledge and love for their animals while also keeping them happy and healthy in their habitats. The third week of July is National Zookeepers Week, a time to celebrate zookeepers and all their hard work.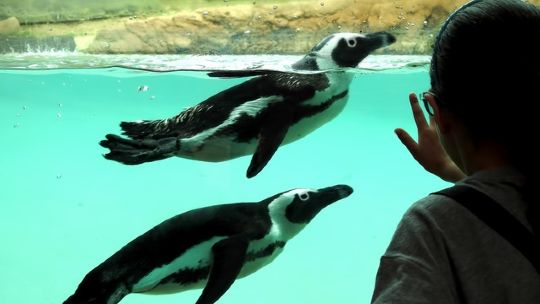 Penguins swimming. Photo courtesy Rod Kuba/Honolulu Zoo
A special relationship
Honolulu Zoo has dozens of keepers taking care of 900 animals. Working in the "wild" can be chaotic, but these keepers wouldn't have it any other way.
"Zookeepers have such a tight relationship with the animals under their care," explains Debnar. "They get to know them personally so they can read their normal behaviors and determine when they're sick or in a social mood."
Training is also crucial to their unique relationship to ensure the animals are healthy. Squirt the giraffe offers up his feet for hoof trims. Rusty the orangutan knows to present his chest so keepers can listen to his heart. He'll also give them his arm so they can draw blood.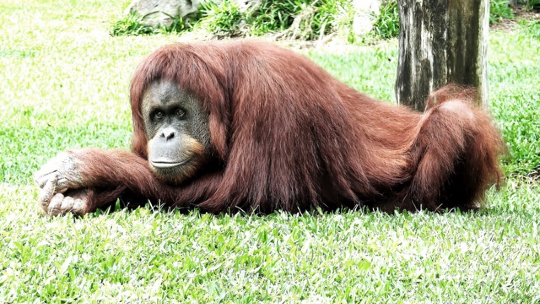 Rusty relaxing in the sun. Photo courtesy Rod Kuba/Honolulu Zoo
Keepers also have a keen eye and attention to detail to make animals' environments more comfortable and enriching.
"We build that relationship and it takes time to earn that trust," says Debnar. "We're in it for the love of the animals. We're all passionate about conservation and transferring that bond to the rest of the community."
That's because what families learn from their time in the zoo can be translated to the care they provide their pets at home.
"We want to promote animal welfare and care. These are things that people can take home to their pets. People can be much more active in their pets' lives," says Debnar.
Beyond the zoo
Hawaii is known as the endangered species capital of the world. But the Honolulu Zoo is working to keep species from being lost to extinction, especially those that are endemic to Hawaii.
The zoo works with the Hawaii Wildlife Center to make sure birds, especially shearwaters, are safe during seabird fallout season. During winter, young seabirds leave their nest for the first time and follow the moonlight to the sea, where they feed.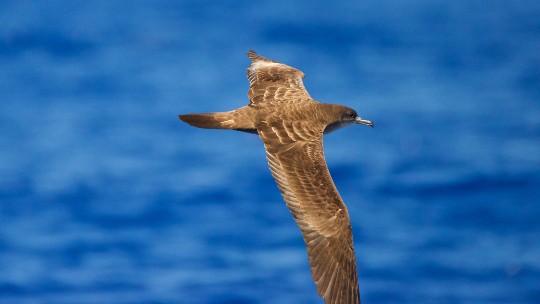 Wedgetail shearwater hunting for food.
The fallout phenomenon happens when these native seabirds become disoriented by city lights, falling to the ground from either exhaustion or after colliding with a structure.
"The birds are brought to the zoo, where they get health assessments. They're rehydrated, fed, and then set free to the ocean," explains Debnar.
Breeding Hawaii's official state insect is also a major priority for the zoo. Kamehameha butterflies are one of only two native species of butterflies in Hawaii and its population has shrunk due to non-native birds.
Honolulu Zoo has an exhibit called the invertebrate breeding lab, where keiki can observe staff caring for butterfly larvae. Once the caterpillars pupate, staff release some into the exhibit and others into the wild.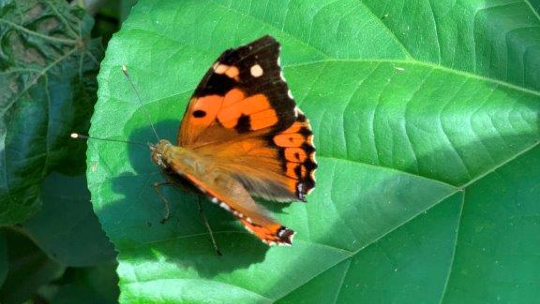 Kamehameha butterfly. Photo courtesy Honolulu Zoo
"We're trying to educate folks about how fragile the ecosystems are in Hawaii and how important it is to protect them," says Debnar. "And since we have visitors from all over the world, we have a global reach and can make a significant impact."
Connecting with the community
Visitors have been flocking to see the zoo's newest star, Akamu, an endangered Eastern black rhinoceros. Mom Aria gave birth to the baby boy in April on a stormy day. Since then, he's been growing, playing, and exploring his habitat.
"He's the first rhino ever born in Hawaii, so we're super excited," says Debnar.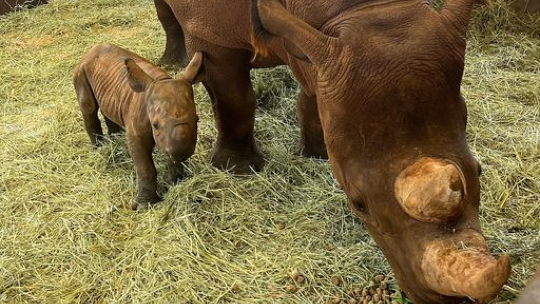 Akamu with mom, Aria. Photo courtesy Honolulu Zoo
Aria and Akamu's dad, Kendi, are from San Diego Zoo Safari Park, which focuses its conservation efforts on the endangered white rhinoceros.
"It works out well that we can collaborate with them because our facilities are set up for the black rhino, which are the smaller species," says Debnar.
Akamu recently ventured out on exhibit so visitors can see him run and explore.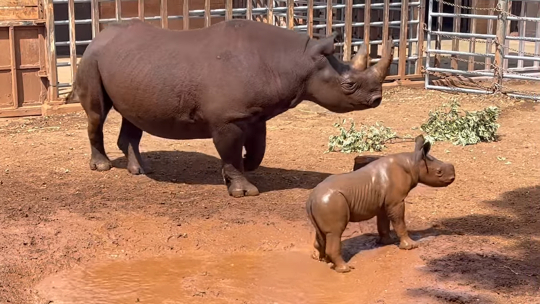 Akamu plays in the mud while Aria looks on. Photo courtesy Honolulu Zoo
Elephants are also popular among visitors. A team of keepers works with Mari and Vaigai, with one giving training cues and the other doing a keeper talk.
"Kids just light up when they see the elephants and I swear the elephants smile back," says Debnar. "It's incredible to see that connection."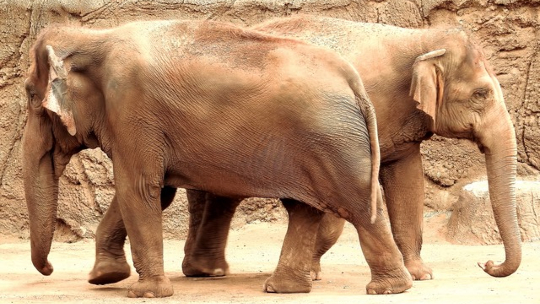 Mari and Vaigai. Photo courtesy Honolulu Zoo
Zookeepers know the impact they can leave on keiki, kupuna, and everyone in between. Their talks offer an inside look at the animals' lives, favorite treats, and how you can help protect their species in the wild.
"When people walk away with more knowledge and care for the environment, we can say we've done at least one small part to make the world a better place," says Debnar.