The two-bedroom house in Waimanalo is under construction. The exterior walls are up and windows are in place; the shingled roof protects the interior's skeleton-like wall studs of 2x4s. The pleasant aroma of lumber is everywhere.
Outside, standing on an 8-foot scaffold, Aloha Kim secures siding onto the house's gable with a nail gun. Later, Gloria Omandam follows with a caulking gun to seal the seams. These HMSA employees are two of 10 women volunteers on the site.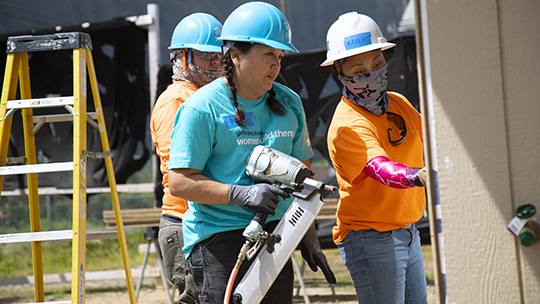 Aloha Kim was excited to learn about building a home.
Girls play house. Women build them.
Honolulu Habitat for Humanity provides comprehensive homeowner services to low-income families on Oahu. Wahine Build, which began in 2016 as a one-day event, is their annual initiative to educate, empower, and inspire women to build and advocate for affordable housing. This year, over the course of five weeks, the program expanded to 10 days of women-led volunteer build days.
Honolulu Habitat for Humanity was founded in 1988 with the vision of a world – and island – where everyone has a decent place to live. Since then, they've helped more than 450 people and families obtain a safer place to sleep at night.
Habitat homeowners help build their own homes alongside community volunteers and pay an affordable mortgage. But Habitat's mission goes deeper than merely building homes.
"Habitat's mission is to help families become stronger and more stable," says Bri Littlefield, Habitat's director of philanthropy. "Having a safe, affordable place to call home is everything. It provides opportunities for a brighter future and helps build self-reliance."
Wahine Build inspires that same self-reliance in women. "Women are underrepresented on our build sites," says Littlefield. "They account for about 30% of construction volunteers."
After several years of one-day Wahine Build events, Habitat's team and board of directors knew that they could do much more. "This is about leaning into the untapped potential for women to make a difference in building stronger, more-vibrant communities," says Littlefield.
Habitat builds homes year-round and volunteers – men and women – are always needed. "You don't have to wait until Wahine Build in March to put on a hard hat with us," says Littlefield. "Construction is a male-dominated industry. Welcoming women to the build site and teaching them new skills can dismantle that gender bias.
"Over the next five years, Wahine Build seeks to increase the representation of women construction volunteers to 50%," she adds. "And that means breaking down barriers, lifting women up, and giving them the tools, training, and support they need to be part of our work."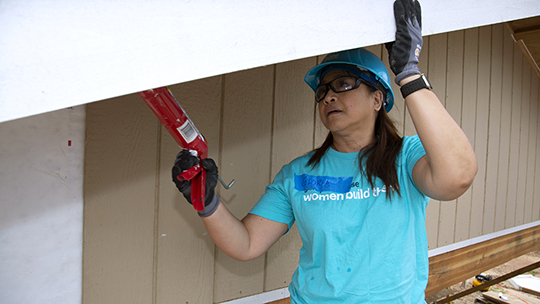 Gloria Omandam gained confidence in her new skills with support from the foreman and journeymen.
Volunteer rewards
Omandam's desire to work was tempered with a little apprehension. "There was fear of messing up, fear of not being able to do a task, and definitely fear of embarrassment," she says. But the support she got from the foreman and journeymen quickly put her at ease. "They encouraged us and never made us feel inadequate," she adds. "Once they taught us how to use the tools safely and properly, I felt empowered."
Kim does a lot of DIY projects at home and was excited to learn something new. She wasn't disappointed. "I hadn't used a nail gun before, but I thought, 'bring it on!'" After the first nail, she was doubly excited. "Like, wave your hands in the air and fist pump excited," she says.
Omandam sums up the experience when she says, "We often feel intimidated in a man's environment when all we need is a little bit of training, guidance, and the right mindset. Then, women can do anything."
Visit honoluluhabitat.org or call (808) 538-7070 for more information.
Photos: Earl Yoshii