Shark diving is a popular activity in Hawaii. But is it safe for humans? For the sharks?

Hawaii bound
If done responsibly, says Andriana "Andy" Fragola, shark diving is safe for humans and even beneficial for sharks. Originally from Miami, Fragola is a safety diver and marine biologist at One Ocean Diving who practically grew up in the water. She loves giving people the experience of swimming with sharks. "What better way to learn about shark behaviors and biology?"

"I've been ocean obsessed since childhood," Fragola says. She focused on shark immunology at the University of Miami and earned a graduate degree while working at the Shark Research and Conservation Lab. Her desire to continue her work with sharks led her to Hawaii in 2018 for a job with One Ocean Diving. The company offers shark tours on Oahu's North Shore and has a foundation that supports collaborative ocean research, education, and conservation.

Changing perceptions
There are a lot of misconceptions about sharks due to their portrayal in movies and the media. "I think that a lot of people are scared of sharks. But it's important to understand that sharks are intelligent predators that don't see humans as prey," Fragola says. "Movies make sharks seem like they're going to eat anything they can get their teeth around, but that's simply not the case."

That's why a big part of Fragola's job is education. "I love explaining the vital role sharks play as apex predators to keep the ecosystem healthy." She teaches guests how to behave appropriately when sharing the sea with sharks, as well as describes behaviors sharks may display as warning signs. "That way," Fragola says, "they can be prepared if they encounter a shark."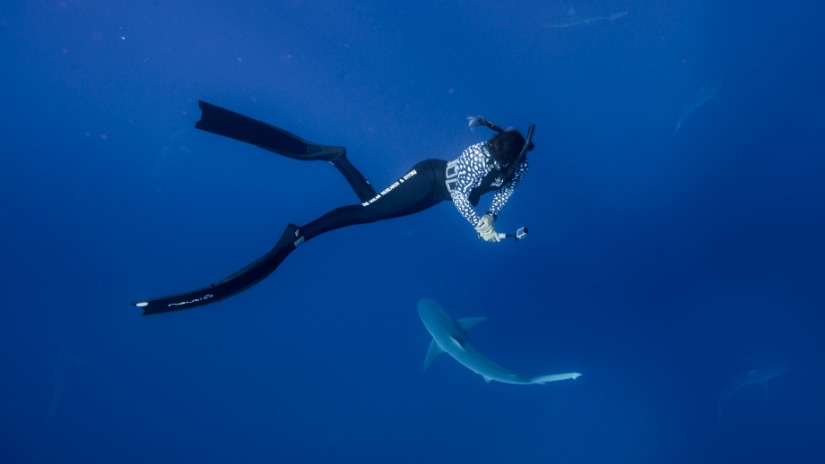 Conservation is key
In addition to education, One Ocean Diving focuses on research and conservation. Fragola's hope is to inspire guests to make small changes that can make a positive impact on the planet. "Guests are shocked to learn that over 100 million sharks are being killed each year and that if sharks are going to exist in the future, they need our help," Fragola says. Some of her suggestions to save the sharks include making sure the seafood you purchase is sustainably caught, saying "no" to shark fin soup, and reducing single use plastics, which can injure or poison sharks.
Swimming with sharks
When you go on a shark dive with Fragola or another trained professional at One Ocean Diving, it's not just for entertainment. The programs teach guests about the science of sharks while having a unique experience swimming freely with them. Feeling nervous? Fragola says that's normal. But she also says there aren't many encounters more magical than those with a shark. "If you ever have the opportunity to get in the water with sharks in a safe environment with trained professionals, I think it's an incredible experience."
Photo credit: Chiara Salomoni