On a busy street in the heart of Liliha sits Odds & Ends: A Kuakini Thrift Shop. Surrounded by eateries, a medical building, and a church, this hidden gem sells a variety of clothes, accessories, and unique treasures. We talked to the folks at the shop to see what's it like to run a thrift store, who benefits from their proceeds, and how you can shop and donate, too.
An inspired idea
Odds & Ends is a shop that is operated under Kuakini Support Services Inc., a nonprofit subsidiary of Kuakini Health System, and is staffed exclusively by volunteers. "The idea for a thrift shop came from the Kuakini Auxiliary, a volunteer organization that supports Kuakini's mission," says Manager of Kuakini Foundation and Kuakini Medical Center's Volunteer Department, Brian Nagamine. All proceeds benefit Kuakini Foundation and its fundraising efforts, which help finance capital improvement projects and enhance health and medical services provided by Kuakini Health System.
"We realized the potential for a secondhand store after the success of our rummage sales at Kuakini Auxiliary's annual bazaars," Thrift Shop Manager Jinny Okubo says. "Fortunately, Kuakini had commercial space available on Liliha St., which was a good location to expand from a once-a-year sale to a year-round thrift shop." Since opening in July 2019, it's been a worthwhile endeavor. "The store attracts donors and customers from around the island and visitors, too," she says.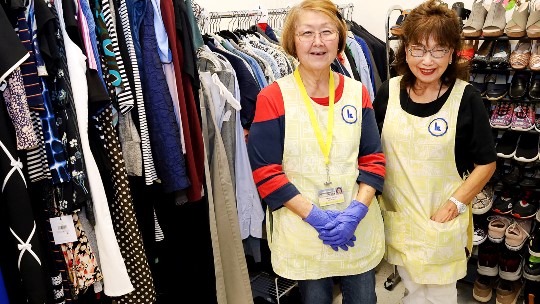 Monday staffer, Dahlia Zotos, and shop manager, Jinny Okubo
Normalizing thrifting
Though buying secondhand items isn't a new concept (thrift shops have been around since the 1930s) thrifting has seen a rise in popularity. "Everyone loves a bargain and at thrift stores, shoppers can find amazing deals," Nagamine says. "It's fun to hunt for something vintage or unique, change up your style, or get a designer item at a great price."
For those looking to save money, thrifting is a natural choice. And donating is a sustainable way to keep items out of landfills. "Thrift shopping has a positive impact on the environment," Nagamine says. "Giving pre-loved items a new home extends their purpose. Choosing to thrift instead of buying something new reduces waste and helps the planet."
A chance to give back
"Kuakini volunteers are an important link to the community through their fundraising and volunteering activities for Kuakini and social and educational activities for the Auxiliary members," saysOkubo. Kuakini volunteers have many reasons why they love volunteering at Kuakini and in the thrift shop:
"Kuakini is a 123-year-old institution with a rich history. Their diverse volunteer program allows me to give back to the community and help fulfill their mission."
"Meeting and working with fellow volunteers is fun and rewarding."
"After many years living in New Jersey, I moved back to Hawaii and wanted to get involved in the community and meet new people. The thrift shop was the perfect opportunity since I love thrifting."
"I enjoy meeting different people. Odds & Ends draws a variety of folks and makes it fun."
"Volunteering establishes lifelong friendships with special people you can never meet elsewhere."
"Volunteering allows me to have purpose and a reason to get up in the morning. Each volunteer day brings opportunities for learning, meeting people, being of service, and feeling a sense of accomplishment. The Kuakini environment is one of family."
"I'm a caregiver to my elderly parents and volunteering at the thrift shop allows me to get out of the house and meet and interact with co-workers and customers. Also, it's always wonderful to discover beautiful, donated pieces."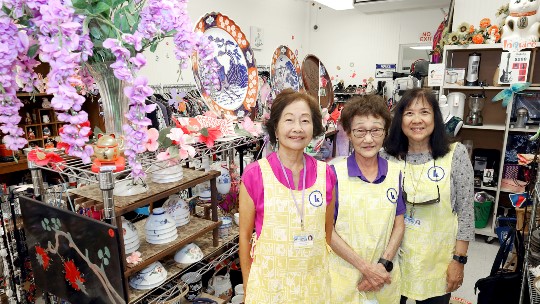 Friday staffers (L-R) Evelyn Yamada, Gertrude Izuka, and Corrine Onuma
Meaningful giving
Donating and shopping at Odds & Ends is especially meaningful for those who've benefited from the services and care they received at Kuakini. "The shop provides a way to continue their connection and show their gratitude at the same time," Nagamine says. "And donors have expressed their happiness knowing proceeds from their items benefit Kuakini and the community."
And if you're on the lookout for something specific or have a general interest in certain items, the staff will contact you if something matching your needs comes in. "Customer service is our number-one priority," Nagamine says. "Many of our staff know our regular customers by name."
Visit, shop, and donate
Odds & Ends accepts a wide variety of items including new and gently used clothing, shoes, accessories, household items, electronics, collectibles, and children's goods. "All items are inspected and we make sure everything we sell is in excellent condition," Nagamine says. "Merchandise is updated frequently based on incoming donations, and shoppers are welcome to visit the shop often for the latest items."
Items that sell especially well include:
Handbags and accessories
Clothes such as muumuu, aloha shirts, and casual wear
Microwaveable kitchenware
Costume jewelry
For donors, shoppers, and volunteers, Odds & Ends is more than just a thrift shop. It's a special place where anyone can get involved, give back, and find a one-of-a-kind treasure.

Hours of operation
Monday, Wednesday, Friday, 10 a.m.–1 p.m.

Address
1703 Liliha St.
Honolulu, HI 96817

Free parking is available behind the building!

For more information, call 808-547-9014, email thriftshop@kuakini.org, visit the website, or checkout Instagram to see new and featured merchandise.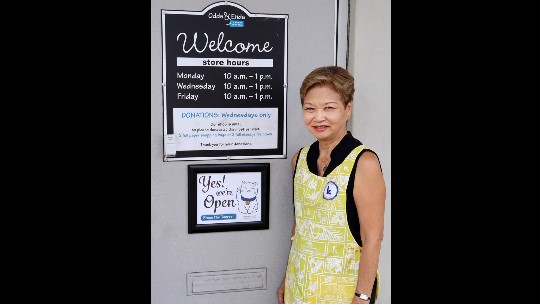 Volunteer Lynette Saito in front of the thrift shop
Photos courtesy Kuakini Foundation