Dennis Brown understands the importance of having a role model and mentor. The CEO of Big Brothers Big Sisters Hawaii (BBBSH) was chosen as the state's first Little Brother in 1963 when he was 9 years old. Being paired with Henry Sumida changed the course of his life.
"I thought I'd never go to college and never amount to much," says Brown. "But Henry inspired me. I followed in his footsteps and joined the military. And then I decided to try college. I wanted to go into social services so I could help people like Henry helped me."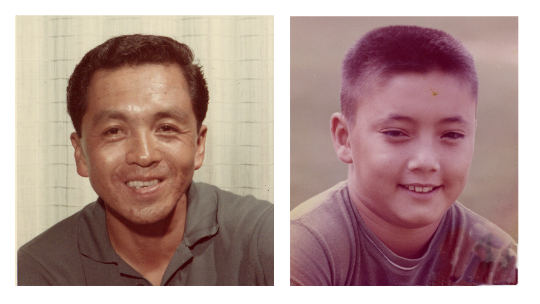 (From left): Henry Sumida; Dennis Brown at 9-years-old. Photo courtesy BBBSH
November is National Inspirational Role Models Month. Role models and mentors can help shape a child's development with inspiration, encouragement, and support. That's exactly what Sumida did as he and Brown spent time together, making memories and forming a meaningful friendship.
Brotherly bond
At first, Brown resisted the idea of hanging out with Sumida. His mother was the one who enrolled him in BBBSH to help him cope with his parents' divorce. But he didn't want anyone taking the place of his father.
"I thought, 'I'm going to go back to the Mainland someday and be with my dad.' I didn't want him to find out about Henry and think, 'I'm going to forget about Dennis because he has someone else in his life.' Because as a kid, you just don't know," explains Brown. "But Henry won me over. I was so rebellious and I didn't trust adults at all. But he was the right fit for me because he was quiet and never lectured."
It wasn't just luck that Brown and Sumida were paired together. BBBSH has a system that looks at compatibility, from interests to personality. For 2022 Match of the Year Dan Richards and Zach, they bonded over their love of fishing, ramen, the Guinness Book of World Records, and their June birthdays (just one day apart).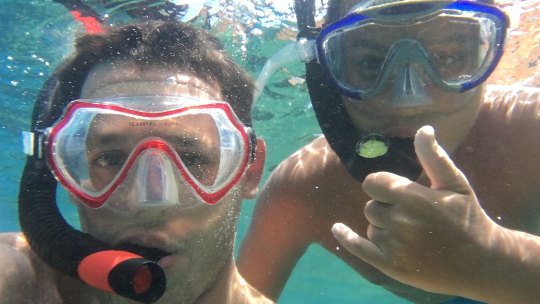 Richards and Zach snorkeling together. Photo courtesy Dan Richards
"We found a lot in common right out of the gate," says Richards. "We instantly had a great connection and a lot of that had to do with BBBSH's in-depth matchmaking."
Lifelong friendship
Richards applied to the program in 2016. He was 29 years old when he was paired with 8-year-old Zach several months later.
"I was a little nervous. It was the first time in my life where I would directly take on the responsibility of mentoring a kid who wasn't a friend or family member," says Richards.
But Richards was also excited to take on the challenge. Over the years, he's taught Zach to play golf and improve his swimming skills. Zach, who's now 15, says his friendship with Richards shaped his childhood.
"When I joined, I didn't know what was happening, but I was excited to be hanging out with someone," says Zach. "He helped occupy my time on weekends, but he's also helped me with my confidence and step out of my comfort zone."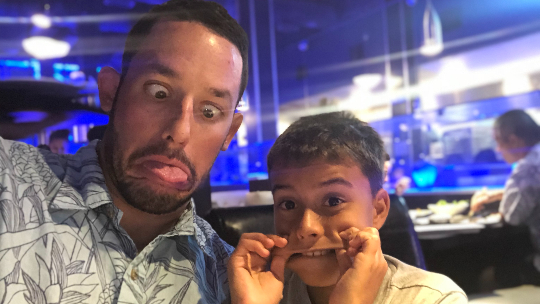 Richards and Zach enjoying a silly moment. Photo courtesy Dan Richards.
The positive impact goes both ways.
"As the Big, you think you'll give a lot. But you end up receiving just as much," says Richards. "Zach has helped me find joy and excitement in the little things. His favorite words are 'why?' and 'how come?' It's brought a sense of curiosity back to adulthood."
Making memories
While the two enjoy simply going holoholo, they're also there for each other's milestones. Zach says his fondest memory was Richards' wedding day in 2021.
"It was such a special day that I was happy to be a part of," says Zach. "It was great meeting everyone and feeling like I was part of the family."
"Whether it's his middle school graduation or my wedding, we're partners for each other in life's moments," says Richards. "Zach and his mom are like family. I'm lucky that I got a friend for life out of this match."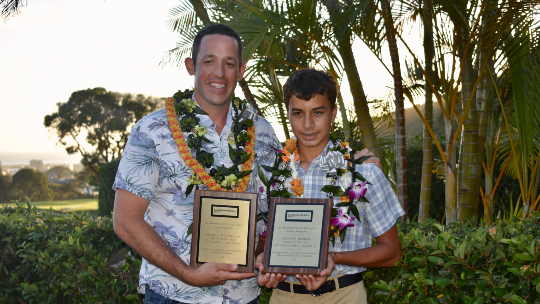 Richards and Zach displaying their 2022 Match of the Year awards. Photo courtesy BBBSH
Inspiring bright futures
Zach looks up to Richards in more ways than one. In his spare time, Richards is a volunteer firefighter. He gave Zach a tour of the station, which sparked the teenager's interest in the profession.
"Visiting the station and seeing what Dan does was exciting," says Zach. "Now I think I may want to follow that path."
Meanwhile, after 25 years of service, Brown is retiring as CEO of BBBSH next month. Not only is he the first Little Brother in Hawaii, but he's also the longest-serving CEO in the agency's history. And he owes a lot of that to his Big Brother, who empowered him to achieve what he never thought was possible.
"When you live in low-income housing, there's a lot of negative influence. But Henry was there to encourage me to have higher aspirations and hope for the future," says Brown. "I never thought I'd end up working for BBBSH, but from day one, I knew I was here for a reason. I was led into the role, somehow, starting when I met Henry."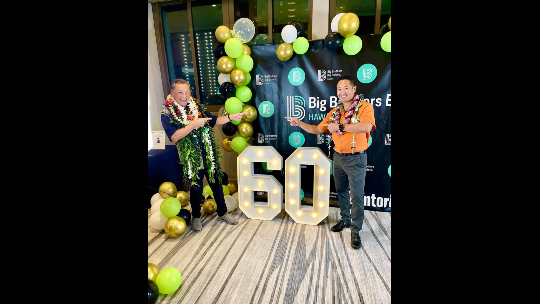 Brown (left) recently celebrating BBBSH's 60th anniversary with COO Tyler Kurashige. Photo courtesy BBBSH