Kumu Mandi Scott passes down the Hawaiian culture from her hula genealogy to a new generation. But for Scott, hula is more than just songs and dance. It's a way to care for others.
"I tell my haumana (students) that it's not about being the best dancer," she says. "It's also about inclusion. Take care of your hula brothers and sisters to raise up those around you."
Scott started taking hula as a child. At the age of 17, she was asked to teach hula to young adults who had Down syndrome. Although she didn't have experience working with people with learning disabilities, she gave it a try. She had a rough time at first. The students were older than she was and many didn't talk to her or even move. "Some would just sit in a corner," Scott remembers.
But she eventually got them to open up. They soon performed on the local TV show Hawaii Stars and for Special Olympics events. "I had to build that relationship," she says. "Once they felt safe and saw that I cared for them and wanted them to succeed, they blossomed. They're more capable than people may think."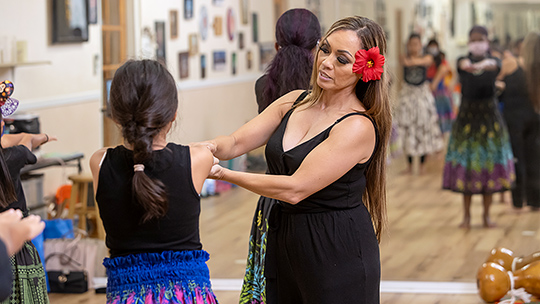 Kumu Mandi Scott teaches her keiki class students proper style and form.
Scott also learned something about herself. It made her realize her love and commitment to hula and her desire to share it with others. In 1999, she opened the nonprofit Na Maka O Puuwai Aloha ("Descendants of Generosity") in Waipio. Over the years, she's expanded the hālau to include other types of dances, including Polynesian (Tahitian and Maori), hip hop, jazz, and ballet, as well as lessons for 'ukulele, guitar, and voice. "It's important that my students feel good about themselves. Once they build their self-confidence, it can take them into the classroom and beyond to become successful adults," she says.
Some of her original students still dance at the hālau and Scott has opened her school – and heart – to more students with Down syndrome, autism, and other learning disabilities. "They deserve the same chance just like anybody else," says Scott. "We give them opportunities to be part of a group where everyone is included."
Scott's teaching goes beyond her hula studio. Her halau organizes an annual hoike at Hawaii Theatre to raise funds for college scholarships for her dance students. In addition to having good grades and class attendance, students must do 80 hours of community service. "I tell my students the importance of being selfless and to give back," she says.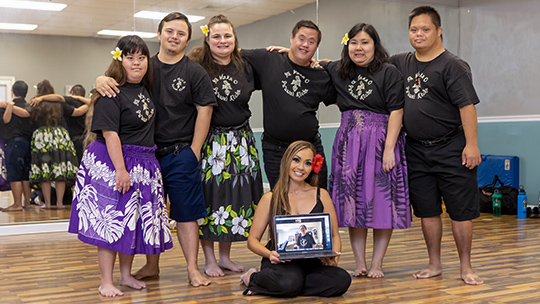 Kumu Mandi Scott with some of her first students when she opened her halau more than 20 years ago.
Performing at senior centers and care homes has been a big part of the halau's focus on community. "It's a way for my students to learn that we wouldn't be here if it weren't for our kupuna. So even if the seniors have their eyes closed and look like they're sleeping, it doesn't mean they can't hear you or feel your presence. Sometimes you can tell by the tears rolling down their cheeks," she says.
The halau shares Hawaiian culture with the rest of the world. They've performed on the U.S. Mainland, Europe, and the Asia-Pacific region, including New Zealand. "I don't want my students to see the world only through a book," she says. "I want to take them to the world."
Hula has become a family affair. Her husband, radio personality Shannon Scott, also dances. She's grateful that her two daughters, Tiani and Moanikeala Scott, will continue their hula legacy.
"As long as you do things with your heart and the right intention, things will work out," she says.
Photos: Romeo Collado