There are no smokescreens when it comes to cigarettes. Whether traditional tobacco or e-cigarettes, they're bad for your health.
While smoking tobacco is declining, vaping, particularly among young people, has become a serious public health threat that has led to EVALI (e-cigarette or vaping product use-associated lung injury). More than 2,700 hospitalizations for EVALI and about 60 deaths have been reported in the U.S. as of January 2020. Although e-cigarette products have been available in the U.S. since 2006, it wasn't until July 2019 that health officials started identifying the association between vaping and lung injury.
E-cigarettes versus cigarettes
Some e-cigarette manufacturers claim their products help smokers to quit tobacco. However, adolescents using e-cigarettes are four times more likely to smoke traditional cigarettes later in life. In addition, the Food and Drug Administration never approved them as being safe and there's still no policy regulating these products. The harmful chemicals and flavoring substances in them are not always listed on their labels. Although the federal government recently proposed a partial ban on some flavored e-cigarette cartridges, the problem still exists since the flavored nicotine is still available for refillable e-cigarettes.
Some e-cigarette products contain nicotine, which can cause cancer. High doses of nicotine can also cause seizures, especially in teenagers. Other e-cigarette products contain substances found in marijuana, such as THC, CBD, and butane hash oils (called "dabs").
Recently, vitamin E acetate has been linked to THC-containing products used by most EVALI cases. However, there are EVALI cases without vitamin E exposure and there are a variety of other airway irritants and cancer-causing substances in e-cigs. Our lungs are meant to breathe air, not smoke.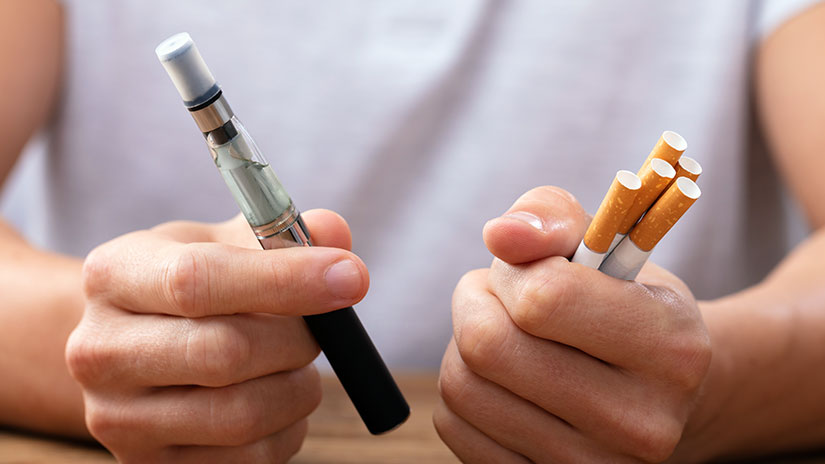 EVALI symptoms
The most common symptoms are associated with breathing, including shortness of breath, cough, and chest pain. Additional symptoms include nausea, vomiting, diarrhea, abdominal pain, and fever. The severity and length of these symptoms differ from individuals. If you vape and experience any of these symptoms, tell your doctor. It could help your doctor better diagnose your condition.
What should we do
We need to work together to educate people, especially children, about the dangers of vaping. The rate of vaping in Hawaii's high school students is twice the national average. Half of Hawaii high school students have tried vaping. Over 60% of teenagers who vape don't realize e-cigarettes contain nicotine, and most teens vape because they enjoy the flavors. We can discourage vaping by eliminating flavors, raising the age of purchase, and regulating e-cigarettes similar to regular tobacco. Some communities on the Mainland have banned e-cigarettes due to the health risks.
Resources
To learn more about lung injury associated with e-cigarettes, visit the Centers for Disease Control website or 808novape.org. For help quitting smoking or e-cigarettes/vaping, talk to your doctor or call the Hawaii Tobacco Quitline at 1-800-QUIT-NOW.
Brian Wu, M.D., is a pediatric pulmonologist and medical director at HMSA.
Sarah Park, M.D., State Epidemiologist with the Hawaii Department of Health, and Bryan Mih, M.D., pediatrician and director of Kapiolani Smokefree Families Tobacco & Nicotine Cessation Program, also contributed to this article.