There's something comforting and familiar about a family-run business. There's a warmth and friendliness that customers immediately pick up on. Fortunately, those businesses aren't hard to find in Hawaii.
Here are four families whose hard work and commitment to each other and their community have earned them a faithful, supportive customer base.
Nourishing the community
Whether you drive past Sumida Farm every day, once a month, or once every 10 years, it always looks the same. Green patches of watercress in various stages of growth, sprinkler heads mounted on tall poles spraying water in a lazy rotation, and that little hut thatched with coconut fronds. There's also urbanization, development, and a highway surrounding the farm and rail tracks overhead.
Moriichi and Makiyo Sumida started the farm in 1928. Ninety-five years later, Kyle Suzuki and his wife, Emi (nee Sumida), are the fourth-generation stewards of the family's legacy.
The Suzukis took over the farm in 2020 after the sudden death of Aunt Barbara, who was the farm's president. With the guidance of operations manager Uncle David and the support of the community, "we were able to transition into taking over the farm," says Kyle.
The foundation of the farm's future, Emi says, is her and Kyle's belief that the farm represents "nourishment." "It's more than just watercress on your plate. Nourishment is about education, culture, history, music, art, and more," says Emi. She's grateful for her parents and what they taught her and the experiences they allowed her to have at the farm.
"My father, Stephen, taught me from an early age that it's not about our family," she adds. "It's about how we're just a blip in the history of this area that Native Hawaiian farmers managed for centuries before us."
"It's an honor for us to carry on," says Emi.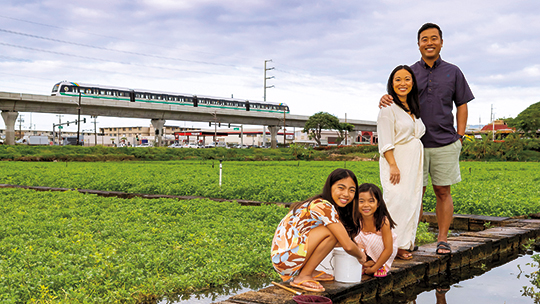 The Sumida's vibrant watercress farm is an oasis in a sea of development. Kyle and Emi Suzuki with their daughters, Clare (10) and Alice (7).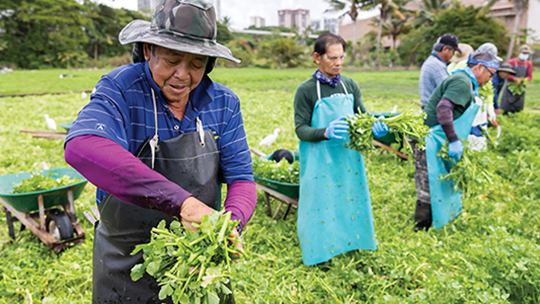 Committed to the upkeep of the farm, workers didn't hesitate to report for work during the pandemic.
Sweet success
When he was a child, Neale Asato tried to create his own version of Tasaka Guri Guri sherbet. "We wanted to enjoy the beloved frozen treat without going to Maui," Asato says. It's no surprise that Asato grew up to run a successful sweet shop. His mom's side of the family has long been in the restaurant industry and Asato worked at places like Victoria Inn in Kaimuki and H&T Burger. "We love to eat and cook, so starting a food business felt like a natural move," Asato says.
Honing his culinary skills on the job and at home, Asato started an ice cream business. "I launched an Instagram account and created an ice cream subscription business out of our apartment," he says. "The first sherbet flavor was Green River Shochu Guri Guri." About four months in, Asato Family Shop transitioned to focus more on "local kine" flavors. Some of their most popular flavors include Rainbow Skittles, Tomoe Ame Rice Candy, and White Rabbit.
Asato Family Shop is truly a family endeavor. Pitching in to do whatever's needed are Neale's wife, Eryn; and his parents, siblings, children, aunty, cousin … even his dog! When they're not working, the family likes to travel, go to the beach, and support new and old-school mom-and-pop shops statewide. "As long as we're together," Asato says, "we have a good time."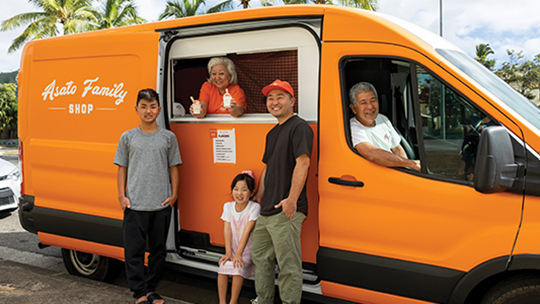 Bradyn; Asato's mother, Colene; Mila; Asato; and Asato's father, Nathan.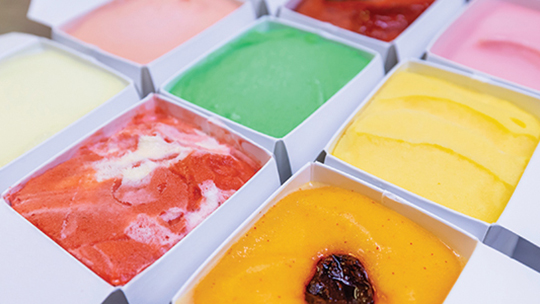 A variety of colorful and delicious flavors.
Remembering their source
How has City Mill remained a longtime kamaaina business for more than a century?
"We're part of something that's bigger than us," says President Steven Ai. "We're here for Hawaii's communities."
Ai's grandfather started City Mill in 1899 after immigrating from China. The stores continue to be there for local families for home and gardening supplies and to prepare for storms and rebuild after. In 2018 during heavy floods in Hawaii Kai, City Mill provided neighborhood residents with buckets and gift cards.
"There's a Chinese saying: 'When you drink water, remember the source,'" he says. "The source of our success is our communities and team members [employees] who treat our customers like family."
Steven and his sister, Vice President Carol Ai May, are mentoring Carol's son, Evan Killips, to lead the family legacy into the next generation.
"My grandfather started this business as a rice mill," Ai says.
"If we were still a rice mill, we wouldn't be in business. We must change with the times, but still keep my grandfather's commitment of caring for our communities."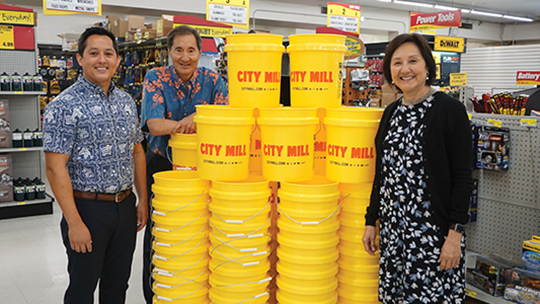 From left, Evan Killips, Steven Ai, and Carol Ai May.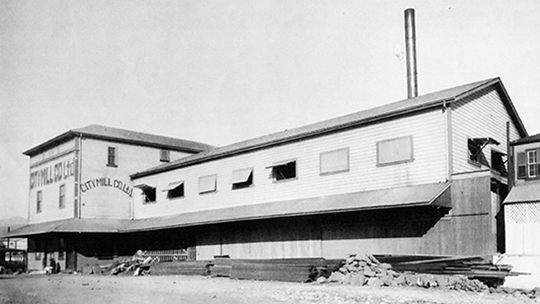 In 1899, City Mill opened in Chinatown on Oahu.

Everyone chipped in
Over 20 years ago, James "Jimmy" Chan saw a popular chef make sweet potato chips on the Food Network. "That gave me the idea to make chips using Okinawan sweet potatoes," Chan says. When the chips were a hit with his taste testers, Chan expanded to taro chips, selling both at swap meets and craft fairs until he opened a shop in Kalihi. Hawaiian Chip Company was born.
Chan's parents not only invested monetarily in their son's business, but they also labeled bags, peeled taro, and helped with sales. "Two decades later," Chan says, "my mom is worried I'll put her to work if she visits from Hilo."
Chan also received early support from someone special. "My girlfriend at the time, now wife, Kammy, bagged chips with me at 2 a.m. and sometimes fell asleep standing up," Chan says. "She eventually helped establish the factory retail store, setting the foundation for its success."
Chan and Kammy have a 9-year-old daughter, Holly, who has a rare genetic condition called Rett Syndrome. "It presents many challenges," says Chan, "but she continues to charge on enthusiastically."
To raise awareness about Rett Syndrome and other neurological disorders and to raise funds for family empowerment programs and research, the Chans started Holly's Fountain of Hope. Hawaiian Chip Company donates a portion of all sales to Holly's Fountain of Hope. Other companies in Hawaii have also pledged to make donations from sales of Holly's favorite products designated with a Holly's Choice sticker. "A cure for Holly," Chan says, "could help many other families coping with neurological disorders and make a huge impact on their lives."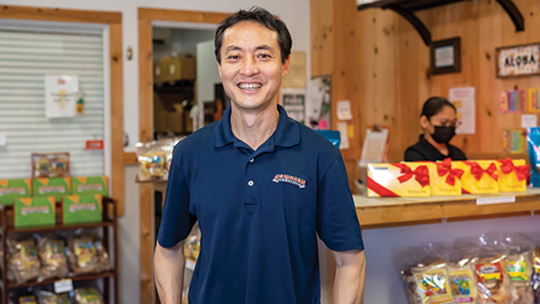 Jimmy Chan in Hawaiian Chip Company in Kalihi.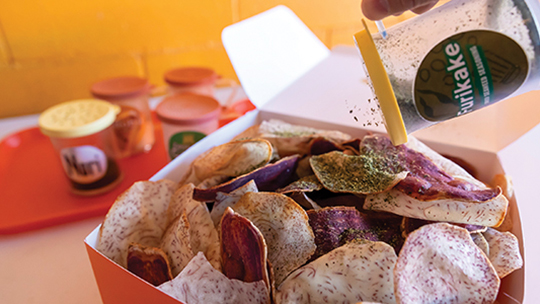 Fresh taro and sweet potato chips made to order.