Jo Ann Chang, D.D.S., buys practically all of her vegetables, fruit, and meat from local sources. Here's her riff on sanbai zuke, traditionally made with daikon. Since Dr. Chang likes to make a huge batch, we've pared down the recipe for easier handling.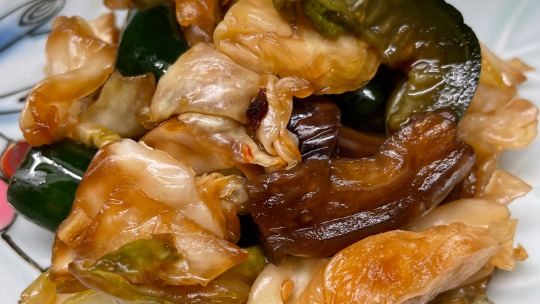 SANBAI ZUKE
Ingredients
1 1/2 lbs. cabbage
1 lb. Japanese cucumber
1 lb. Japanese eggplant
1 Tbsp. Hawaiian salt
1/4 cup plus 2 Tbsp. shoyu
1/4 cup sugar
1 Tbsp. vinegar
1/4 tsp. dried chili flakes
1 Tbsp. minced ginger
Instructions
Cut cabbage in chunks. Slice cucumber and eggplant into 2-by-1-inch pieces. Place vegetables in a large container and sprinkle with salt. Mix well. Cover and let stand overnight. Drain vegetables and squeeze firmly to remove excess water. In a small saucepan, bring shoyu, sugar, vinegar, chili pepper, and ginger to a boil. Pour over vegetables and stir to combine. Pack into jars or containers and refrigerate.