"You are Raln the Younger," the game master began. "You're the only one in the group who doesn't kill people. You just steal things and are kind of lazy."
Raln was part of a gang of ruffians, following in his father's footsteps. But much to his chagrin, the gang had become more violent and thuggish. The gang's latest plan was to murder a man and his pet wolf; it was up to me and my companions to stop them.
The invite
The night was set up for me to go to a gaming store called the Armchair Adventurer at Dole Cannery in Iwilei and join a role-playing game (RPG) called Pathfinder.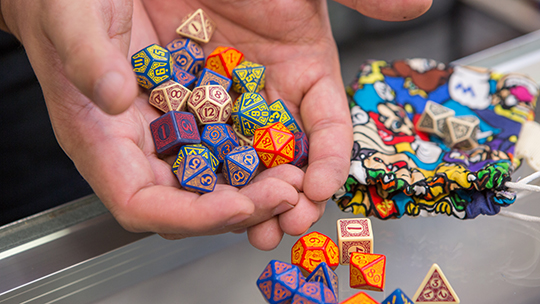 I've played board games all my life. From Candy Land to Scrabble to backgammon, I'm used to games with easy-to-define rules and structure. At first glance, RPGs don't seem to be like these. Nonetheless, I was eager to try it. As I headed out for a night of Pathfinder, I really had no idea what I was getting in to.
The game
Pathfinder is an offshoot of another popular RPG, Dungeons & Dragons. In Pathfinder, you create a character (or have one created for you) with certain characteristics and strengths. Your character goes off on adventures dictated by the game master, who develops the storyline as the game goes on.
Other players join the adventure. As you encounter obstacles (bad guys, locked doors, monsters, etc.), you use a combination of your strengths and dice rolls to find out how successful you are in overcoming them.
You also speak with other players in character, so it takes quick-thinking and imagination. Often, your character's dialogue or response to a question can change the course of the mission, as the game master takes your response and moves things in a new direction.
The game master
I was the guest of game master Nicolas Logue, whose day job is professor of theatre at Windward Community College. With a master of fine arts in Asian theatre and two Fulbright scholarships to China, Logue has the knowledge and imagination needed to be a game master.
In 2008, this award-winning game adventure writer created Pathfinder Society Organized Play, the campaign that gave the game its structure, and developed story lines used by players around the world.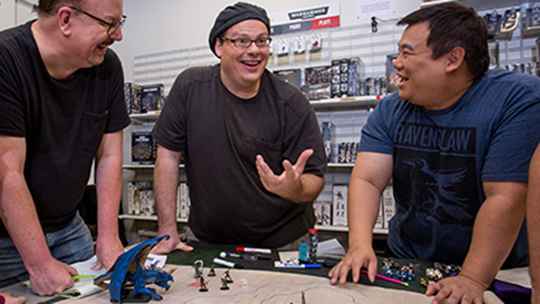 Earlier, I asked him what I should do to prepare for game night. His quick, half-joking reply? "Take an improv class."
The game night
Forget what you've heard—all types of people play RPGs. On this night, Logue brought his friends, who were all experienced players: A former state representative, a program manager for Hawaiian Electric, the head of a college dance and musical theatre program, and a warehouse purchaser at Joint Base Pearl Harbor-Hickam.
Logue described the characteristics of Raln the Younger to me and gave me a character sheet that listed his strengths and abilities. This came in handy when I ran into an obstacle and had to decide how to overcome it.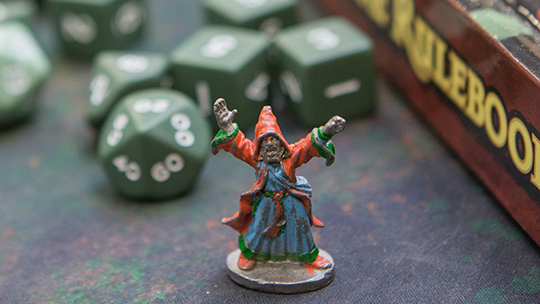 It would take an entire issue of Island Scene to recount all the twists and turns that led to the final standoff (sabotaging the bad guys' transport, stealing a cart full of liquor barrels, freeing one of us from an animal trap, etc.) But after three hours of story narration, planning, dialogue, and dice rolling, our team had put an end to the evil plot.
And there was laughter. Lots of laughter. The players around the table weren't just game focused, but social focused, which is what the experience was really all about for me.
For some, these characters live on in campaigns that last for weeks or months. Will there be more adventures in Raln the Younger's future? We'll see.