Danielle "Dani" Douglass has had three episodes of depression in her 43 years. When the pandemic began, however, its impact on everyday life collided with personal issues she'd been struggling with. The result was devastating. Says Douglass, "The isolation and loneliness from the lockdown took me to the deepest, darkest depression of my entire life."
She knew what she needed. When the world somewhat reopened in 2021, she embarked on a three-week trip she called "soul renewal 2021." Douglass traveled to Oregon, Washington, Tennessee, and California to connect with longtime friends. Her last stop was Arizona, where a personalized program at a wellness retreat capped off her journey.
There's eco-travel, voluntourism, long-term travel, and more. Under the umbrella of experiential travel is something called transformative travel. This is travel for personal betterment whether you want to identify your life's purpose, overcome grief, find out what your body is physically capable of, or learn to be self-aware.
For Douglass, transformation came in the form of healing.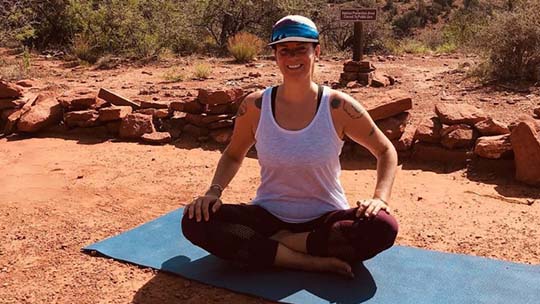 Ready for yoga. Photo courtesy Dani Douglass.
What the soul needs
Douglass speaks of her friends with affection and tenderness.
Tara Naylor in Portland is "much younger" than Douglass, yet embodies wisdom and maturity. "I craved to be around her positivity, adventurous spirit, and kind and supportive heart."
They took a road trip to Leavenworth, Washington, to stay with a college friend, Rose Robison. "She's one of the strongest women I know, physically and mentally," says Douglass, "and also nurturing." They share a love of nature, yoga, and healthy living.
In Nashville, she met up with Sabrina Hall and her toddler, Hazel. "It's comfortable being with Sabrina because she knows me so well," says Douglass. "And Hazel's enthusiasm for everything reminded me how special and amazing life is. Children have a way of lighting up the world."
Adriana Herrera's "colorful, bright, and big, upbeat personality and style" immediately drew Douglass to her when they worked together in Honolulu. "I'd always admired how brave she is," she says. "She's a natural, resilient leader who has her own company." Because she lives alone, Douglass relished her time with Herrera and her mom, Beatriz, in San Diego.
Last stop for new beginnings
Her last stop was Sedona, Arizona, which she describes as a "spiritual, magical, beautiful, amazing place that attracts healers of all types." She says, "I wanted to immerse myself in all that."
And yet, "I didn't really know what a profound effect it would have on me."
Through the wellness retreat, Douglass experienced Native American practices such as working with a shaman and meditating to sound vibrations at a musical concert to purge and release emotional issues. "I felt super light, refreshed, and revived."
She stayed open-minded and allowed herself to be pampered and receive – massages, a meeting with a psychic, crystal healing, and the first time in a sensory deprivation tank. Of the latter, Douglass says, "I'm a believer in its benefits now."
Not one to sit still, going to a different environment forced Douglass to self-reflect in a way that was truthful, honest, and raw. "I learned to be OK with being alone," she says. "I reconnected with who I am and my intentions, and rediscovered things I love about life and people. The whole trip was the beginning of my self-love journey.
"I went through a really tough time," says Douglass. "I realized that I didn't have to be 100% recovered right away and to be kind to myself. I now know that everything passes and a calm mind is always within reach."
Staying on track
To keep the peace she found in Sedona, Douglass continues activities such as yoga and meditation. She loves taking classes with Yoga Under the Palms, a premium selection from Active&Fit Direct™, which is a benefit of her HMSA plan. Douglass also continues virtual meetings with her therapist.
You can take care of yourself without leaving Hawai'i, too. HMSA members can get discounts on self-care and holistic well-being services with HMSA365. Visit the website or call 1-855-329-5461 to learn more.
Hero illustration by Garry Ono.
Active&Fit Direct is a trademark of American Specialty Health. The Active&Fit program is provided by American Specialty Health Fitness Inc., a subsidiary of American Specialty Health. ASH is an independent specialty health organization offering musculoskeletal health provider networks and programs, fitness center networks and programs, and well-being solutions on behalf of health plans, employers, and other clients waiting for approval to change to HMSA.