Photography by Jamie Nakasone

I've performed in front of thousands of people all over the world, supporting national acts such as No Doubt and Train. But none of those experiences gave me as many butterflies as when Parents and Children Together (PACT) asked me to be a guest story time reader. As part of Child Abuse Prevention Awareness Month, Family Story Time events are hosted at various libraries around Oahu. Children who attend are treated to a story and a free goodie bag – fun for the kids, terrifying for me.
Winning over adult audiences is one thing, but children are very honest in their reactions. If I'm not story telling with a Mr. Rogers-like quality, they'd let me know. Sure, I read to my daughters all the time. But I would be lying if I said I always gave it 110 percent. As a parent, sometimes reading that story at the end of the nightly bedtime routine is sliding into home plate after a long day.
When I arrived at Salt Lake-Moanalua Library, I was eager to find out which story I would be reading for the event. The librarians had prepared a few selections for me. For me, the choice was obvious. I would be reading "I Love You, Stinky Face."
I was actually not familiar with the story so I quickly flipped through the book to see if maybe I could do a few different voices. It wasn't long before a mass of toddlers migrated to the library carpet for some story time. There wasn't a stage, microphone or fancy lights – just a chair and a book. I gave a big friendly "good morning" and introduced myself.
Hi, my name is Fernando Pacheco and I have a television show called Almost Local. Has anyone watched it?
[silence] Tough crowd.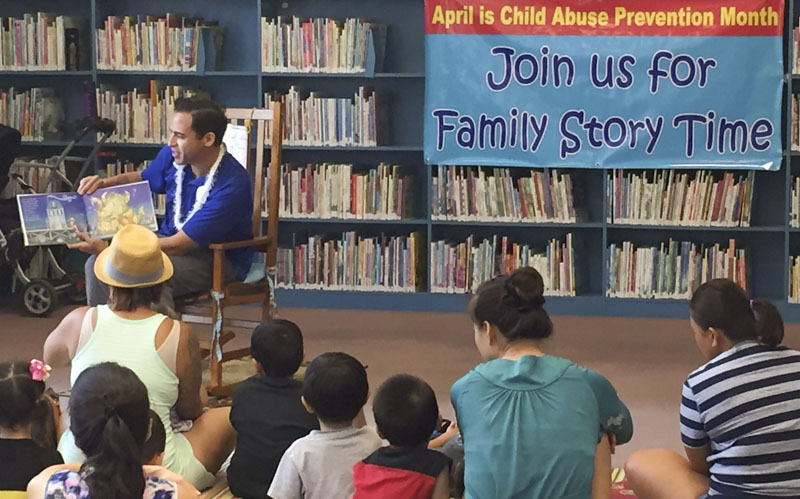 As an icebreaker, I asked all the kids to make their stinkiest face. I was getting a few laughs – there was a chance I'd survive after all. My nerves were still getting the best of me. I noticed my hands shaking so I had to keep adjusting my grip on the book.
The audience was on the younger half of the toddler spectrum so I kept my energy and volume up to hold everyone's interest. One little boy started walking around me. I just considered him as my hype man – the show must go on.
It took about five minutes for me to finish the story but for me, it felt like 45 seconds. When I'm nervous, time just flies.
I walked away from the library that day with more than the self-accomplishment of taking on the toughest crowd of my career. No child should experience any type of abuse or neglect. It's those formative years that shape the people we become. If my presence at Family Story Time raised a single ounce of awareness to prevent child abuse, I have done my job.
For more information on child abuse prevention, visit: https://www.childwelfare.gov/topics/preventing/preventionmonth/