Today's keiki are tomorrow's leaders. That's why it's important to make sure they grow up safe, happy, and healthy. Project Hawaii Inc. understands this and provides stability and support to children in need through programs that include education, training, and summer camps.
Since it was founded in 2003 by Cliff Kama Sr. and Magin Patrick, Project Hawaii has helped more than 2,000 homeless children break the cycle of poverty. Run solely by volunteers, the success of this nonprofit organization depends on community members who dedicate their time and resources to improve the quality of life for keiki.
Rewarding work
Deborah Vega is one of those people you're thankful to have in your life because of her sweet disposition, positive attitude, and willingness to help no matter what the task. It's no surprise that her daughter, Ashley, easily recruited her to volunteer with Project Hawaii on a sunny day in June 2022.
Armed with large yellow signs with the message, "Help Feed Homeless Keiki," Vega, her husband, Ashley, and the rest of the volunteers hit the pavement in Pearl City to collect donations for Project Hawaii Summer Camp. "It was rewarding to see how generous people are," Vega says. Thanks to those people and the volunteers' tenacity, they collected over $2,500 that day.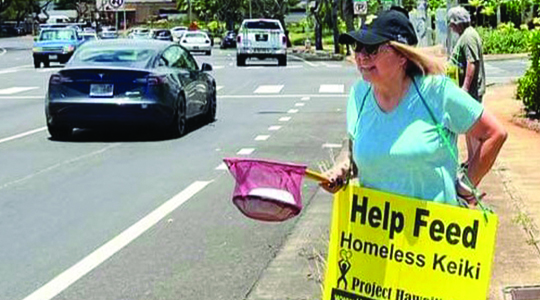 Collecting donations in Pearl City.
Happy campers
Project Hawaii Summer Camp gives homeless and low-income children a place to learn and practice social and life skills needed to succeed in school. The kids are grouped by age and needs. Younger children learn about art, music, and the environment while developing self-esteem, understanding the importance of community, and appreciating Hawaiian culture.
Older kids can participate in a junior leader program or teen mentoring program where they learn how to guide, nurture, and take care of the younger campers. Children also learn about healthy eating and are served three nutritious meals and two healthy snacks a day.
Year-round care
Project Hawaii offers various programs throughout the year and holiday events that provide keiki with happy memories and positive experiences that grow their confidence and help them develop their identity.
To learn more about programs or volunteer opportunities, visit their website, email ProjectHawaii@HelptheHomelessKeiki.org, or call 808-987-6018.
Photos courtesy of Project Hawaii.