Today is International Literacy Day, and to celebrate the time-honored pastime of reading, I've gathered some of my book-loving friends together to share our thoughts about reading and to recommend a few of our favorite books. I'll start it off.

Jamie Nakasone
Why I read: I love getting lost in a good story. It's a huge stress reliever for me, and has long-term life benefits. It enhances my creativity, analytic and writing skills, and vocabulary. I pick up a lot of knowledge, too, useless or otherwise.
E-books or print books? I still read print books. E-readers seem like they would be hard on my eyes.
My favorite genres: When I was a kid, I was all about animal stories. Today, my faves are suspense thrillers and romances. The thrillers give me that "thrill" (hence the name) without scaring me too much. Romance novels, including historical and supernatural types, appeal to my mushy side.
Recommended reads:
- "Rainwater" by Sandra Brown. Brown usually pens thrillers, but this novel is a heart-warmer with a twist, set during the Depression Era in the Dust Bowl of the South.
- The "Pendergast" series by Douglas Preston and Lincoln Child. These 14 (to date) thrillers are filled with suspense and tinged with horror, starting with "Relic." All feature, to some degree, a brilliant, enigmatic FBI agent named Aloysius Pendergast.
- "Winter Garden" by Kristin Hannah. A heart-wrenching novel about mothers and daughters, with a bit of history thrown in.
- The "Goddess Summoning" series by P.C. Cast. Written by the mother half of the House of Night series (teen vampire romances) writing team, the Goddess series is deliciously cheesy romance with each one based on a Greek myth or other folklore.
- "Kavik the Wolf Dog" by Walt Morey. I couldn't make this list without including one of my favorite animal books from my childhood. It's a bit "Call of the Wild-ish" with a dog that's half wolf, the boy he loves, a long journey....well, you get the picture.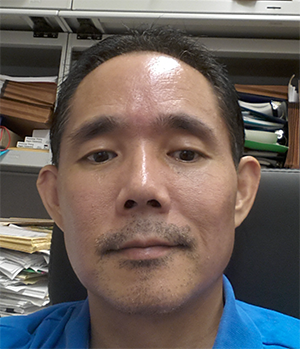 Jon Nishihara
Why I read: I read for entertainment, also as an escape to get away from the normal routine. It helps me relax and has given me knowledge that I would not possess otherwise. It's good for trivia contests.
E-books or print books? E-books. Although, I still read paperbacks sometimes while my phone is charging or on flights.
My favorite genres: Horror fiction, because I enjoy a good scare. Suspense novels, too, but not as much.
Recommended reads:
- "Swan Song" by Robert McCammon. A post nuclear war survival horror novel with compelling characters.
- "God's Lions" by John Lyman. An excellent novel about good vs. evil and the Vatican. There are four books in this series.
- "Breach" by Patrick Lee. A truly unique and imaginative sci-fi adventure story. There are three books in this series.
- "Lightning" by Dean Koontz. A thriller about good vs. evil with a twist.
- "The Keep" by F. Paul Wilson. Historical fiction/horror novel about good vs. evil. There are five books in this series, but this one can stand on its own.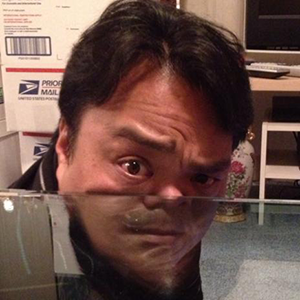 Joel Lagud
Why I read: Reading allows me to take a mental vacation and let my internal movie theater come to life. It has increased my vocabulary, allowed me to better understand abstract concepts, and allowed me to experience other viewpoints that I otherwise may not have.
E-books or print books? I had preferred reading paperbacks; they're portable, tactile and easily held in one hand. Nowadays, I actually prefer using reading apps on my phone, since its one less thing to carry, fits in my hand, and can be read in the dark.
My favorite genres: Science fiction. Lately though, I've been reading the sub-genres of hard science fiction and military science fiction. I like the examination of what humanity can do and can become, and the utter space opera of steely-eyed admirals facing down impossible odds. Escapism. Yep.
Recommended reads:
- "Ender's Game" by Orson Scott Card. From what I hear, this book has become a staple in English classrooms, and it's hard not to see the attraction it has for young adults. You follow the protagonist as he learns to lead, and his choices are never easy, and never without consequence.
- "Altered Carbon" by Phillip K. Morgan. A mix of film-noir hard-boiled detective and post-humanity cyber punk. Read it.
- The "Night's Dawn" trilogy by Peter F. Hamilton. My mind was blown. These books contain an ensemble cast of characters, playing out in varied locales and levels of civilization, all to examine humanity's existential crisis. Just a warning: it's a little dark, very violent, and can be upsetting to some people.
- "Little Fuzzy" by H. Beam Piper. This little gem was hard to find, but has now entered into public domain. It sounds funny, but this is a "crackling good tale" that's fun to read and hard to put down.
- "The Martian" by Andy Weir. OMG. All-time new favorite. If you've seen the new movie trailers with Matt Damon, they are just a fraction of what happens in the book. Hard science fiction with a soft, smooshy core of humanity.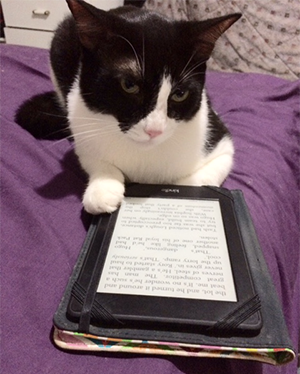 Lee Cuccia (That's not Lee in the photo, obviously. Instead, she opted to put her cat, Tybalt, in the spotlight.)
Why I read: I have always loved to read, mostly because the places and people I was reading about always seemed so much more interesting than daily life. That led to an interest in other places and cultures in our world, as well as a love of history. Additionally, love of reading led to writing, which is a whole other love of my life.
E-books or print books? It's pretty funny, as I always said I loved "real" books and resisted when a friend expounded on the wonders of a Kindle. Then that friend gave me a Kindle for my birthday, and it goes everywhere with me. Did you know you can download lots of classic literature for free on a Kindle?
My favorite genres: Fantasy and historical fiction. These days I am all about escapism and these two genres do that nicely.
Recommended reads:
- "The Lymond Chronicles" by Dorothy Dunnett. It starts with "A Game of Kings," and introduces a very vibrant cast of characters. The writing is beautiful, and it has lots of action and accurately depicted historical events.
- "The Lions of Al-Rassan" by Guy Gavriel Kay. An alternate history set in a version of the Iberian Peninsula. The characters are beautifully written, the plot is tight and full of action and ultimately tragedy. One of my favorite books ever.
- "The Forgotten Beasts of Eld" by Patricia McKillip. McKillip is a very lyrical writer, and this remains one of my favorites of hers.
- "The Far Pavilions" by M.M. Kaye. A luscious, epic novel of the British Raj in India. Kaye grew up in India at the end of the Raj, and her love and knowledge of the country and its people shines through.
- "The Lord of the Rings" by J.R.R. Tolkien. They split this into three books, but Tolkien wrote it as one. If you are at all interested in fantasy, this is a great book to check out.
The books mentioned here don't even begin to touch the surface of worthwhile reads out there. I'm sure my friends will agree with me that this world needs more book lovers, so go on, visit your local library or book store, or browse online book sellers. Pick a story, find a quiet corner, and get lost in something wonderful.
If you're a book lover, too, tell us why you read. Share your comments or questions below, or post them in Facebook or Twitter.