"The world is so beautiful, I tell you."
Clement Gorai was running a 50K ultra-marathon when he fell in love with the mountains. These weren't the lush green Koolau in his backyard. Gorai fell in love with the view of Mount Shasta in California and Mount Hood in Oregon. Their craggy snow-covered peaks called to him. Since that day almost 20 years ago, he takes every chance he gets to travel the world and climb its highest peaks.
Today, at 58, Gorai is gearing up for his biggest climb yet — Aconcagua, a nearly 23,000-foot mountain in Argentina. It'll be his fourth of the Seven Summits, the highest points on each continent. "I'm working on one big one. This, it's a heartbreaker," says Gorai. He's been training for months, hiking or biking the 14-mile round-trip to work and swimming and running to cross-train. On weekends, he hikes Oahu's trails. Be sure to say "howzit" if you see him on Kuliouou Ridge or Kealia Trail, two of his favorites. And don't be surprised if you catch him climbing Mauna Loa to get some altitude training.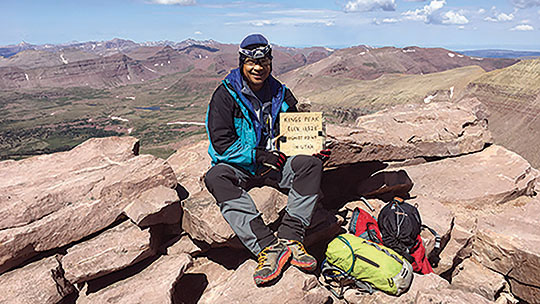 Gorai atop King's Peak, Utah

Whether he's training or mountaineering, Gorai's keenly aware of the beauty and danger that surround him. "Nature can be joyful or it can take your life, even on a nice day." He says that climbers have to love what they do, respect nature, and build mental toughness because even the most experienced are at the mercy of the mountain.
On expeditions, teams of climbers walk uphill with guides for seven hours at a time, periodically camping to adjust to the altitude. Days start early before the snow starts to melt. Teams are in it for one goal: To make it to the top. High-altitude climbs like Aconcagua take weeks to summit and climb back down. "The journey is the most important thing, what you learn on the climb and what you experience," he says. "It's pushing your body to the limits."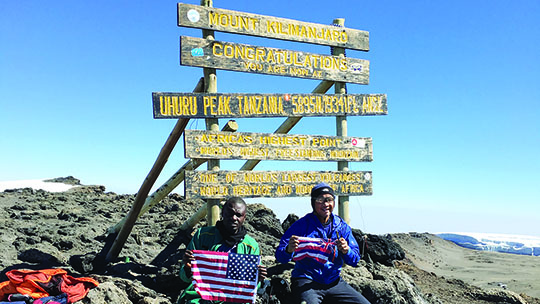 Gorai at the summit of Mount Kilimanjaro, Tanzania

He recalls the striking beauty of one of his favorite early climbs. "When we were out on Mount Rainer, maybe about five hours into the climb so we're pretty high already, nobody told me to look back and look out. But when I turned back accidentally at a reverse period, I could see all these other peaks. It was just chicken skin."
When teams reach the summit, they're overwhelmed and tired, but they celebrate, hug each other, and cry. Many climbers are in it for the rush, but it's serenity that propels Gorai to the top. "It's so serene up there. It's peaceful. It's quiet and you hear the wind blowing past you and it's cold, forest," he says. "But if it's a nice day and that's what you love the most, then it hits you. It's really an accomplishment."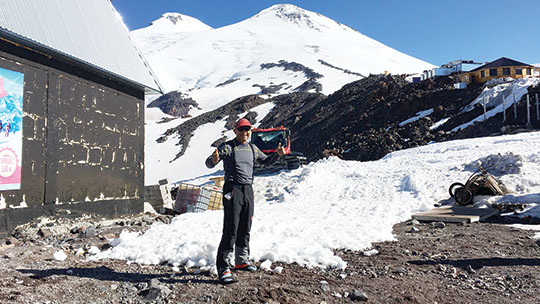 Gorai on Mount Elbrus, Russia
Note: Clement Gorai passed away unexpectedly after this interview. He was doing what he loved, climbing Mt. Aconcagua in Argentina. We send our aloha to Clem's family and the many friends he made along his journey, here in Hawaii and around the world.