Betty Kataoka's ozoni is unlike any other. "It's chicken soup on steroids," she says.
Ozoni, or mochi soup, is a traditional Japanese New Year's dish. For many families, eating ozoni as their first meal of the new year ensures good luck.
But like any dish, variations range from the simple to the mind-blowing. Growing up on Kauai, Kataoka thought that her father's ozoni was like everybody else's. "It's what we knew," she says.
In addition to an unusually long list of ingredients, Kataoka's father, Gengo Nabeshima, had specific rules for his soup:
The cook must have clean, good thoughts while preparing it.
The cook must use an odd number of items. For example, three carrots. Not two.
You must eat everything that's in the soup. Don't like daikon? Too bad. Eat it.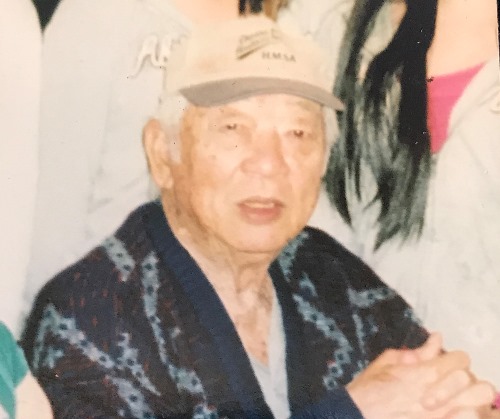 Kataoka's father, Gengo Nabeshima
According to Nabeshima, each ingredient has a special meaning or purpose:
Chicken (boneless skinless thighs) and chicken broth – from the land
Araimo (Japanese taro) – builds muscles
Bamboo shoot – makes you as strong as bamboo
Carrots – ensures good eyesight
Daikon – because it's Japanese
Gobo (burdock root) – helps you stay grounded
Hasu (lotus root) – its beautiful flower helps you to be beautiful
Konbu – from the ocean
Konnyaku (konjac) – removes poison from blood
Onion, garlic salt, and shiitake mushroom – adds flavor
Mochi (rice cake) – ensures long life
Mizuna – adds green color
Cook chicken in chicken broth and skim the fat. Add peeled, cubed, chopped, soaked, and sliced ingredients and cook until tender. Add mochi and mizuna and simmer gently until mochi is tender. Season individual servings with shoyu.
Kataoka has been making this ozoni for years. "It makes a huge pot," she says. And even though guests leave her home with a containerful of soup, but there's enough for the family to enjoy for several more days.