A paycheck is an important part of any job. But job satisfaction can be more than a salary. Here are three employees who chose career paths that give them a sense of fulfillment and purpose to make a difference in their communities. Work is part of who they are and the values they hold near and dear to their hearts.

#livingherblessedlife
For Kumu Lily Marleen Utai, teaching at Malama Honua Public Charter School in Waimanalo has been a cultural awakening. "Teaching here grounds me physically, emotionally, and spiritually," she says. "It's the 'medicine' that gives me strength to do my kuleana as a kumu."

Utai connects with local cultural groups to learn traditional Hawaiian practices and restoration projects. And the doors of opportunities continue to open for her. The understanding of Hawaii she receives is transferred to her students. "When my students share their knowledge with their ohana, the foundation starts to build," she says. "Building community is not about taking. It's about emptying ourselves and being present in the work, because what comes after is an unforgettable journey."

Although Utai has taught in California and other areas on Oahu, she feels that her calling and kuleana has always led her paths back to Waimanalo. "My noeau is here," she says. "I'm privileged and blessed that my feet are planted and grounded here in the lands and sands of my birth. I live a blessed life because I do what I love where I'm loved. This is my lifetime hashtag – living my blessed life."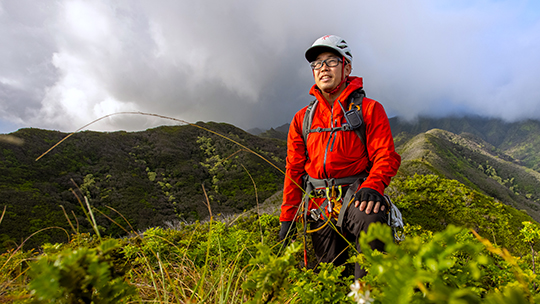 Ryan Chang investigates plants along a ridgeline in East Oahu.
Nature calls
Ryan Chang didn't know what he wanted to do after graduating from Lutheran High School in Honolulu. He attended community college only to realize that school wasn't for him.
Then he started hiking with friends and discovered his calling to be outdoors. He learned about Hawaii's endangered native flora and fauna and the importance of protecting them.
"People are becoming more aware of what's in their backyards and how losing native plants has a domino effect on animals and the health of our forests and drinking water," he says. "There's no money to be made in conservation, but you can't put a value on saving a species from extinction."
As a field technician for the Oahu Invasive Species Committee, Chang rappels to remote areas to survey the dangers that invasive plants like miconia and strawberry guava have on native forests.
Although the job can be dangerous, Chang believes it's worth the risk. "Every species deserves a chance to live," he says. "It's a dire situation, but I have hope."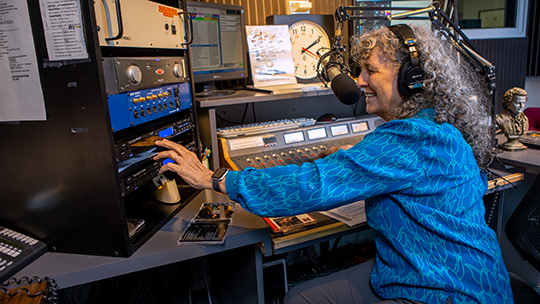 Louise Kealiiloma King Lanzilotti in the Hawaii Public Radio studio.
music hostess with the mostest
As a teenager, Louise Kealiiloma King Lanzilotti went on a family trip to India where she marveled in the grandeur of the Taj Mahal. But it was the poverty she saw on the streets of New Delhi that left a lasting impression.
"That's when I decided that I didn't need to make a lot of money," she says. "My family wasn't rich, but compared with those people in India, I felt I had nothing to complain about. I already had enough."
Lanzilotti got a degree in classical music and started conducting and teaching arts education at public schools in low-income neighborhoods in Philadelphia. "I was blessed with parents who told me to follow what I loved," she says.
When she returned home to Honolulu, she held positions as curator of education at The Contemporary Museum and managing director at Honolulu Theatre for Youth. One of her proudest moments was bringing the international music teaching program, El Sistema, to underserved youths in low-income housing communities.
Lanzilotti currently hosts Classical Pacific and Kanikapila Sunday on Hawaii Public Radio. "The arts and music speak to us about empathy, communion, and beauty," she says. "It's part of the human experience and helps us to better understand each other."
Photos: Romeo Collado