How's your New Year's resolution going? If you're feeling the slump as we pass the halfway mark in 2018, you're not alone. 80 percent of people give up on their resolutions by February.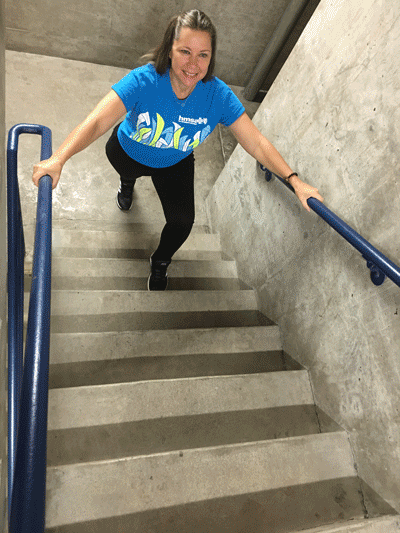 But here's a healthy dose of motivation: in January I did something that I never do — I made a New Yearʻs resolution. I gave up elevators. Working in an 11-story office building, I thought skipping the lift was a good challenge.
I wish I could tell you it was great success, but it wasnʻt. Eventually, I gave up. There was probably some pouting involved because I hate to lose. But I can laugh about it now. And I can start again.
And thatʻs exactly what I did. I paused and looked for a new way forward. A New Year's evolution. Here are a few things that worked for me:
Do the math. A pile of brightly colored sticky notes I had written stared back at me. I was tracking how many floors I reached every day. On one of the good days I reached 50 floors. Not bad for a desk jockey! So I dusted off my resolution and kicked doubt out the door. I did some math and discovered that climbing 50 floors a day is equivalent to the 10,000 steps recommended for wellness. And that became my new goal.
If you're ready to step up to a new challenge, here are some heights you can reach:
15 floors = Statue of Liberty, New York
19 floors = Tower of Terror, Walt Disney World Resort, California
42 floors = First Hawaiian Center, Honolulu
53 floors = The Venetian, Las Vegas
76 floors = Diamond Head State Monument, Honolulu
100 floors = Eiffel Tower, Paris
Find your support. I told friends on the upper floors about my goal and their support has made a big difference. Knuckle bumps, whoo hoo! I used to be so out of breath. Now I'm feeling great. I heard other people are taking stairs more often because they see me doing it. It's been a fun and rewarding ride.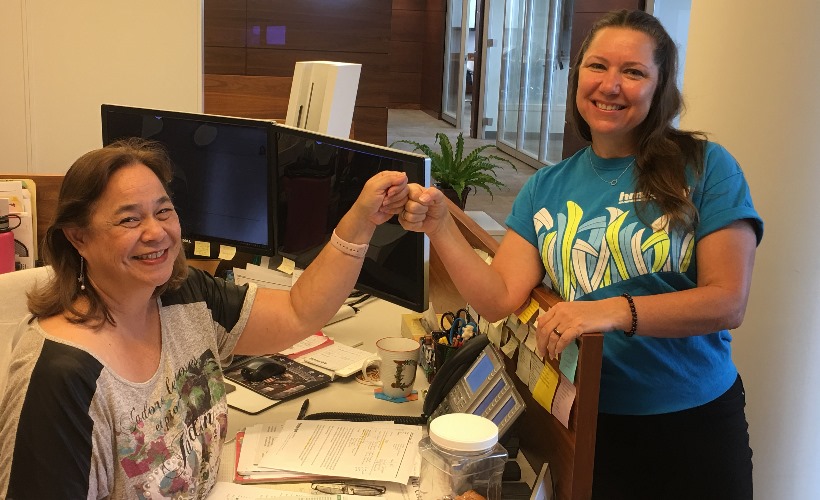 Reward yourself. If you meet your monthly goal, reward yourself with a gift. Keep a wish list on your desk for moments when you're on the fence about taking the stairs. This little reminder keeps you focused on your goal.
Taking the stairs is great because it doesn't take any extra time out of your busy day. You don't have to change clothes, get sweaty, and shower. On days when you canʻt find time for the gym, at least you've done your fifty floors. Every step counts!