"We go holoholo!"
When folks in Hawaii feel the need to stretch out and go holoholo – to go cruising or head out simply for the fun of it – they typically hit their favorite "no can miss" spots.
If you're looking to holoholo to the Neighbor Islands, Island Scene has compiled a short guide of places to visit thanks to HMSA associates on the Big Island, Kauai, and Maui.
Big Island, big relaxation
At the HMSA Center in Hilo, associate Joy Kane offers her culinary favorites. "I love Sunlight Cafe, which is a little hole-in-the-wall at Hilo Shopping Center, and Paul's Place Cafe in downtown Hilo, which is very small. It seats up to six people, you have this intimate meal, and you have the chef right there to talk story. "Since it's small, it's hard to get reservations," Kane cautions, "but worth it."
Napua Catcho, another associate at the center, says her favorite eating place is at the foot of Kilauea. "I like Kilauea Lodge for breakfast and lunch. It's such a beautiful place. They have a fireplace and it's old and misty. The food is always really good." Assistant Manager Brooke-Alyson Kekaualua adds, "The drive is beautiful and the atmosphere is gorgeous, even outside where you eat. There's a gazebo where you can share space and time."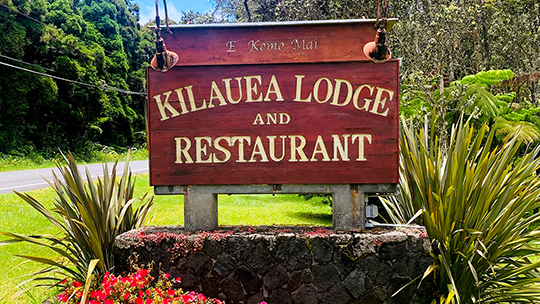 Kilauea Lodge and Restaurant. Photo courtesy Brooke-Alyson Kekaualua.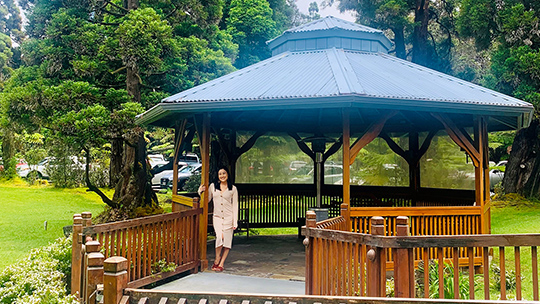 Brooke-Alyson Kekaualua in the Kilauea gazebo. Photo courtesy Brooke-Alyson Kekaualua.
"If you're looking for a quick place to go, drive, sit down, get some space, for me it's Liliuokalani Park," says Jaylin Grace, Hilo neighborhood center manager. "It's pretty. It has an Asian touch with bridges that go over the waterways," Grace says. "It's a nice walk with a view of the ocean," says associate Tammy Lynn. "And in the other direction, you have a perfect view of Mauna Kea."

Liliuokalani Park
Across the island on the Kona coast, "If you really want to see some beautiful sunsets, which we have a lot of, go to the Old Kona Airport runway," says Annette Rodrigues. "People go there to sunbathe and chillax. There are some baby ponds out there where families go. Nice sunsets and good surfing, too."
Beautiful Kauai
True to the classic Don Ho song, "Beautiful Kauai" lives up to its name. There are many enchanting places to enjoy. HMSA Kauai associate Bernie Daguio loves Anini Beach on Kauai's north shore. "I like to go to the beach and just chill, hang out, do nothing, take little sandwiches," Daguio shares wistfully. "'Anini has nice calm water, especially for the kids," adds fellow associate Jaime Nakamura, who's the mother of three children.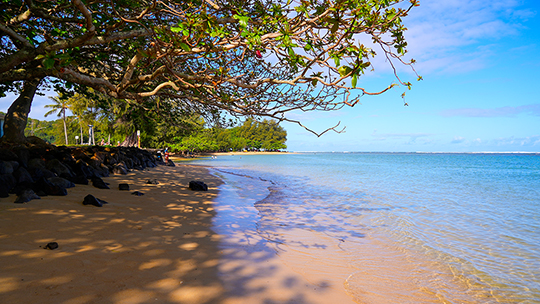 Anini Beach
The Kauai team mentions other noteworthy places such as Hanalei Pier and Kalapaki and Aliomanu beaches. And after a day out on the ocean and in the sun, it's time to eat. The team doesn't take long to name the restaurant that's top of mind.
"If we're talking about dinner, I go straight to Kintaro," says Nakamura. "I always get the 'Dinner A,' which pretty much has everything. And then I can't leave without eating the green tea mud pie."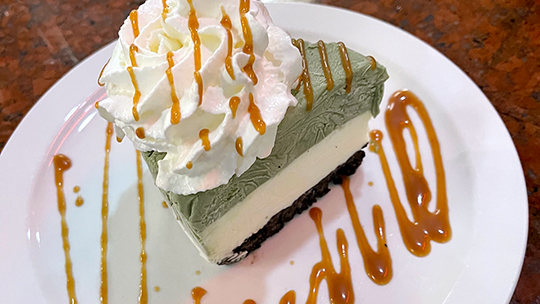 Kintaro's signature green tea mud pie. Photo courtesy Jaime Nakamura.
"It's the most local hot spot," continues Daguio. "When I go, I usually get sushi and fish. Dessert is a must, like Jaime says."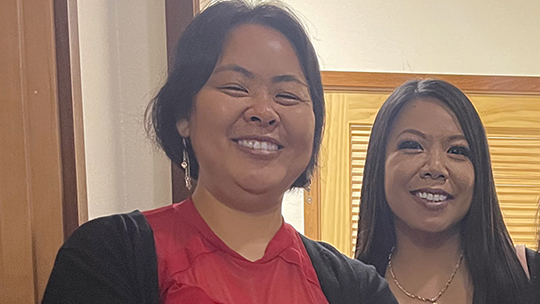 Jaime Nakamura and Bernie Daguio at Kintaro Restaurant. Photo courtesy Jaime Nakamura.
Another Kauai favorite is a steak and seafood restaurant in Kapaa called Bull Shed. "I usually eat the prime rib when I go there and add a salad and baked potato," says Daguio. "The prime rib-lobster combination is a must."
Maui no ka oi
Whether you're Upcountry, at the beach, or anywhere in between, Maui is stunningly beautiful. There's so much to see and savor.
"I like to drive up to Iao Valley and walk in the garden. It means getting away and it's so quiet," says Nita Lau, an associate at the Kahului neighborhood center. "It's so beautiful. They have a Chinese garden and a Portuguese garden."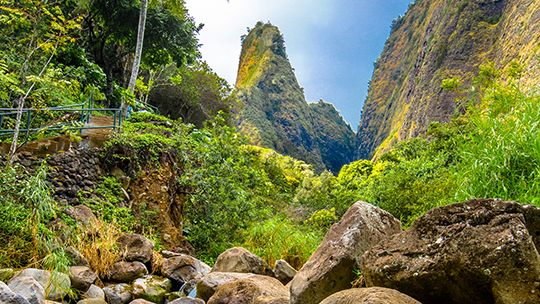 Iao Needle
Neighborhood center manager Kim Hera takes us closer to shore. "I like Baby Beach in Lahaina. That's our 'go to' every Sunday," Hera says. "It's really close to the water; you can leave your stuff and not worry about anybody taking it. But I also like that no matter where you go in the water, it's no more than waist deep and you can go far out."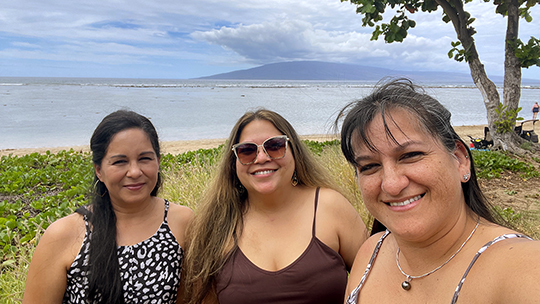 Dionne Gannon, Kristin Kepani, and Kim Hera at Lahaina's Baby Beach. Photo courtesy Kim Hera.
Associate Kristin Kepani says her favorite beach is Kamaole Beach Park in Kihei. "We take the kids and bring tables. Our family meets us there and we all just relax and listen to music and the ocean. It's very soothing and good for the soul."
And, of course, there's food. "I love Star Noodle! Just the ambiance is nice," says Kepani. "It's right there on the beach. They have these little lights hanging. Their food is fabulous. Different types of fish depending on the day, barbecue meats, it's all different family dishes."
"My favorite is Cafe Saigon in Wailuku," says Lau. "It's Vietnamese food. They have this really good beef spring roll that you wrap yourself and a very good curried eggplant. They have good margaritas, too!" Lau adds with a laugh.
This is just a fraction of the fantastic places to holoholo. But these HMSA teammates explain they don't want to give away all of their islands' secrets.
You'll just have to discover those on your own.