Memorial Day is upon us, and in addition to honoring our veterans, we all know that this holiday weekend usually includes a cookout. Often backyard barbeques make us abandon our healthy eating habits when we're surrounded by fatty meats and sides weighed down with mayonnaise, but it doesn't have to be that way! Well-Being Hawaii shared a simple summer barbeque menu with our friends Taizo Braden and Trini Kaopuiki at Living 808 that is easy on your waistline and your wallet, and is sure to impress your guests.
Fresh Lemon Garlic Shrimp & Vegetable Kabobs
These kabobs are perfect for cutting your kitchen time by marinating ahead. You can even assemble them the night before so all you have to do is throw them on the grill!
1 lb. medium or large shrimp, unpeeled, deveined (thawed if frozen)
2 large summer squash, large cubes
2 red onion, large wedges
1 pint cherry tomatoes
3 bell pepper, cut into chunks
Kabob skewers (if wooden, soak in water for 30 minutes to prevent burning)
Cooking spray
Marinade:
½ cup olive oil
Juice of 2 lemons
1 Tbs. dried oregano
1 Tbs. chopped garlic
Salt & Pepper to Taste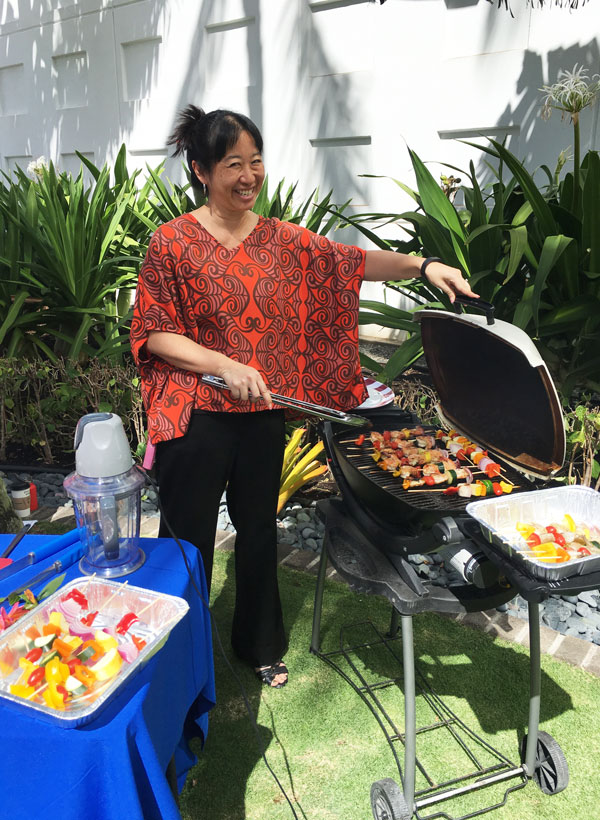 Place shrimp in gallon size plastic freezer bag. Whisk together marinade ingredients in small bowl and add to shrimp, refrigerate bag at least 4 hours or overnight.
After marinating, skewer shrimp and vegetables alternately on wooden kabob sticks, 2-3 shrimp per skewer.
Spray grill rack will cooking spray and grill kabobs until shrimp are pink on outside and opaque in center, about four minutes per side.
Makes 12 kabobs.
Grilled Romaine Salad with Creamy Balsamic Dressing
You might not think grilling and lettuce go together, but this simple salad is a cinch to make and has a tasty summer flavor.
2 hearts of romaine
2 Tbs. Shaved parmesan cheese
¼ cup croutons
Dressing:
¼ cup olive oil
¼ cup balsamic vinegar
1 Tbs. chopped garlic
2 Tbs. non-fat plain Greek yogurt
Slice romaine hearts lengthwise, in half. Place halved hearts flat side down on a pre-heated grill sprayed with cooking oil. Grill 4 minutes, or until char marks appear.
Whisk first three dressing ingredients together in a small bowl, then whisk in Greek yogurt until incorporated and creamy. Drizzle over plated romaine hearts, sprinkle with parmesan cheese and croutons.
Serves 4.
Ripe bananas aren't just for banana bread anymore! Freeze and throw them in the blender for this frozen treat that no one will believe is low calorie! A toppings bar will be a hit with the kids.
3 bananas, peeled, chunked, frozen
Optional toppings: nuts, chocolate chips, sprinkles, sliced strawberries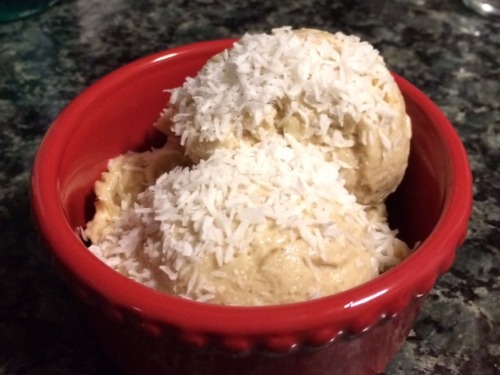 Place frozen bananas in blender, pulse until they combine into a creamy consistency. Add toppings and serve immediately for a soft-serve taste, or put in the freezer for an hour for firmer texture.
Makes 3 servings.