Like many local teens, Kevin* knows how to make rice and cook SPAM and chicken for his family. But once a year, he dons an apron and learns to make dishes like pork belly adobo with risotto and three cheese gnocchi.
It's all part of Little Chef Big Chef, an event and culinary program of the Boys & Girls Clubs of Maui. Kevin is a little chef—club members on one of seven teams. Each team is led by a big chef—chefs from resorts and restaurants on Maui who volunteer their time to mentor the kids. Big chefs work with little chefs to teach them how to cook, prepare a signature dish, and serve it at the event.
This year's event was held at Fairmont Kea Lani in Wailea. About 400 guests attended, which meant each team served hundreds of plates. The teams also have a friendly competition as attendees vote for their favorite dish from the lineup. Kevin says he doesn't feel any pressure because he believes in himself and the team works well together. "It's important to stay calm and help each other," he says.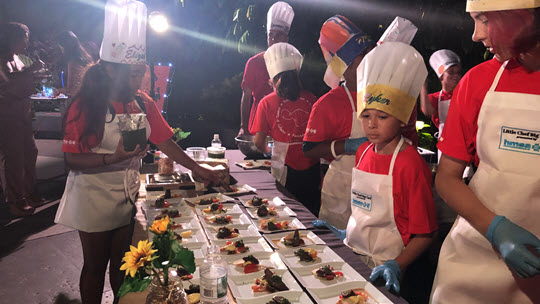 Photos courtesy Boys & Girls Clubs of Maui.
Kevin was on Chef Geno Sarmiento's team, which made three cheese gnocchi served with ratatouille and a micro panzanella (bread and tomato) salad. It was one of this year's winning dishes in the event's first-ever tie. While it was rewarding to win, Kevin says it's not what motivates him to participate. "It's about having fun with others," he says.
Kevin has been going to the Boys & Girls Clubs for four years and has participated in the chef event for two. He says it's a great place to learn and grow, especially as he prepares for college. "It helps me with my future," he says. "It teaches me how to be responsible."
Boys & Girls Clubs of Maui serves 2,400 members and 7,000 youth each year through outreach. Keiki and teens can go to its various clubs to get help with their homework, learn how to play ukulele, and learn basic money management skills. The organization's mission is to inspire and enable all young people, especially those in need, to realize their full potential.
*To protect their privacy, Boys & Girls Clubs of Maui does not release the full names of their members.