Hearts, flowers, cards, chocolate, wine, puppies, kittens, diamonds … and anything and everything in red.
Depending on where you are in life's journey, you either adore or abhor Valentine's Day. You know where you are, although you may not know why. But, no matter.
Whether you're dining alone or with someone else, make this simple, quick beef stroganoff to nourish body and mind. If it's just you, there'll be enough leftovers for a lunch or two. Or, pack a serving, take it to work, and give it to a co-worker. They'll love you for it.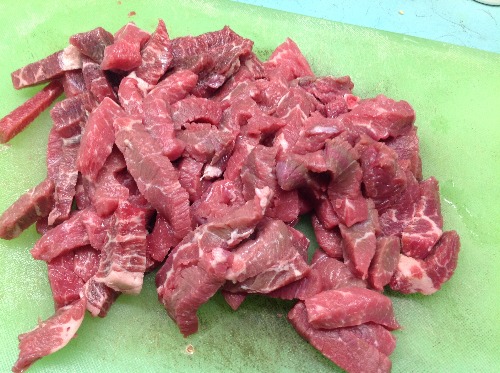 Slice beef into strips. Not too long and not too skinny.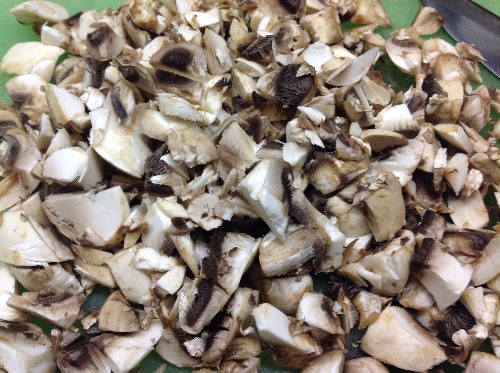 I don't like sliced mushrooms in this dish, so I rough-chop them.
It's a whole lot quicker than slicing.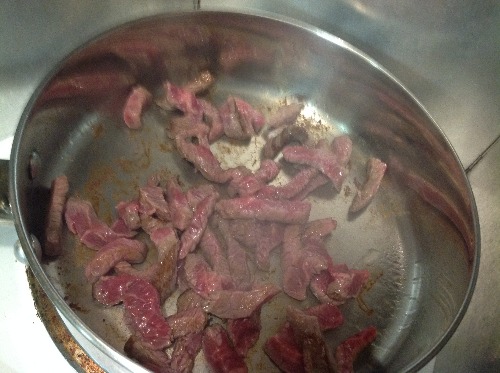 Working in two batches, brown the meat quickly. I mean, really quickly.
Takes about one or two minutes.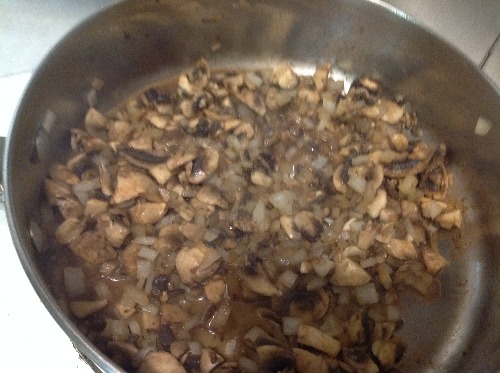 The meat is done and waiting on the sidelines. Sauté mushrooms and
onions in the same skillet.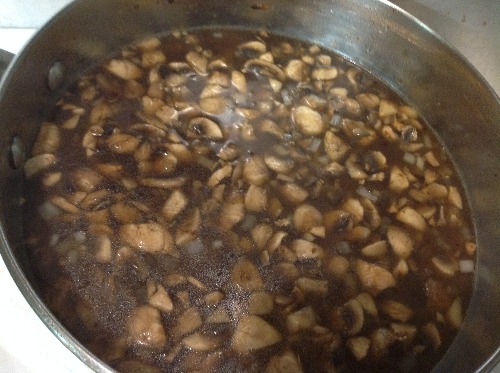 Add beef broth and bring to a boil. This isn't boiling yet. When it boils,
add flour and water mixture. Stir constantly until thickened.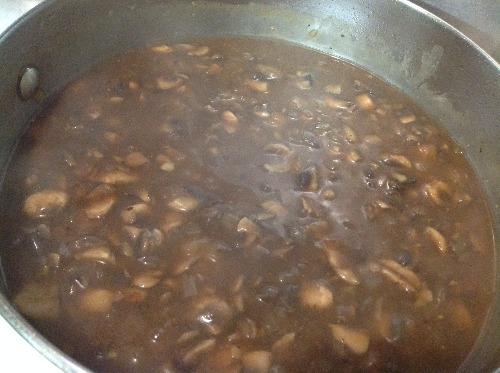 Here's the thickened gravy. Side note: I subbed cornstarch for the flour because the flour I had in the pantry looked kinda strange. No bugs, no lumps. It just looked funny. Can't explain it. Cornstarch to the rescue.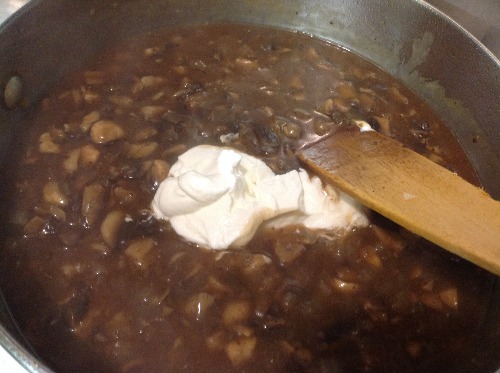 Take skillet off the heat and stir in sour cream and mustard.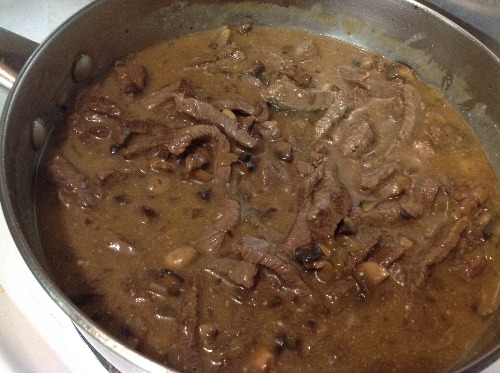 The relatively small amount of sour cream makes this stroganoff a little indulgent without going overboard.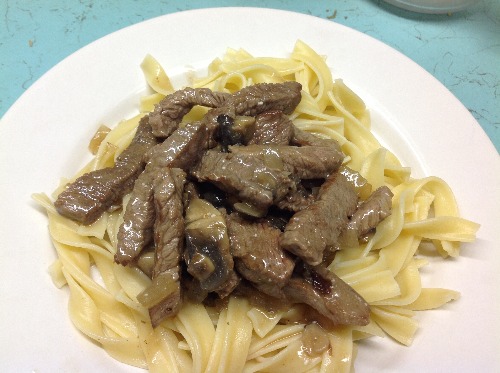 Serve with egg noodles. If you live in Hawaii, you might want it with rice. This is one serving. Just for you, because you love you. Have a happy Sunday.
Beef Stroganoff
2 Tbsp. olive oil, divided
1 lb. sirloin steak, sliced into strips
Salt and freshly ground black pepper
8 oz. mushrooms, chopped
1/2 onion, finely chopped
14 oz. can reduced-sodium beef broth
2 Tbsp. all-purpose flour
1/4 cup water
1/4 cup sour cream
2 tsp. Dijon mustard
8 oz. egg noodles, cooked according to package directions
Heat one tablespoon olive oil in a skillet over medium-high heat. Season meat with salt and pepper. Add half the meat to skillet and stir to brown it quickly. Remove meat from skillet and set aside. Brown the remaining meat and set it aside with the first batch.
Add remaining one tablespoon olive oil to skillet. Sauté mushrooms and onion until onion is translucent. Add beef broth and bring to a boil. Allow it to boil two to three minutes to reduce it slightly. In a small bowl, mix flour with water until smooth. Pour mixture into skillet and cook and stir until sauce thickens. Remove from heat and stir in sour cream, mustard, and beef. Taste and adjust seasoning with salt and pepper. Serve with egg noodles. Makes four servings.