"May Day is Lei Day in Hawaii" – that famous phrase coined nearly 100 years ago still rings true today. People across the Islands are gathering today to celebrate the meaning behind the fresh, fragrant, and colorful flowers intricately woven together.
What is Lei Day?
Lei Day is a celebration unique to Hawaii that commemorates Hawaiian culture and the lei, which symbolizes the Aloha Spirit. It's celebrated on May 1st every year. The tradition began in 1928 when poet laureate Don Blanding proposed a day to honor the lei and recognize the custom of giving and receiving lei. He had the support of his Honolulu Star Bulletin co-worker Grace Tower Warren, who invented the phrase "May Day is Lei Day in Hawaii."
The first Lei Day celebration took place at the Bank of Hawaii in downtown Honolulu, where a lei contest was held and the first Lei Queen was crowned. Those same festivities are still some of the most anticipated today.
Meet the Lei Queen
This year's Lei Queen is Leilani Kupahu-Marino Kahoano. Her journey to Lei Queen was a full-circle moment. She fondly remembers the day her teachers selected her as the May Day Queen 52 years ago. She was a sixth grader at Kalihi Elementary School and it's her favorite Lei Day memory.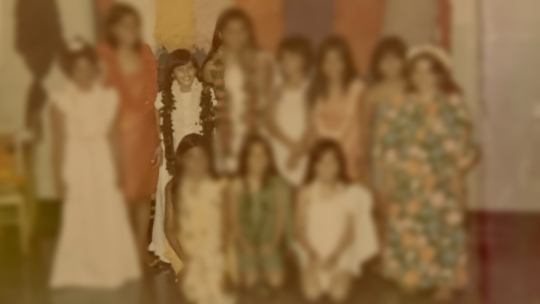 Kahoano with her Lei Day court in 1971. Photo courtesy Leilani Kupahu-Marino Kahoano
"My grandmother had strung 10 strands of knee-length white crown flowers for me. I danced my first public hula that day. So to me, the lei and hula always go hand-in-hand," Kahoano says.
She tells her life story through the art of lei making. During the pageant, she showcased her journey from keiki to kupuna, incorporating koa seed lei and plumeria flowers to represent her childhood and added moments of motherhood, paying homage to all the lei her oldest daughter received on her first birthday.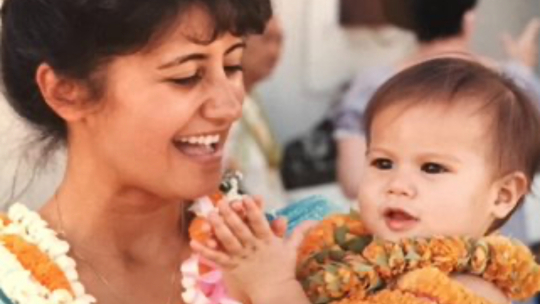 Kahoano and her daughter on her first birthday. Photo courtesy Leilani Kupahu-Marino Kahoano
"Being Lei Queen as kupuna reinforces the generational gift of lei and bridges from one generation to another," says Kahoano. "It also connects to the aina, the same aina we explored as a child, gathering flowers from these places. That's one of lei's gifts. It always brings you into nature. It keeps the Hawaiian connection and the Aloha Spirit rich."
Her goal as Lei Queen is to highlight the importance and significance of giving, receiving, and wearing lei. The tradition holds deep meaning. By giving someone a lei, you're offering part of your spirit to the recipient.
"Lei doesn't have any boundaries. 'He lei poina ole ke keiki' means 'a treasured lei is a beloved child,'" says Kahoano. "Every one of us is already a lei. If that olelo noeau is something that more people know and they see themselves as a lei, as a beloved child, our communities would have the true gift of aloha that used to be our daily way of living."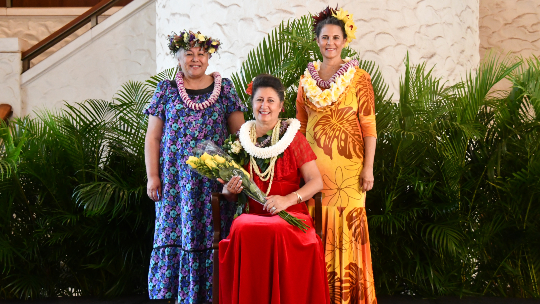 Kahoano (center) and her Lei Day Court. Photo Courtesy Honolulu Dept. of Parks and Recreation
Celebrating Lei Day
Spread the Aloha Spirit at Kapiolani Park in Honolulu today. Festivities include hula and a lei contest, where adults and keiki show off their exquisitely crafted lei.
The perishable lei from the contest will be taken to Mauna Ala tomorrow, the burial site of Hawaii's two prominent royal families. The Lei Court will place the lei on tombs around the mausoleum. The Honolulu Department of Parks and Recreation says it's a somber and touching way to round out the celebration. It also shows people what happens to the lei. Instead of being thrown away, they're returned to the earth.
"Lei teaches us the importance of gathering, making, sharing, and preserving," says Kahoano. "It also teaches everyone that while we take what we need, we care for our aina."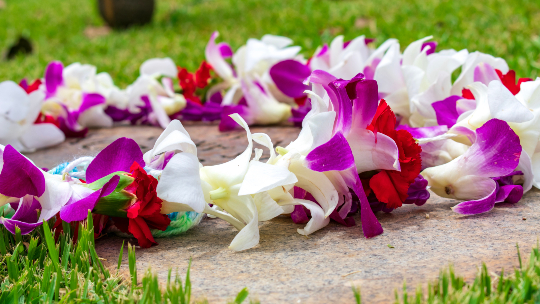 Lei Day memories
Lei Day is a fun time for keiki! Many schools celebrate the aloha spirit with programs that include hula and a Lei Day court. Some HMSA employees and their family members shared a few of their fondest Lei Day memories as keiki.
Bernie Daguio
"My favorite memory of Lei Day is getting into the Aloha Spirit by wearing my best aloha print attire and a beautiful lei. It gives everyone a time to come together to celebrate the Hawaiian culture."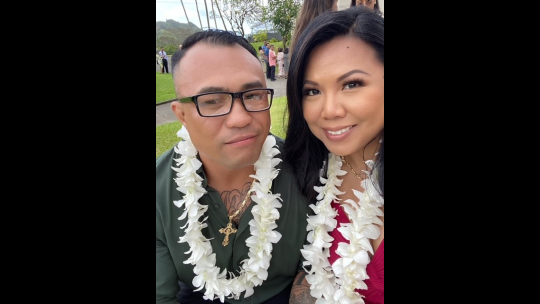 Bernie Daguio and her husband, Glen, on Lei Day.
Courtney Takabayashi
"Growing up, my favorite color was pink. So each year during May Day, it was my goal to find a pink muumuu. This photo is from our third grade May Day program at St. Ann's in Kaneohe. I think we were about to perform for the May Day court, but all I could think about was how happy I was no one had the same muumuu as me!"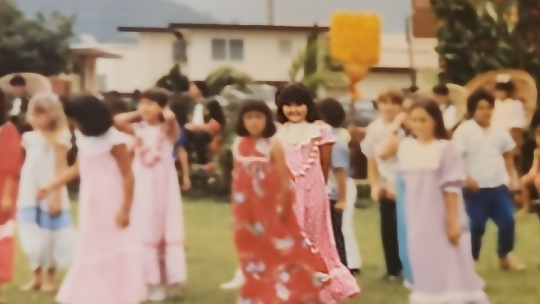 Courtney Takabayashi in her pink muumuu.
Jaime Nakamura
"This was the only day I would make an effort to dress in aloha wear. It was always fun learning the dances and getting to skip school for the day. I loved performing for my family with my friends. Nowadays, I still get to go to May Day, but as a parent watching my children dance and seeing the joy on their faces."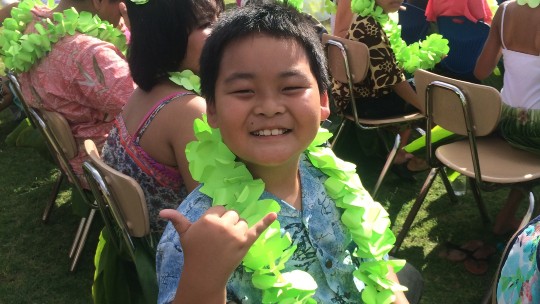 Jaime's son at his school's May Day program in 2015.
Lisa Baxa
"I went to Aina Haina Elementary School. We had a court (sixth graders) and each grade would learn and perform dances. I remember dancing to "That's the Hawaiian in Me" one year, dancing with kalaau (made from broomsticks) and cowrie shells in other years, and a regrettable cheerleading routine that the boys especially hated. It was a lot of work for the teachers and parents."

Lisa Baxa at her school's May Day program.
Shawn Taniguchi
"I think we were in the fourth grade. There weren't any girls in our class so the May Day court is all boys. In the photo, I look so lost! I also didn't have my glasses so I probably didn't know what was going on. Everyone was tasked with gathering flowers and I remember asking my aunty for Pele's hair and picking plumeria at my dad's place."
Wayne Takabayashi
"My grandpa took this picture of our May Day program at Iolani School. It was a blur because they wouldn't let me wear my glasses. I was the kahili bearer representing Oahu. Even though it wasn't a windy day, I was glad I got to wear my PE shorts under my costume."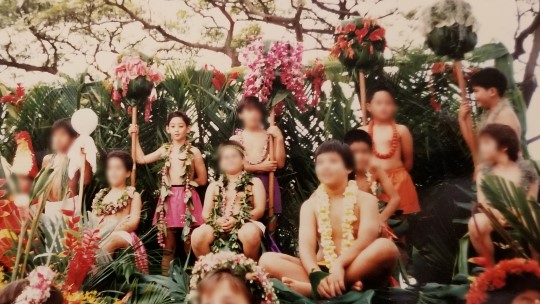 Wayne Takabayashi (middle, in pink) and Shawn Taniguchi (far right, in gray)