Making positive, long-lasting changes to the environment is a monumental undertaking. However, the Kokua Hawai'i Foundation has been up to the challenge since it was founded in 2003 by Kim Johnson and her husband, musician Jack Johnson. By offering environmental education in schools and communities throughout the state, the nonprofit organization works to fulfill its mission to "provide students with experiences that will enhance their appreciation for and understanding of their environment so they will be lifelong stewards of the earth."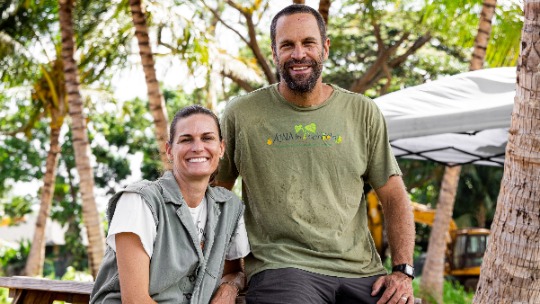 Kim and Jack Johnson
In 2019, KHF acquired 8 acres of land in Haleiwa. KHF's vision for their new home is "to establish agricultural, education, and retail activities that benefit the community and promote local food, waste reduction, and environmental stewardship." Here's a sneak peek into KHF's exciting plans for their Haleiwa home.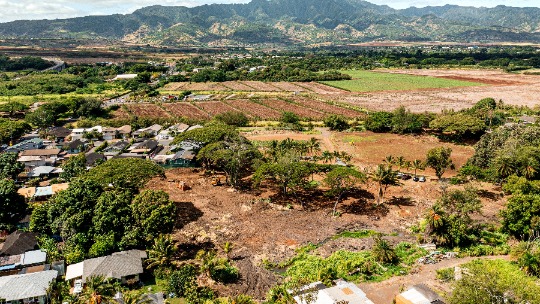 Aerial view of the Haleiwa property
The Kokua Learning Farm – Hands-on learning fun
The farm, which will showcase various aspects of Hawai'i's food system, will use every inch of its 7 acres of land. There will be a dedicated area for keiki and the community to learn from functioning gardens, production fields, orchards, loi, native plants, and a compost area. It's their hope that this farm will blossom into an educational and agricultural destination, encouraging learners of all ages to actively support the local food system. To help make this vision come to life, the KHF team hosts community workdays on the farm on the first Saturday of each month.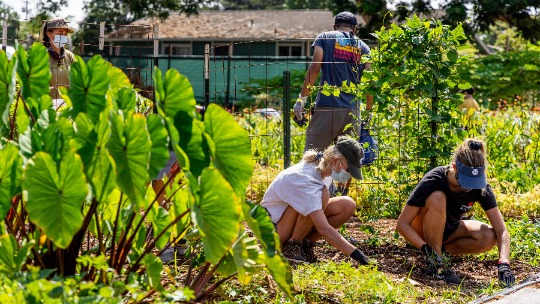 Community workday volunteers
The Kokua Community Center – The gathering place
If you're interested in learning something new, sharing ideas, or telling or listening to stories, then the Kokua Community Center will be the place for you. The community center will have classes and workshops on diverse topics such as composting, keiki gardening, laau lapaau (Hawaiian plant medicine), DIY projects, sewing, and much more.
The Kokua General Store – Eco-friendly shopping
The vision for the Kokua General Store is to offer bulk, reusable, refillable, low-waste lifestyle products for the home, bath, and body. The store will be a resource for those interested in reducing waste.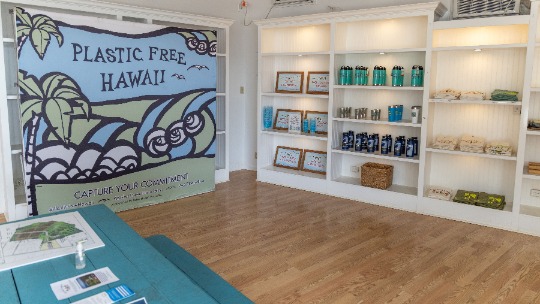 A section of the Kokua General Store
Kokua Vintage – Refresh, reuse, repurpose
Within the Kokua General Store will be Kokua Vintage, a curated collection of secondhand items ranging from clothes and books to housewares, artwork, and more.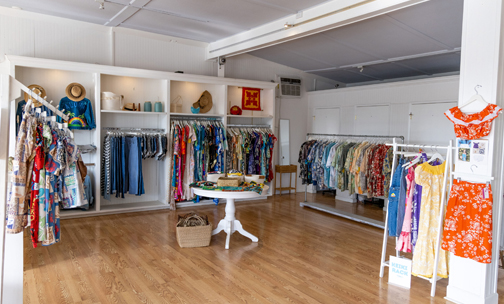 A peek at Kokua Vintage
AINA Farm Stand – Buy fresh, buy local
Harvested straight from the Kokua Learning Farm and other local farmers and producers, the AINA Farm Stand will offer fresh produce as well as flowers and lei.
Backyard Garden – Inspiration for your backyard
See practical ways you can transform your own outdoor space into a sustainable and beautiful area when you visit the Kokua Backyard Garden. Learn how to grow your own produce, cultivate native plants, and start composting at home.
Kokua Hawai'i Foundation staff support offices – All in one place
Staff support offices will be in one centralized location to oversee KHF programs. It will be the hub for the staff and volunteers.
With construction underway, the staff offices, storefronts, and community center should be finished soon. Until then, KHF has Community Farm Workdays on the Kokua Learning Farm on the first Saturday of each month, which the public is welcome to attend.
The future looks bright for KHF. "There are so many different parts of KHF's Haleiwa home to be excited about!" KHF Business, Membership, and Outreach Director Jaclyn Johnson says. "Ultimately, we're all looking forward to creating a gathering place for our community to come together to learn, farm, share stories, and connect to the aina."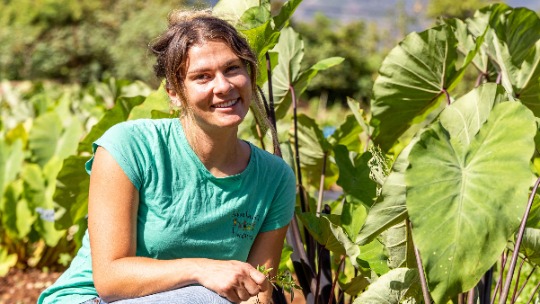 Jaclyn Johnson surrounded by loi
For more information about Kokua Hawai'i Foundation's Haleiwa home, to volunteer for a Kokua Learning Farm Community Workday, or for more information about the organization, visit their website at kokuahawaiifoundation.org, email info@kokuahawaiifoundation.org, or call (808) 638-5145.
Photos: Matt Heirakuji