One thing that the pandemic has taught us is the need to be innovative. HMSA President and CEO Mark M. Mugiishi, M.D., F.A.C.S., helps lead the charge to continually find new ways to improve health care in Hawaii. We asked him to share his thoughts on innovation.
Why is innovation important to HMSA?
HMSA members have traditionally relied on us for health care benefits. And we'll always be there for them when they need us. But today, we're more than just a health care payer. We're a health organization that provides information, tools, and resources to help members make smart decisions about their health. It's a sacred trust that we take very seriously, not just for our members, but for all of Hawai'i. It's how we stand apart from other health plans.
What's a good example of that?
Our members have been able to see doctors using their computer or smartphone since 2009. Giving our members access to telehealth helps to remove any barriers they may have to getting care. They can stay on top of their health in the safety and comfort of their home. During the COVID-19 pandemic, telehealth emerged as a safe way for patients to see doctors without having to leave home. The number of visits to HMSA's Online Care® increased from about 22,000 in 2019 to nearly 120,000 in 2021.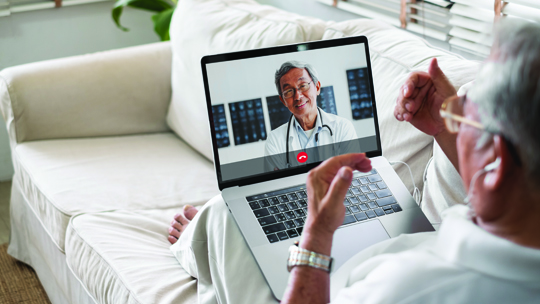 How important are partnerships in innovation?
HMSA can't solve problems alone. That's why we continue to work with hospitals, physicians, and other providers as well as government and community organizations that are aligned with our goals and aspirations of health and well-being. It's a lot of work and requires the cooperation of everyone, but it's possible.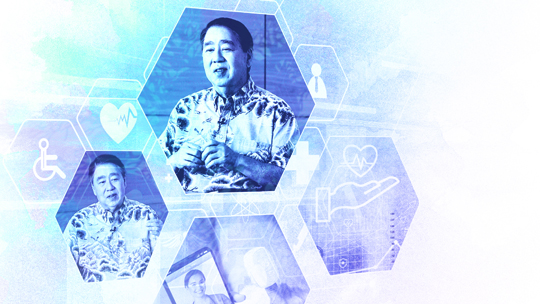 HMSA President and CEO Dr. Mark M. Mugiishi
How are HMSA employees embracing the challenge to innovate?
Some of the best ideas come from people who encounter issues in their daily lives. They're most familiar with situations and likely have solutions. At HMSA, we foster creative thinking and growth. We provide employees with the tools to find ways to better serve our members. HMSA members are always top of mind in our work. 
What are your thoughts on taking risks?
If you don't take risks, you don't make improvements. If you fail, at least you tried. There's an appropriate balance between risk and reward. But if the boat never leaves the dock, it won't get to its destination.
Amwell® is an independent company providing hosting and software services for HMSA's Online Care platform on behalf of HMSA.
Photos of Dr. Mugiishi: Lew Harrington