The need for blood donations continues even during a pandemic. We spoke to Kim-Anh Nguyen, M.D., Ph. D., president and CEO of Blood Bank of Hawaii, about the ongoing importance of giving blood.
What are the challenges of maintaining an adequate blood supply?
It's always a challenge to make sure hospitals have the blood they need for patients. Our blood supply is fragile and perishable, it only lasts about a week. If we don't collect 150 doses a day, it doesn't take long to reach a critical stage. So we need to make our daily bread, so to speak.
How were you affected during the beginning of the pandemic?
Our Lifesaver Clubs make up about 80% of our blood supply. These are businesses, churches, schools, and other organizations that conduct blood drives at their site. They truly are our lifesavers. It's more convenient for people to donate blood where they work or go to school than to come to our brick and mortar donation center on Young Street. Those blood drives statewide were put on hold at the start of the pandemic to help keep people safe. Now we're relying on donors coming to our donation center or mobile vans.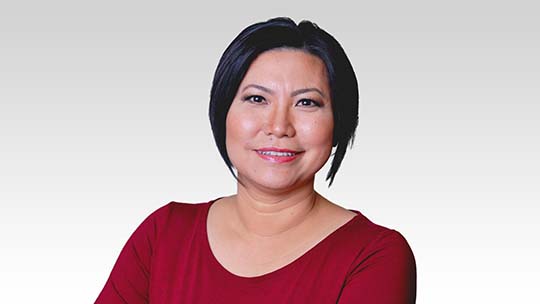 Kim-Anh Nguyen, M.D., Ph. D., is the president and CEO of Blood Bank of Hawaii.
What are some of the changes you've made?
If you haven't given blood since the start of the pandemic, you'll notice many changes to keep our donors and staff safe. We don't allow walk-ins anymore to control the number of people at the centers. You need to make an appointment. There are no crowds. It's very orderly and safe, with face masks, face shields, and gloves. We follow social distancing guidelines. You get a temperature check and fill out a health status questionnaire at the door.
How do you reach blood donors?
It's not easy to convince people to have us stick a needle in them. We make it as painless and fun for them as possible. We use social media so donors can take selfies to post on Facebook, Instagram, and Twitter.
What's your message to people who haven't donated blood yet?
Our message is that we've always needed you, but we need you now more than ever. We thank our regular donors. But the need for new donors continues. Medical treatment is ongoing. A blood transfusion is the most common medical procedure in hospitals. So there's always a need for blood donations. Like any health emergency, we hope for the best and prepare for the worst. And we're ready. Our donors recognize that the need is great and we're in this together.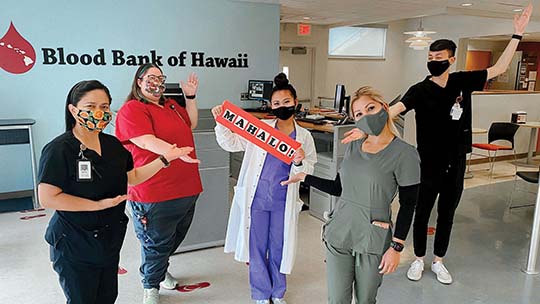 Blood Bank of Hawaii staff working to save lives one donation at a time.
What are the barriers to donating?
People comment about the needle. But the biggest barrier for people is time, taking an hour or so out of their day to make an appointment and come down to a donor center. Also, like voting, they may think their donation doesn't matter. But it does matter. Only 2% of Hawaii's population donates blood. That's below the nationwide average of 3%, which is already a low number. But Hawaii donors give more frequently compared to the Mainland average. We still need more people in the community to literally roll up their sleeves. Once a donor has donated at least three times, they're more likely to make blood donation a habit.
Can people still give blood after getting the COVID-19 vaccine?
Yes. It's still safe. Vaccines that have live viruses, such as the smallpox and measles vaccines, prevent you from donating blood during a short window after receiving them. But the U.S. Food and Drug Administration assures us that the COVID-19 vaccines won't impact blood donations.
Photos: Courtesy of Blood Bank of Hawaii