Imiloa Astronomy Center helps keiki find the fun in science. Their youth camp, Camp Imi-possible, is offered during school breaks. At the camp, students learn about topics like water, bugs, and oceanic navigation from presenters and hands-on activities.
Mika Grohs, a Waiakea Elementary School student who hopes to become a doctor, attended the camp twice and learned about health topics like rat lungworm disease and local animals like the puu koa, a shimmery insect found only in Hawaii. "She would come home every day with an art project and was excited to share what she learned," her mom, Laurie, says.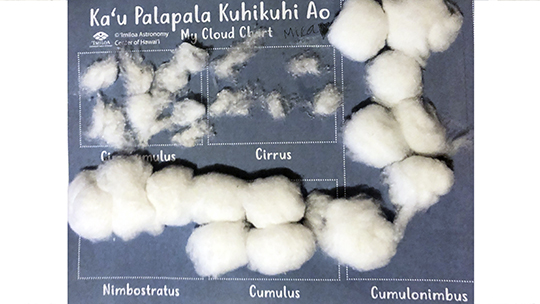 Mika's cloud chart from Camp Imi-possible.
Laurie recommends the camp to parents and their keiki who want to learn more about science in a hands-on setting. "They learn social skills and how to be a team player. They get to be creative and do all kinds of fun things," she says.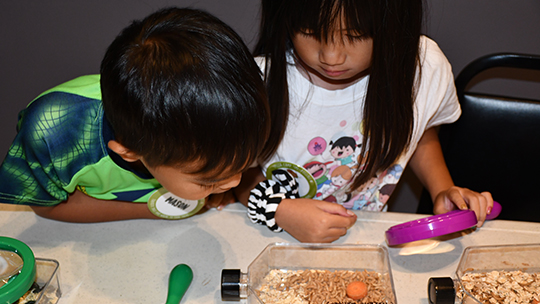 Mika at Camp Imi-possible. Photo courtesy of Imiloa Astronomy Center.
This fall, campers will learn about oceanic navigation. They'll learn how to catch and prepare a legal-sized fish, use a compass, and build a miniature waa (canoe). They'll also have a competition to see which canoes are fastest. On the last day of camp, parents are invited to join their keiki for a show and tell.
Imiloa Astronomy Center offers exhibits and programs about astronomy, Polynesian navigation, and Hawaiian wayfinding. To learn more about Camp Imi-possible, visit imiloahawaii.org.