For the first time in three years, HMSA honored nine high schools and 15 students in person at the 2022 HMSA Kaimana Awards & Scholarship Program luncheon. On June 11, school principals, athletic directors, and family members came from across the state to the Hawaii Convention Center to congratulate Hawaii's top high schools and the finest inspirational students.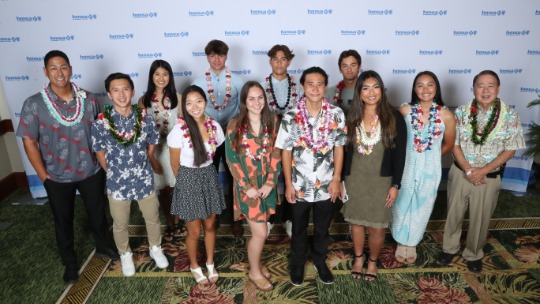 Kaimana scholarship winners with emcee Steve Uyehara and HMSA President and CEO Dr. Mugiishi.
Well-rounded students
The Kaimana scholarship winners aren't simply smart or good at sports. HMSA President and Chief Executive Officer Mark M. Mugiishi, M.D., F.A.C.S., describes them as the "best and most well-rounded kids." They excel in academics, athletics, and are active in the community. Winners receive scholarships worth $5,000. "At HMSA," Dr. Mugiishi says, "we're proud to support and honor our inspiring leaders of tomorrow and I'm thrilled we could celebrate our winners in person."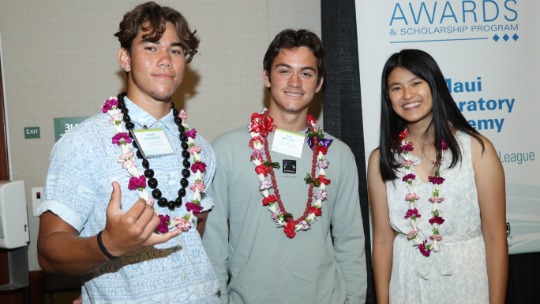 Ikaika McCormick, Kai Mottley, and Madeline Tamura
Meaningful recognition
The nine Kaimana school award winners achieved the highest program scores in their league, classified by enrollment, in academics, athletics, community service, healthy activities, and sportsmanship. Each school received a check for $1,500. Deren Oshiro, athletic director at Hawaii Baptist Academy, appreciates that the Kaimana award recognizes overall school achievement beyond athletic success. "HMSA's inclusion of academics, community service and healthy activities in its awards criteria makes the Kaimana recognition especially meaningful," Oshiro says. "It encourages and promotes overall student and school excellence."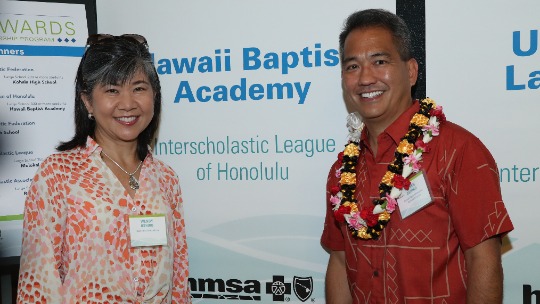 Wendy and Deren Oshiro
Seventeen years strong
In 2005, HMSA and the Hawaii High School Athletic Association started the Kaimana Awards & Scholarship Program and 17 years later, the program is still going strong. Check out this video to see Kaimana through the years.
For a list of 2022 Kaimana Awards & Scholarship winners and to learn more about the program, visit their website.
Photos: Earl Yoshii