Hawaiian Airlines has been in the news a lot in the past year. Yes, visitor demand evaporated. Revenue dropped dramatically. There were heartbreaking furloughs and layoffs. All that news is true.
What you probably haven't heard is how in a time of tremendous loss, the company used what they had to help the community. They saw the COVID-19 pandemic as an opportunity to malama (care for) each other. It's one of their core values.
"It's a special moment for us to come together during this time of turbulence and, frankly, social isolation," says Robin Kobayashi, senior vice president of human resources. "I'm just so grateful that we were able to start this work before the shutdown."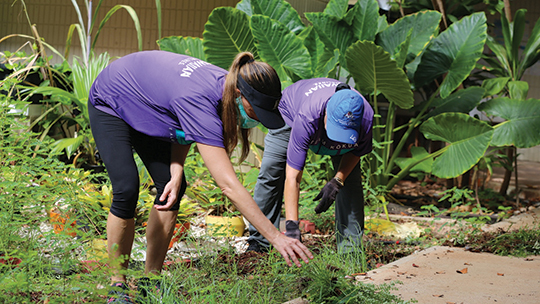 Hundreds of Hawaiian Airlines employees have volunteered in the carrier's Kokua Our Schools program, which has assisted HIDOE campuses statewide with various maintenance-related jobs during the pandemic.
Grounded
Visitors decreased 99.5% once Hawaii's 14-day quarantine was put in place, according to the Hawaii Visitor Statistics Report. Hawaiian Airlines temporarily canceled almost all trans-Pacific flights and many interisland ones. It was obvious business would suffer, but when they saw the pandemic's impact on their employees and Hawaii's communities, they knew they had to help. They may have been grounded, but they didn't have to sit still.
Their work with Hawaii Foodbank started with preparing dry goods and produce in the warehouse. Then employees volunteered to help with large distributions in Waipio and at Aloha Stadium, where they were stunned by the sheer volume of need, and smaller ones in communities like Waimanalo, where they got to know residents on a first-name basis.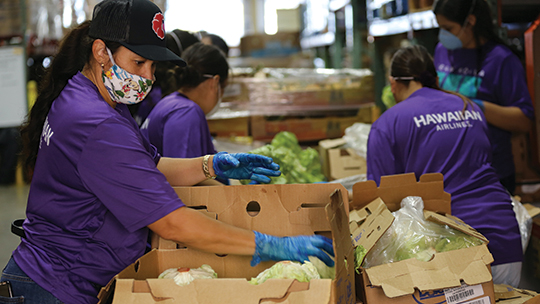 Hawaiian Airlines employees help prepare food for distribution.
"It gave us an opportunity to focus on something that was positive when the world outside was so uncertain and scary. For this short amount of time, we would come together as employees and help another organization that was serving our community on a far larger scale," says Debbie Nakanelua-Richards, director of community and cultural relations. "The need was so great. The experience was so eye-opening. The idea of people not having food was really overwhelming."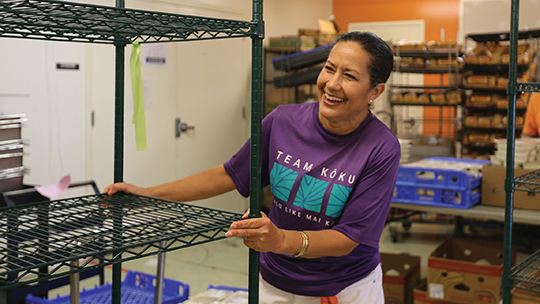 Nakanelua-Richards has worked alongside approximately 1,500 employees who volunteered over 6,500 hours in 2020 through the carrier's Team Kokua giving program.

Taking flight
Visitor trips were minimal, but Hawaiian Airlines was still flying for critical cargo and passenger service. They used their resources to fly medical supplies, masks, and personal protective equipment to Hawaii from the Mainland and China. They offered complimentary flights to local health care providers and volunteers and provided travel assistance to returning students. As for all their unused cabin items, they donated more than 10,000 blankets, 169,000 pillowcases, 2,000 pairs of slippers, 2,000 mattress pads, and 2,700 amenity kits to local nonprofits to help community members in need.
Nakanelua-Richards is overwhelmed when she thinks of all the employees, some furloughed, who have been helping others when they need help themselves. But that, says Kobayashi, is the Hawaiian Airlines way. "Taking care of each other the way we take care of our guests is the most special part about Hawaiian. Our mission is to connect people with aloha."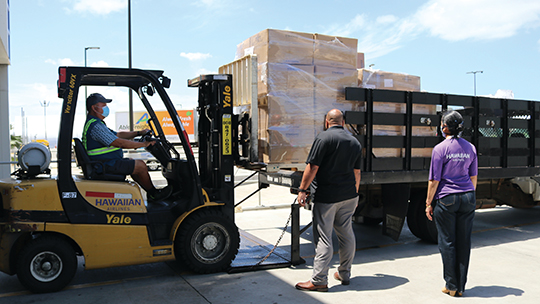 Hawaiian Airlines assisted Every1ne Hawaii in transporting a large supply of face masks to Hawai'i. In this photo, approximately 1.6 million masks are being loaded on to a flight from Shenzhen, China to Honolulu.

Photos courtesy of Hawaiian Airlines