Jerome Kim, M.D., may be an ocean away from his hometown of Kaneohe. But Hawaii is close to his heart and mind as he works on stopping the spread of COVID-19.
Dr. Kim is the director of the International Vaccine Institute in South Korea, one of several organizations worldwide working on a vaccine for COVID-19. It's the greatest challenge yet in his career. He credits his Hawaii upbringing for preparing him for the challenge.
"My biology teacher at Iolani School, Mr. Kay, had a big influence on me," says Dr. Kim, speaking from his office in Seoul. "Many of us in that class, including myself, went on to become doctors. We're still a very tight-knit alumni group."
Dr. Kim was in Iolani's debate club and considered a career in law or medicine. But after working at the University of Hawaii's Kewalo Marine Laboratory in Kakaako while getting his undergraduate degree, he discovered a passion for medical research. "That's where I learned about the long-term benefits of hard work in the lab," says Dr. Kim, who went on to get his medical degree at Yale University.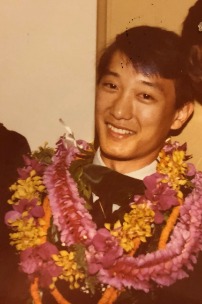 Dr. Kim is a 1977 graduate of Iolani School.
Dr. Kim returns to Hawaii about once a year with his wife and two daughters to visit family and friends. He planned a trip to the Islands earlier this year but canceled it when the COVID-19 pandemic started spreading.
Seoul may be home now, but Dr. Kim holds on to his Hawaii roots. "When I find out that someone is from Hawaii, I still ask where they went to high school and when they graduated," he says. "It may sound trite, but it really defines us as a group of people. It's how we create a community for ourselves."
Dr. Kim now passes down the values he grew up with to his daughters. They include taking off your shoes before entering a home and addressing adults as "aunty" or "uncle" even if you're not related to them. "It's a great tradition and defines the way we relate to people," he says.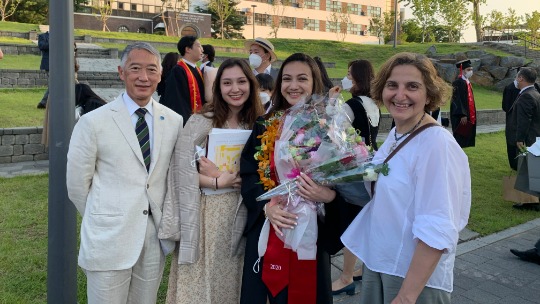 From left to right: Dr. Kim, daughters Allessandra and Anastasia, and wife, Siliva, at the Seoul Foreign School graduation ceremony in May.
Still, being from Hawaii is more than just wearing shorts, aloha shirts, and slippers. Traditional Island values of taking care of family, neighbors, and friends motivate Dr. Kim both personally and professionally as he works to end a disease that has caused half a million deaths worldwide.
"We're all in this together," he says.
When can we expect a coronavirus vaccine? Read our interview with Dr. Kim in the summer 2020 issue of Island Scene.
Photos courtesy of Jerome Kim.