holoholo. To go for a walk, ride, or sail. To go out for pleasure, stroll, promenade.
: Hawaiian Dictionary, Mary Kawena Pukui and Samuel H. Elber
Here are three HMSA members who holoholo for good health and well-being.
Ocean-front view
Whether paddling a canoe or sailing on the Hokulea, Catherine "Cat" Fuller continues to be awed by the wonders of the ocean. "There are moments of quiet reflection, but at the same time constant change," says Fuller. "The water always intrigues me."
Fuller started paddling with Hui Nalu Canoe Club in Maunalua Bay about 30 years ago, competing in regatta and long-distance races with six-woman crews. Her current routine is going out with other paddlers in one-person canoes. "We do something we all love together," she says. "And looking at the island when you're out at sea gives you a greater appreciation for the place we live."
As a 10-year-old, she remembers being impressed by Hokulea's 1976 voyage. She started volunteering with the Polynesian Voyaging Society in 1993 and made her first voyage in 1995. She's been on five voyages throughout the Pacific and up the U.S. east coast, including the worldwide voyage in 2019. "The greatest gift is the opportunity to go to places in the Pacific to meet our Polynesian family," she says. "As Pacific Islanders, paddling and sailing are in our DNA."
Fuller, a sixth-grade social studies teacher at Iolani School and former paddling coach, hopes a new generation will carry on the legacy of ocean travel for a healthier Hawaii. "Being in a canoe is like living on an island," she says. "It teaches us how to treat each other with compassion, cooperation, and respect while being in a small space."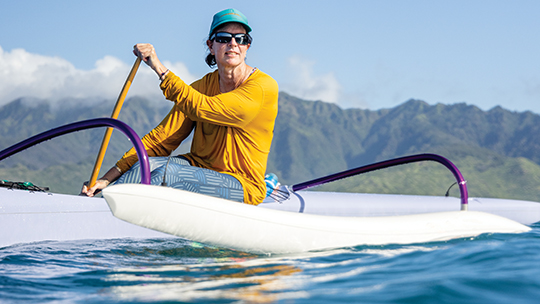 Catherine Fuller on a morning paddle off Portlock. Photo courtesy Matt Heirakuji
A way to exercise and connect
Garret Zakahi began walking for exercise eight years ago after he stopped coaching youth baseball. The principal of Jefferson Elementary School knew he needed a way to get some exercise.
"I prefer walking along the Ala Wai Canal after school," Zakahi says. "There's traffic on the way home, so I figured I'd avoid rush-hour traffic and get in my steps, and I also get to watch aquatic life."
He also enjoys walking around his neighborhood in Aiea and stopping by the baseball field. His son, Dennison, plays on the Aiea High School varsity baseball team. "I like to see what the players are learning and stay after practice to talk story with the coaches," he says.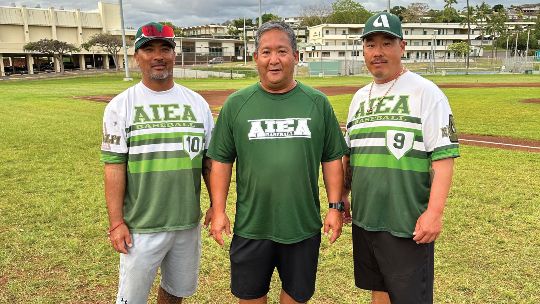 Garret Zakahi (center) with Wes Yoshida, head Aiea High School baseball coach (left) and Greg Ishikawa, assistant coach. Photo courtesy Garret Zakahi
That connection is especially important coming out of the pandemic. Zakahi took long walks during the height of COVID-19, but those were solo and with a mask. "The pandemic brought a lot of additional stressors as a school principal, so I used the time to organize my thoughts and create safety plans for our school," he says.
Zakahi explores off-island, too. He visits his daughter in Arizona, where she attends college, and often stops in Los Angeles for a Dodgers game. "I enjoy walking around the stadium to take pictures of all the memorabilia," Zakahi says.
But Hawaii will always be his favorite place to walk and explore. "It's really the best of both worlds," Zakahi says. "I get in some exercise and I get to observe what's going on in my school and home community."
She likes bikes
At age 7, Julia Parsons rode her yellow Schwinn bicycle with white handlebar tassels, exploring her neighborhood in Virginia with a pack of friends. Parsons now enjoys that same free-spirit sense of adventure in Hawaii.
When she moved to Hawaii two years ago, she quickly discovered that biking provided a good opportunity to make like-minded friends and see parts of the island she may not see otherwise. She belongs to the Sleep-in Beauties, a group of about a dozen women who bike about 12 miles on late Sunday mornings around neighborhoods in Honolulu. "It's great exercise that doesn't feel like exercise because we're busy socializing and exploring," says Parsons about their leisurely rides from the Ala Wai Canal to Kahala, Kakaako, and Manoa.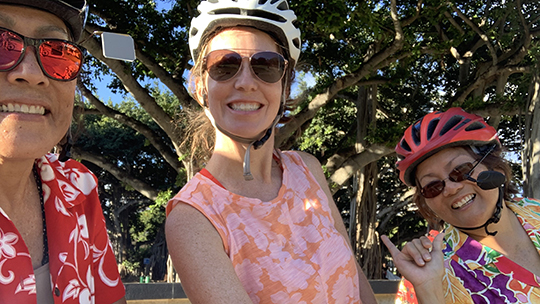 Julia Parsons (center) with fellow Sleep-In Beauties bikers Daphne Manago (left) and Teri Wong. Photo courtesy Julia Parsons
Parsons participated in the Honolulu and Haleiwa Metric Century races and volunteers for the Honolulu Bicycling League to advocate for bike safety. She encourages others to be seen by making eye contact with drivers before putting yourself in their path. One of her favorite places to ride is around historic Ford Island where there's little traffic. "I like the flexibility of getting around by bike. You can go when you want, where you want, at the pace you want," she says. "And you don't have to worry about parking and gas."
Instead of renting a car on Neighbor Island getaways, she tries to stay at Airbnbs that include a bike that she can use for sightseeing. Her goal is to bike on every island. Four down – two to go.
"You never get lost on a bike," she says. "You just discover new paths and places."