A carby pub favorite gets a healthy local twist in this recipe for fish and chips.
Rather than coating fish in a thick batter, our version sprinkles fresh ahi with a blend of spices, panko and gomasio, a flavorful mixture of sesame seeds and salt. The ahi is seared, rather than deep-fried, to retain the melt-in-your-mouth texture and buttery flavor that is highly desirable of this fish.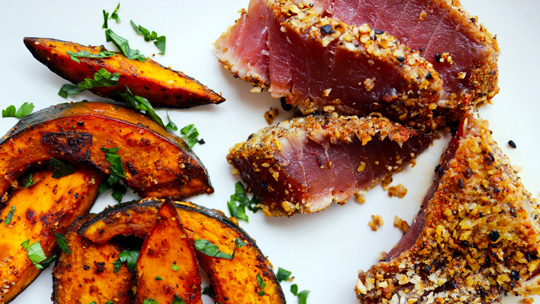 Local staples like ahi and kabocha inspired this healthier rendition of an English pub classic.
Baked kabocha (Japanese pumpkin) replaces fried potatoes as a healthier side dish that's rich in vitamins A and C, fiber, iron and some B vitamins.
Here's a tip: Leave the skin on your kabocha. When roasted, the deep-green skin crisps to perfection.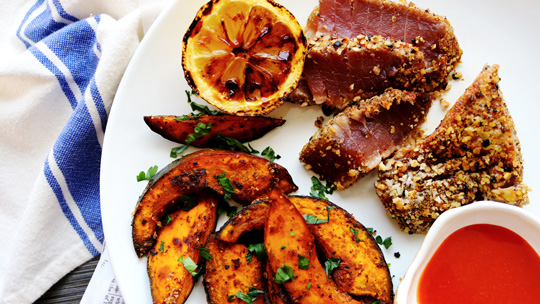 In need of a quick weekday meal? This dish comes together in about 30 minutes.
FISH & CHIPS LOCAL STYLE
Ingredients
Fish
4 6-oz. center-cut ahi fillets
1 tsp. ground coriander
1 tsp. smoked paprika
1/4 tsp. cayenne pepper
1 tsp. coarsely ground black pepper
2 Tbsp. black and tan gomasio (sesame salt)
1/4 cup panko
1 Tbsp. vegetable oil
Kabocha Fries
1 medium kabocha
1 Tbsp. avocado oil
1 Tbsp. Hawaiian salt
1/2 Tbsp. coarsely ground black pepper
1 Tbsp. smoked paprika
Chopped fresh parsley for garnish
Instructions
Preheat oven to 425 degrees. Line a large baking tray with parchment paper.
Carefully cut kabocha in half and scoop out the seeds. Cut each half into wedges, about 1/2-inch thick to resemble potato wedges.
Place kabocha in a zip-top bag and add oil. Seal bag and shake to coat liberally.
Add salt, freshly ground black pepper, and paprika to bag. Seal and shake again so wedges are nicely seasoned.
Arrange wedges in a single layer on the baking tray, making sure they do not overlap. Bake 20 minutes, remove and flip wedges, then roast another 10 minutes or until golden brown and crispy. Remove from oven and garnish with chopped parsley.
While the kabocha fries cook, combine coriander, paprika, and cayenne pepper in a small bowl. Lay ahi steaks out on a plate and sprinkle evenly with spice mixture on all sides.
Coat ahi evenly with the freshly ground black pepper, gomasio, and panko, gently pressing the mixture so it adheres. Be careful not to press too hard or you'll damage the flesh.
Add oil to a cast-iron or thick-bottomed skillet. Place over medium-high heat. When small wisps of smoke appear, add ahi and sear about 1 minute per side. If you prefer medium doneness, add another minute to the cook time. Be careful not to overcook ahi – it becomes dry and "fishy" tasting.
Remove ahi from skillet and place on a cutting board. Cut each steak diagonally into five slices.
Plate ahi with kabocha chips and garnish with a fresh lemon slice. Serve with sauce of choice. Makes 4 servings.