I love studies that show the positive health benefits of certain foods like dark chocolate, red wine, and – yes – coffee. It's a good reason to partake.
Studies show that coffee can help prevent type 2 diabetes, Parkinson's disease, liver cancer, and dementia, and can also be good for your heart. This makes it all the more reason to get a jolt of java during the 45th annual Kona Coffee Cultural Festival, which gets underway today and runs until November 15. It's the oldest food festival in Hawaii. The 10-day event is packed with activities highlighting the internationally recognized Kona coffee brand.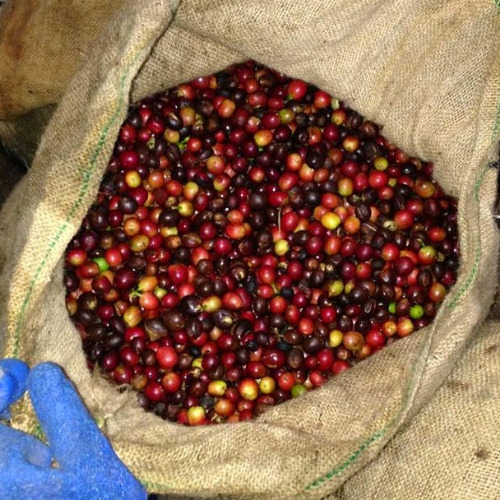 Ripe hand-picked coffee cherries awaiting depulping.
Kona immunologist Allan Wang, M.D., looks forward to the festival every year. Wang owns Aikane Kona Coffee, a four-acre coffee farm on the west slope of Hualalai volcano. "The Festival promotes and perpetuates the culture, heritage, artistry, and rich history behind Kona's nearly 200-year-old world-famous brew," Wang said.
Aikane was awarded prizes in the Festival for three years since 2001. Last year, it won the Chef's Five Star Kona Coffee Award by local chefs. "The Festival unites the community in a fun, beautiful, tasty week of events for locals and visitors," Wang said.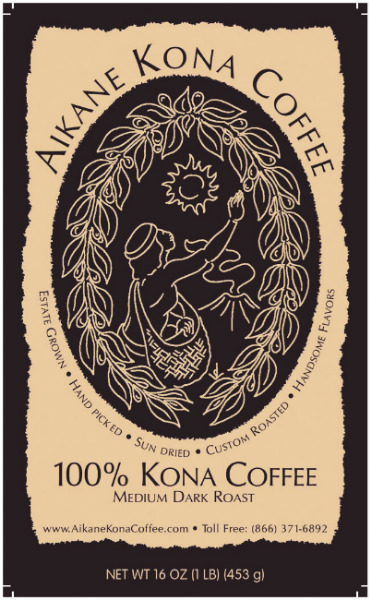 Award-winning Aikane Kona Coffee is just one of the many coffees featured in this year's 45th annual Kona Coffee Cultural Festival, Hawaii's oldest food festival.
Here are just some of the activities for you to check out: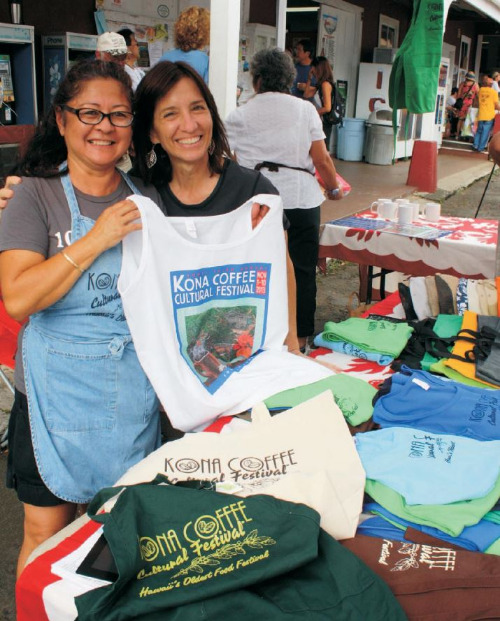 Art showcase
Growing, roasting, and brewing coffee is as much an art form as it is a science. And the vast green landscape of Kona's coffee plantations on the slopes of Hawaii Island's volcanoes inspired artists in their creations. Walk through the various venues and support local artists while sampling local coffee and other foods.
♦ Kona Coffee Cultural Festival Art Show
November 6, 7, 10 – 14
Donkey Mill Art Center
♦ Holualoa Village Coffee & Art Stroll
November 7, 9 a.m. – 3 p.m.
Historic Holualoa Village
♦ Kona Coffee Cultural Festival Quilt Show
November 9 – 12, 10 a.m. – 5 p.m.
Quilt Passions Quilt and Needlework Shop
♦ The Art of Japanese Calligraphy
November 14, 10 a.m. – 8 p.m.
Kamehameha Schools Kona Coffee Cultural Festival Hoolaulea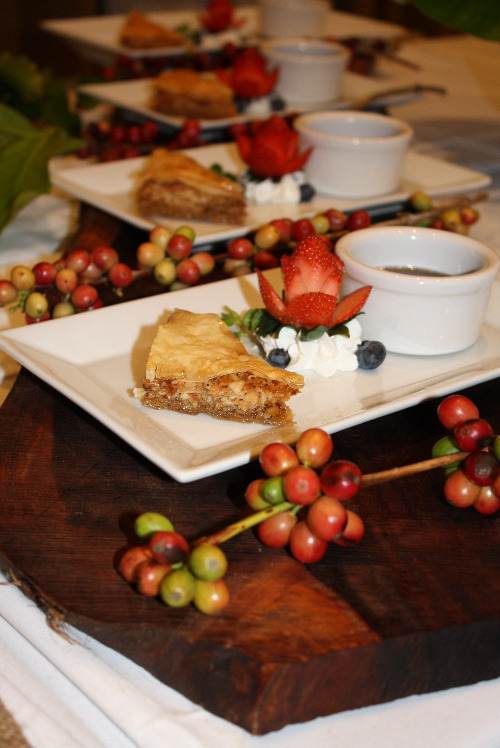 KTA Super Stores Kona Coffee Recipe Contest
November 8, 9 a.m. – 2 p.m.
Sheraton Kona Resort
78-128 Ehukai St.
Coffee encrusted pork tenderloin? Dark chocolate coffee truffle cake? Coffee gravy? Yes, coffee is not just for sipping. Local chefs – and amateur cooks – show how local coffee can be used to spice up gourmet cuisine and home-cooked meals.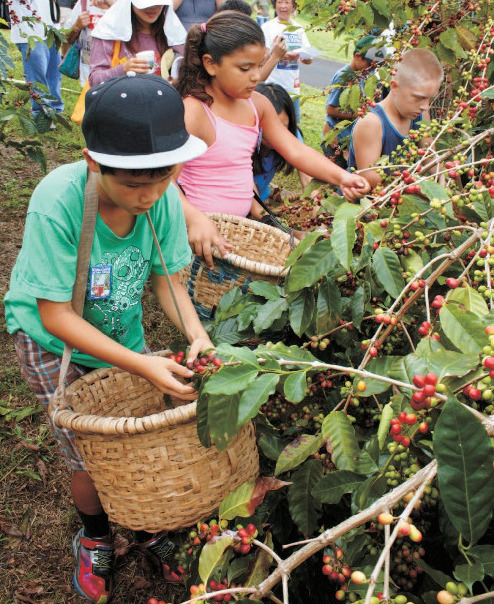 Coffee picking contest
November 8, 7:30 a.m. (registration). Contest begins at 8:30 a.m.
Ueshima Coffee Farm
75-5568 Mamalahoa Highway
One of the unique things about Kona coffee is that each bright red cherry bean is hand picked. Be a coffee farmer for a day and experience the work – and fun! – that goes into making an aromatic cup of Kona coffee one of the best in the world. There are categories for kids through adults along with prizes, entertainment, and food.
Coffee tasting
November 11, 9 a.m. – 2 p.m.
Keauhou Shopping Center
78-6831 Alii Drive
If you've never been to a coffee tasting – called coffee cupping – then this will be a unique experience you'll remember. Coffee connoisseurs will demonstrate how to appreciate the fine nuances of coffee from sniffing ground coffee to slurping the créma (coffee's top layer). Judges choose Kona's king coffee bean. You be the judge!

"The Long Journey Home"
November 12, 6 – 8 p.m.
Donkey Mill Art Center
This documentary celebrates Kona's coffee history. It follows the first three generations of Japanese in Kona from their hardships of creating new coffee farms to the discrimination they experienced during World War II. It reveals the many triumphs of Kona's coffee community and culminates with Ellison Onizuka, the world's first Asian American in space who came from the coffee land in Keopu. Hawaii filmmaker Walter "Trippy" Dods will talk about his first full-length film.

Lantern Parade
November 13
This popular cultural festival has returned after a brief hiatus. Start at Uncle Billy's Kona Bay Hotel at 3 p.m. on the corner of Hualalai Road and Alii Drive to make a traditional chochin (Japanese paper lantern) used for Obon to honor ancestors. Write a message on the lantern in memory of a loved one. The parade starts at 5:30 p.m. through historic Kailua Village. Stroll during sunset to Kamakahonu Bay at the courtyard of the Marriott King Kamehameha Kona Beach Hotel. Participants dressed in traditional fashion showcase Hawaii's diverse ethnicities who were the early pioneers of Kona coffee farming. Release your lit lantern in the water near Kailua Pier.
For the Festival's full schedule and more information about Kona coffee, go to the festival's website.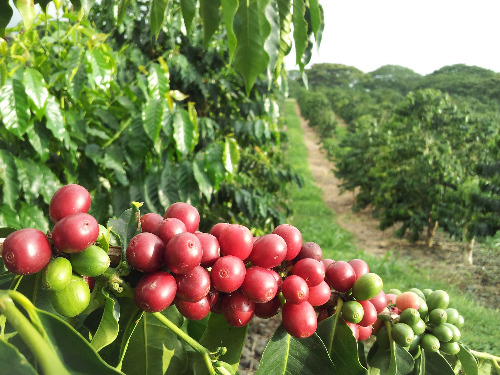 5 things about Hawaii coffee:
1. Hawaii is the only U.S. state where coffee is grown.
2. Coffee was first planted in Hawaii in the early 1800s in Honolulu, not in Kona.
3. Kona's fertile volcanic soil, year-round sunshine, and rainfall are ideal for growing coffee.
4. Kona has about 700 coffee farms on a total of 2,300 total acres of land.
5. Coffee farms are on Maui, Molokai, Oahu, Kauai, and Hawaii Island.


Photos courtesy of Kona Coffee Cultural Festival and Allan Wang.
Do you know where the coffee that you drink comes from?