The holiday season is upon us and the spirit of giving is in the air. If you're worried about overspending this year but still want to show your appreciation to your family, friends, and co-workers, the perfect solution may be to do it yourself. These two crafts are easy to assemble, affordable, and adorable.
Santa and Elf Treat Jars
Supplies:
2 small Mason jars
1 sheet red construction paper
2 glitter foam sheets (red and green)
1 medium-sized jingle bell
1 medium-sized white glitter pom-pom
8 medium-sized white pom-poms
Green festive washi tape
Red festive washi tape
Scissors
Hot glue gun
Treasts to fill jars
Note: You can substitute items like pom-poms and washi tape with whatever you have around the house.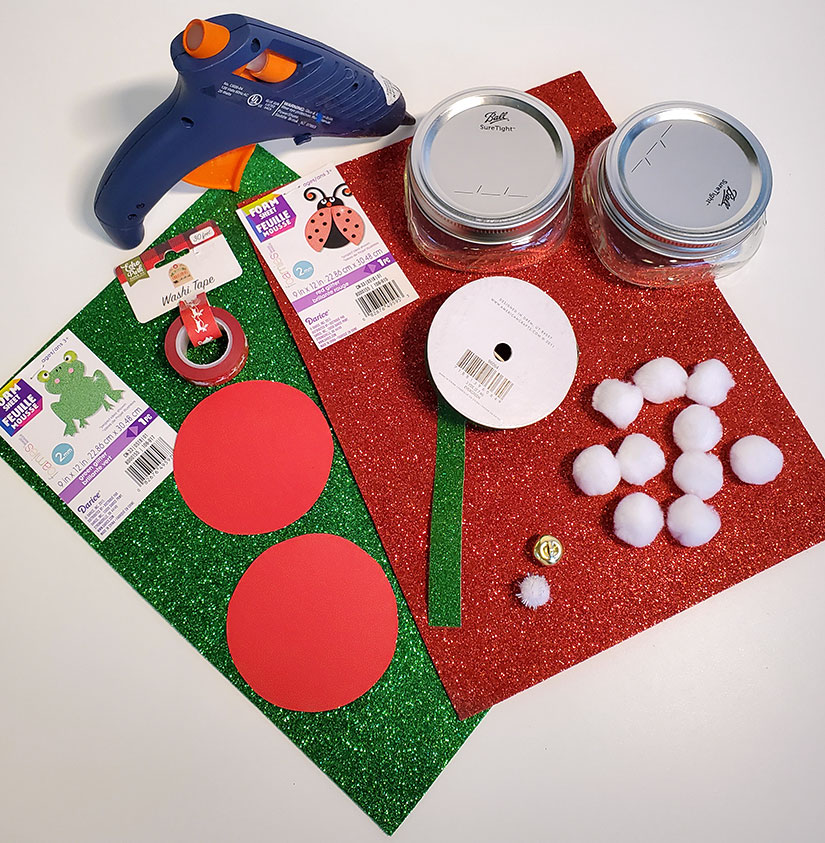 Instructions:
Cut two circles out of the red pape using the Mason jar lid as a guide.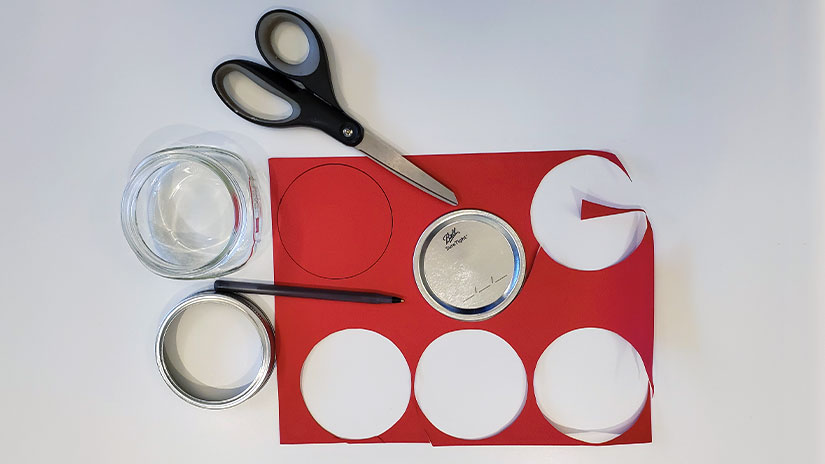 Place the lid and red circle on a jar and secure with the band. Wrap red washi tape around the Santa jar band.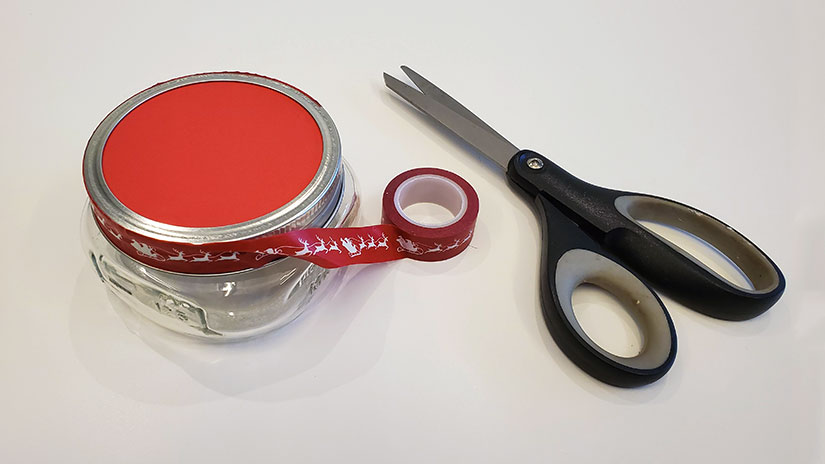 Create red and green cones from the foam sheets by rolling the tip tightly. Be sure the bottom about 2" in diameter.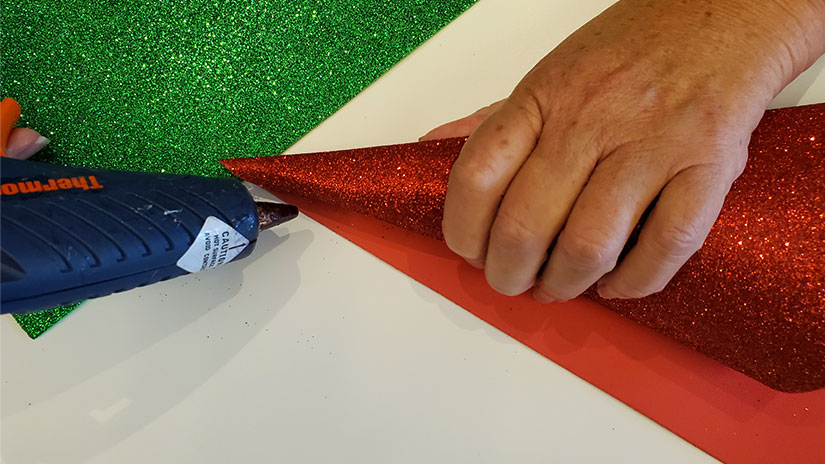 Trim bottom of cone so it stands up straight. Center the cone on the red circle and glue in place.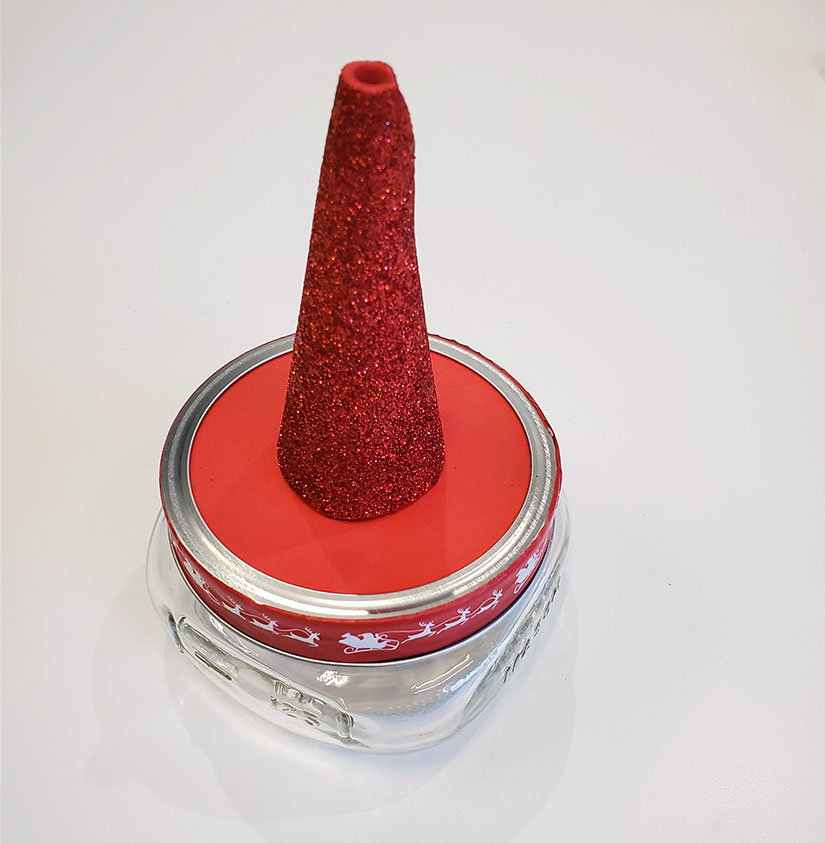 To decorate the red Santa jar, glue white pom-poms around the base of the cone. Cut off the tip of the cone and glue the glitter white pom-pom on top.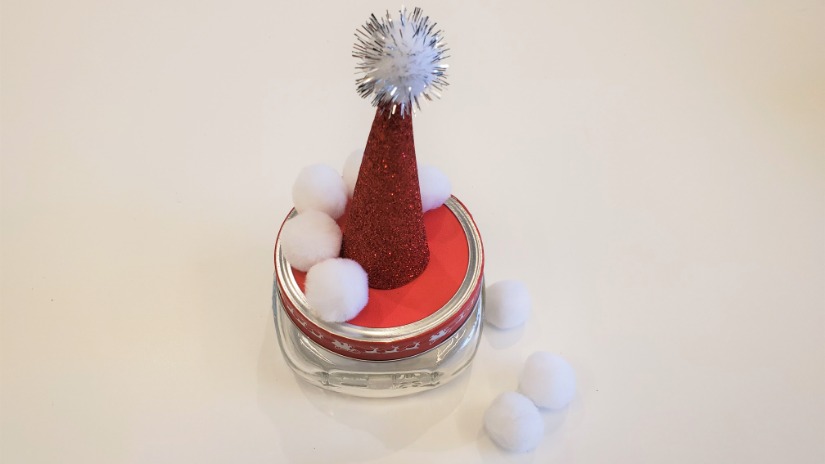 To create the elf hat's rim, use template to cut a zig-zag pattern from the red glitter foam. Wrap around the base of the green cone and glue. Glue a bell at the top of the green cone. Wrap green washi tape around the band.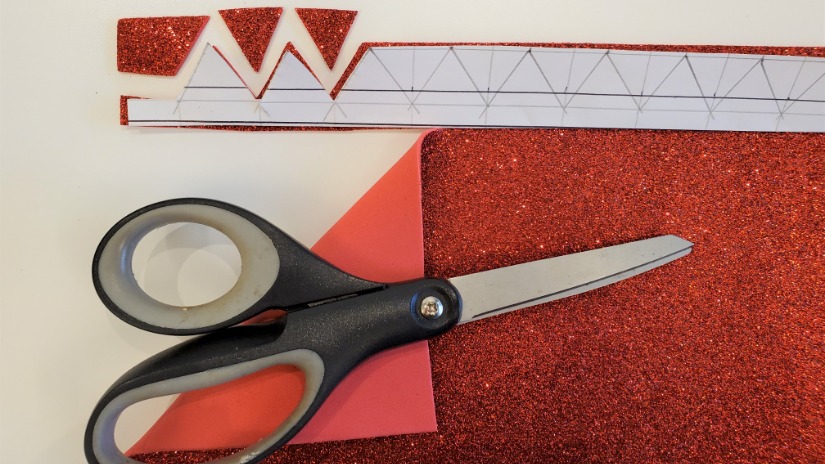 Fill each jar with a treat your recipient is sure to love. Some healthy options include nuts, trail mix, or pretzels.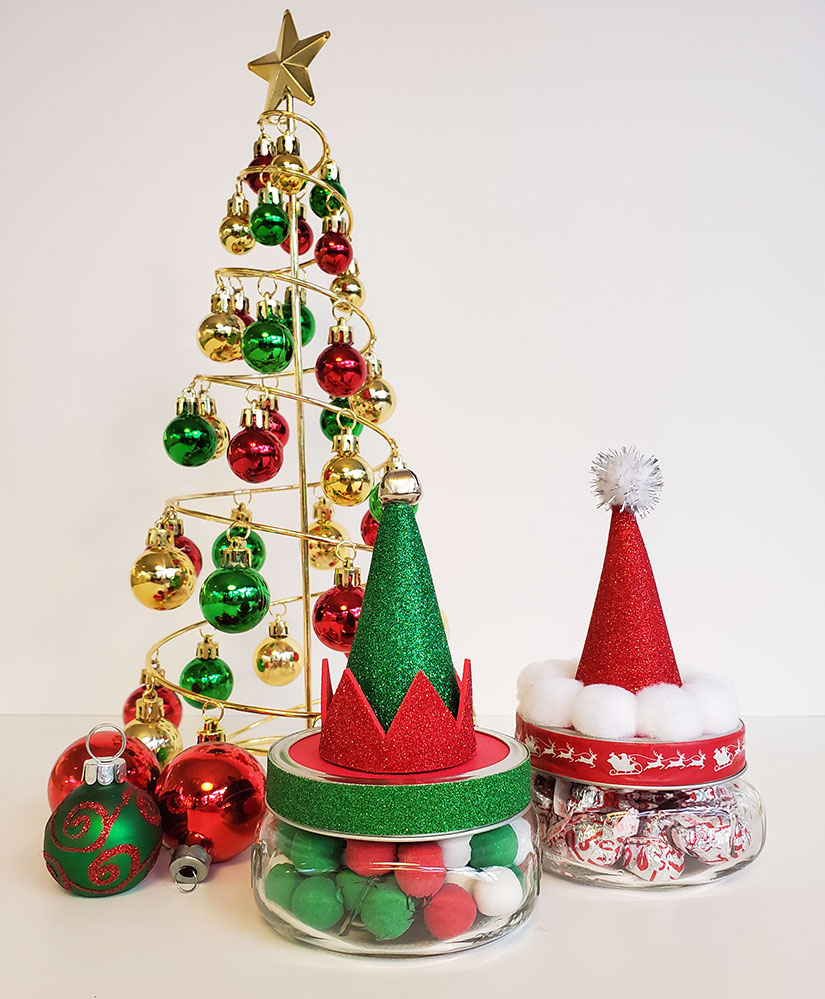 Santa and Elf Gift Tags
Supplies:
Red, green, and white construction paper
Black foam core
Can tabs
Self-adhesive buttons or jewels
Red and green ribbon or string
Scissors
Hot glue gun
Glue stick
Single hole punch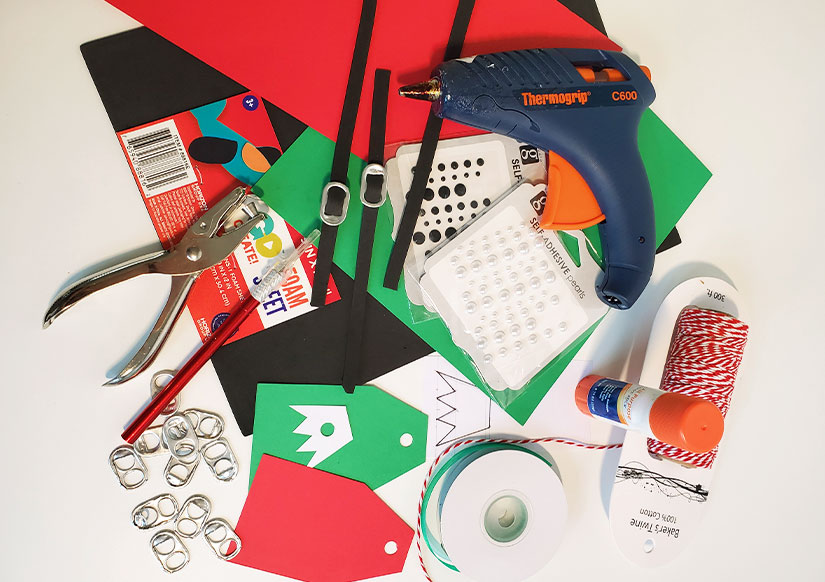 Instructions:
Use template to cut tags from red and green paper and the elf collar out of white paper. Glue collar to the top of the green tag with glue stick.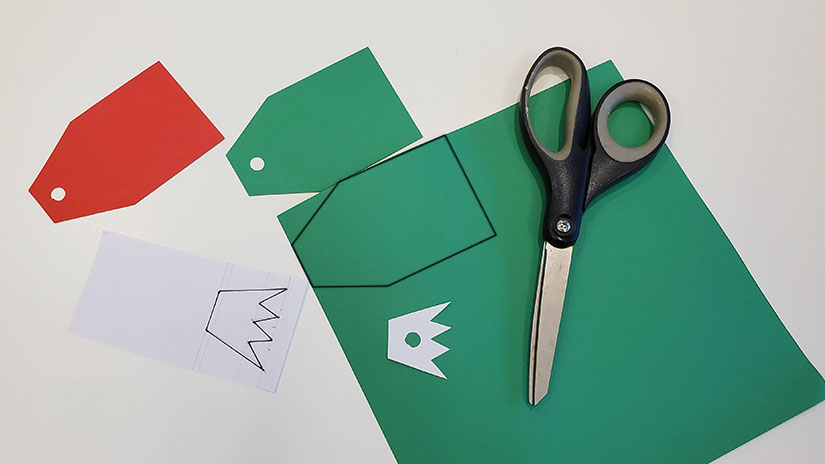 To make the belts, cut black foam core into 1/4" strips, narrow enough to weave through the holes of the can tab. (The can tab is the belt buckle.) Hot glue the belts onto gift tags.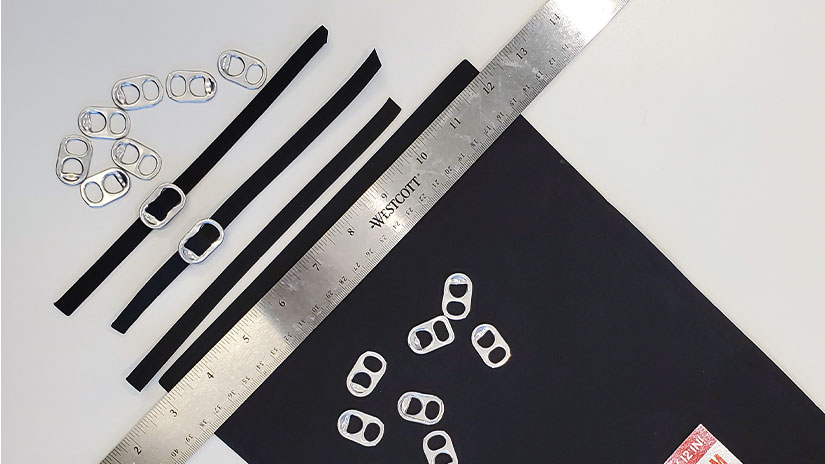 Stick self-adhesive jewels or buttons above the belt.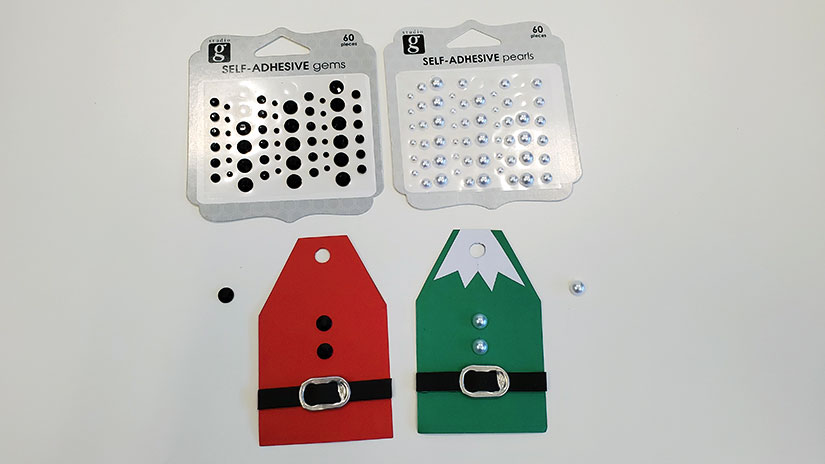 Punch hole in the center of the tag about 1/4" from the top. Loop ribbon through hole.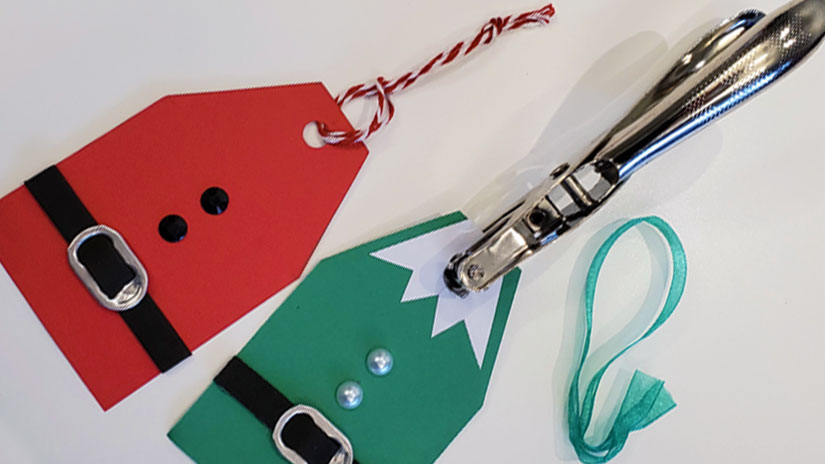 Attach gift tag to present.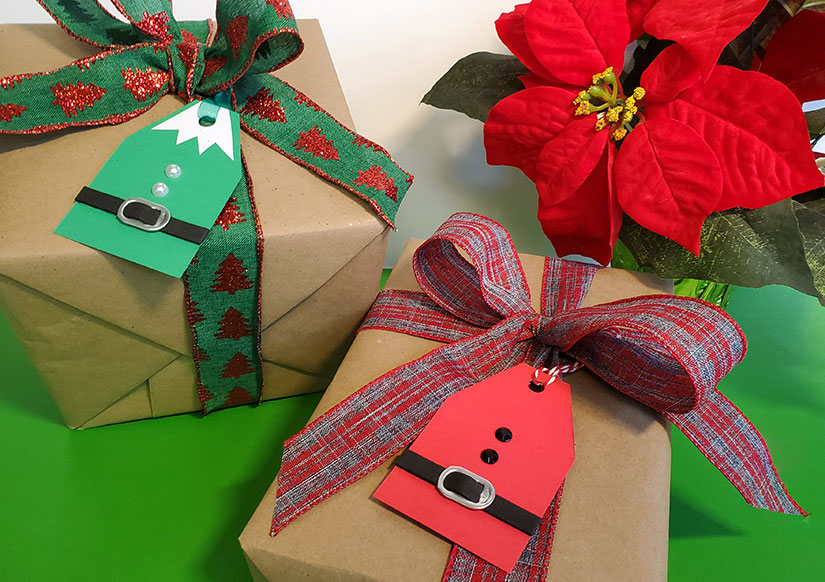 Get creative and recycle greeting cards or wrapping paper instead of using red or green construction paper.
Photo credit: Megan Wakayama