Despite the health and economic impacts of COVID-19 in Hawaii and worldwide, a large percentage of the U.S. population is still not vaccinated. Vaccination is particularly important to help protect against the new delta variant.
Do you or someone you know have concerns about getting vaccinated? Here are some common questions and answers to help you make an informed decision.
How can I trust a vaccine that was made so quickly?
The groundwork for development of COVID-19 vaccines have been in the works for over a decade to prepare us for a worldwide pandemic such as this. Research to develop vaccines against coronaviruses began in 2002 during the SARS outbreak. Advancements in science and the public health emergency declaration accelerated the usual timeline for vaccine development.
Will the vaccine make me sick?
Vaccines trick your immune system into thinking you got infected without actually giving you the infection. That helps you develop protection if you become exposed. Like other vaccines, you can develop symptoms such as headache, fever, fatigue, and chills that usually occur within the week of vaccination and last for a few days. Consider this as your immune system's response to the vaccination. Most importantly, these symptoms are less severe than symptoms you'd get from being seriously ill with COVID-19. There are very rare severe side effects from vaccines, but the odds of these are incredibly low compared to severe short-term and long-term complications from getting COVID-19.
Should I wait until a new vaccine is developed to protect against new variants, such as delta?
No. With over 165 million Americans fully vaccinated and delta variant now accounting for over 80% of cases, evidence shows that the vaccines currently approved in the U.S. (i.e., Pfizer, Moderna, and Johnson & Johnson) are still very effective. About 99.99% of fully vaccinated Americans have not had a COVID-19 breakthrough case leading to hospitalization or death. It's true that the delta variant seems to infect fully vaccinated people more than other variants, but your chances of getting infected are significantly lower than those who aren't vaccinated. Even if you get COVID-19 and are fully vaccinated, your risk of severe disease are much lower than if you're not vaccinated.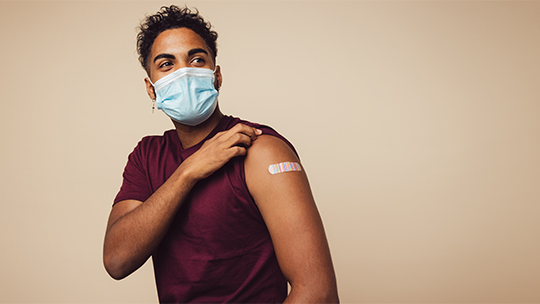 Can I get the vaccine if I have allergies from certain foods, pets, or pollen?
It should be safe for you to get the vaccine with the usual 15-minute observation time after getting a shot. The only contraindication is anaphylaxis or immediate allergic reaction to a previous dose or diagnosed allergy to an ingredient of the COVID-19 vaccine. If you have concerns, talk to your doctor.
Should I get the COVID-19 vaccine even though I've had severe allergic reactions from other vaccines?
Severe allergic reaction such as anaphylaxis from the COVID-19 vaccine is extremely rare. If you develop an extreme allergic reaction after getting the first dose of the Moderna or Pfizer vaccine, you shouldn't get the second dose. Talk to your doctor about whether you should get the Johnson & Johnson vaccine, which requires only one dose. Because of your previous reaction to other vaccines, vaccine administrators will observe you for 30 minutes after the shot instead of the usual 15 minutes.
Will I get blood clots from the COVID-19 vaccine?
In April, the FDA put a temporary pause on the Johnson & Johnson vaccine after their safety monitoring system reported blood clots with low platelets in people getting the vaccination. According to the FDA, this adverse event is very rare and is found in about 8 per 1 million vaccinated people, mostly women ages 18 through 49. This was even more rare in women 50 years and over and men 18 and over (less than 1 per 1 million). Compare this with the multiple complications from getting COVID-19, which include getting blood clots. It's estimated that for every 1 million women ages 18 through 49 who receive the Johnson & Johnson vaccine, there would be 19,000 COVID-19 cases prevented and 1,600 hospitalizations and 25 deaths prevented.
Will I get myocarditis (inflammation of the heart muscle) from the vaccine?
About 3 to 4 people in 1 million who got the Moderna or Pfizer vaccine were reported to develop myocarditis. These cases were mostly in younger males, where about 24 cases per 1 million vaccinated people reported myocarditis. Common symptoms of myocarditis include chest pains, palpitations, and shortness of breath. The vast majority of the myocarditis associated with vaccination was temporary and resolved with no treatment. It's important to note that COVID-19 infection can also cause heart disease, including myocarditis, that can be much more devastating and long-lasting.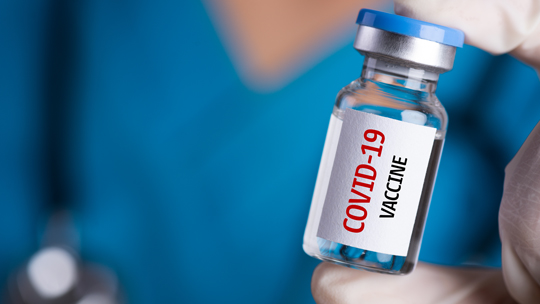 Does the vaccine guarantee 100% protection from COVID-19?
There are very few guarantees in life and no vaccine works 100%. The only guarantee is that the vaccine will not work if you don't get it. The best way to stop the waves of COVID-19 cases is for us as a community to protect ourselves with vaccinations.
For more information on the COVID-19 vaccine, visit hawaiicovid19.com/vaccine.
Brian Wu, M.D., is a pediatric pulmonologist and medical director at HMSA.