Coconut loved adventure. The Jack Russell Chihuahua mix hiked trails, camped in the wilderness, and frolicked on the beach. While Coconut was wary of strangers and didn't like them touching her, she was perfectly content to snuggle on the sofa with her mom to get cuddles and belly rubs.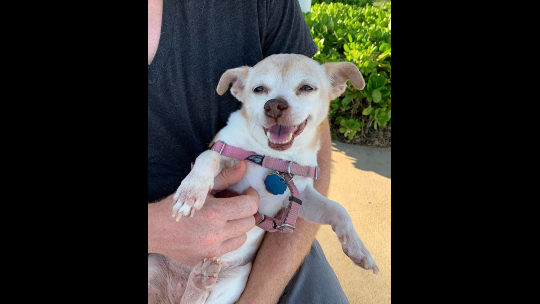 Coconut loved to snuggle with her mom. Photo courtesy Shari Acree
"I was 100% her person," says Shari Acree. "She was my best friend. We knew how the other was feeling and had a special connection."
Acree adopted Coconut from a shelter in Washington, D.C. They later moved to Hawaii together, where the small, sweet pup was able to spend a year in paradise.
But Acree had to make the hard decision to put her down on Halloween last year. Coconut had kidney failure and wasn't responding well to treatment.
"I was devastated. I didn't go to work for a week and was severely depressed for months," says Acree.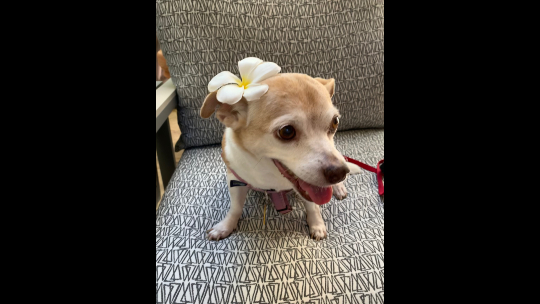 Coconut enjoyed a year in paradise before she passed away. Photo courtesy Shari Acree
Grief can be debilitating. Symptoms can include feelings of apathy, anger, or sadness. People have trouble thinking, concentrating, and even getting out of bed because their emotions are intense and overwhelming.
Hawaiian Humane Society helps people through the grieving process with its virtual pet loss support group. Longtime volunteer Rosemarie Grigg leads the discussion with empathy, compassion, and kindness.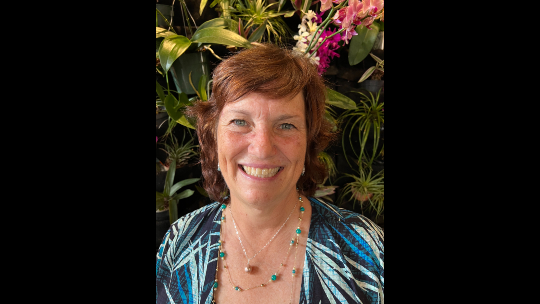 Rosemarie Grigg has been volunteering with HHS since 1999. Photo courtesy Rosemarie Grigg
"Folks who come to this group are looking for the support of others. And that's what they get, as well as a confidential and safe space," says Grigg.
The support is crucial because disenfranchised grief can happen with the death of a pet. That's when society doesn't validate the loss, making it challenging to begin the healing process and prolong it.
"We don't get that support like you would if you had a human pass away," says Grigg. "We may considered 'less than' for caring about our animals. That can make grieving even more difficult."
But the group lets pet owners know that they're not alone. Everyone can discuss their feelings, emotions, physical reactions, and how they've coped after the loss. The focus is on support with understanding, care, and respect for all perspectives. Sharing and hearing everyone's stories can also be a bonding experience.
"Meeting people who felt the same way as me was so validating and such a relief," says Acree. "I thought I was overreacting to Coconut's death. But a loss is a loss, and everyone's grief process is valid."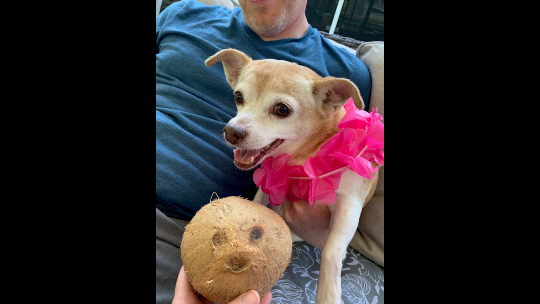 Coconut with her namesake. Photo courtesy Shari Acree
Acree learned that early on after attending the support group. She's now sharing that message with others as a "grief warrior" within the group. Grief warriors are longtime members who support those who are new to the grief process.
"They're our mentors," explains Grigg. "They help even the quietest people feel comfortable. They talk about things they've done to cope, build up their resilience, and how they're taking care of themselves."
That can include finding meaning in their loss. Acree came across an abandoned dog this past February. She tried to find the dog's family for more than a month, but nobody claimed her.
"Even though I was adamant I didn't want another dog, it was just too much of a coincidence that this dog that looked like Coconut came into my life," says Acree.
She kept the pup and named her Kukui. While the grief over losing Coconut was devastating, Kukui has helped Acree move forward.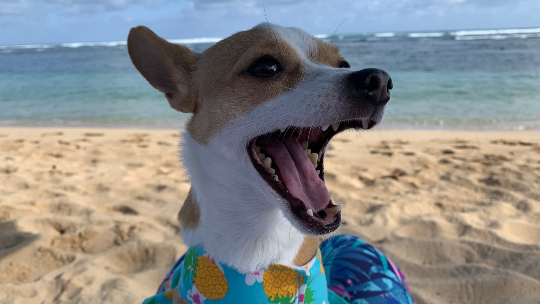 Just like Coconut, Kukui loves the beach. Photo courtesy Shari Acree
"Volunteering has always been a key part of my life, but I couldn't do much of anything after Coconut died," says Acree. "But Kukui has helped me heal and get back to volunteering."
Memorializing beloved pets can also be helpful in the healing process, whether that's turning the ashes into jewelry, getting a tattoo, or placing images of their pets on vases or glass.
Every member of the support group can get a pet portrait for free. Artist Dave Anderson volunteers his time to create the portraits using graphite and ink. He then digitizes them so they can be placed on wood panels.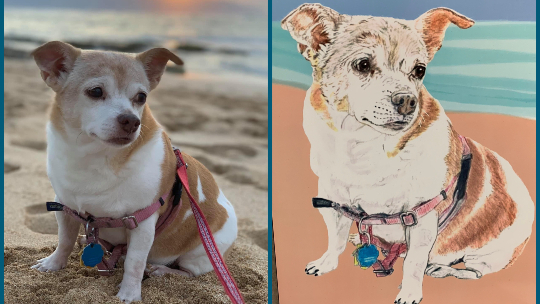 (left) Photo Dave Anderson used to create the pet portrait of Coconut; (right) The final wood panel
"When they pick it up, it can be emotional. Sometimes it makes their loss real," says Grigg. "It doesn't always relieve their grief, but it helps them move along in the process."
Everyone's grieving timeline is different. Working through those difficult emotions will help give you the strength to move forward. The important part is taking the first step.
"Don't let fear or anxiety keep you from reaching out for help or joining the group," says Acree. "You don't have to talk or even turn your camera on until you're ready. Just hearing other people's stories can give you hope that things will get better."
The Hawaiian Humane Society's Virtual Pet Loss Support Group meets virtually on the first Tuesday of every month.