Breakfast may be hailed as the most important meal of the day, but a healthy lunch has major benefits. The U.S. Department of Health & Human Services believes that a poor diet can lead to major health risks such as heart disease, high blood pressure, and type 2 diabetes. In fact, American Diabetes Association (ADA) estimates that nearly 600,000 people in Hawaii have prediabetes or diabetes. That's why ADA is celebrating National Healthy Lunch Day on September 19, and encouraging everyone to make or purchase a healthy lunch.
How to Order a Healthy Lunch
Eating is often a social activity. Here are four tips to help you make good choices while eating out:
Be choosy. Go to restaurants that have healthy menu options. Check menus online, where many restaurants display nutritional content. Knowing how many calories that bacon cheeseburger has might convince you to go for a turkey burger.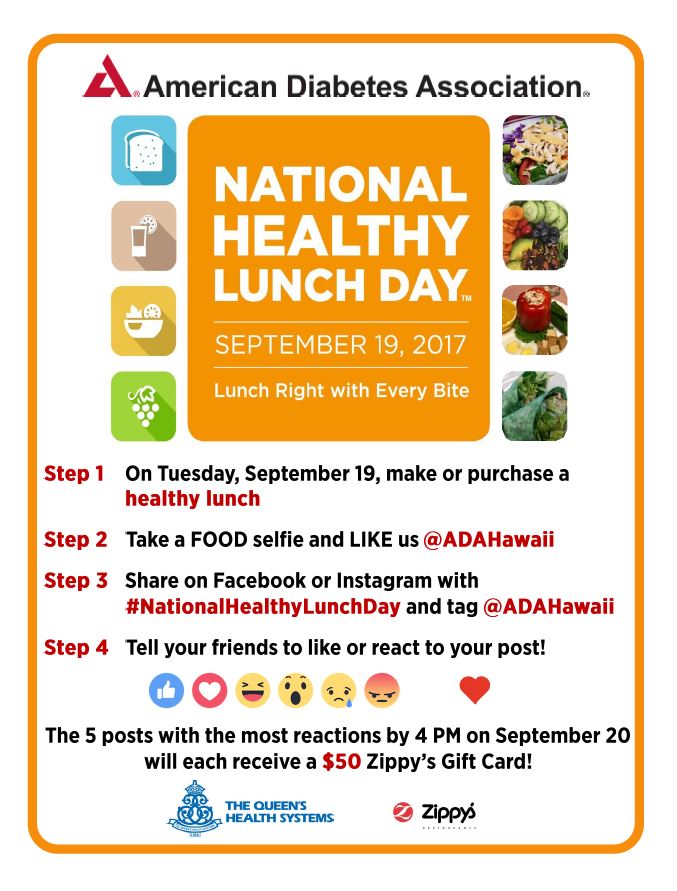 Have it your way. Don't be shy when it comes to requesting substitutions. If an item is fried, ask for it grilled. If your meal comes with fries, request veggies. Substitute tossed salad for mac salad. Ask for brown rice instead of white rice. These small changes add up over time.
Bigger isn't better. Sometimes one entrée has enough food for two meals. Ask your server to box half your meal before you even see it. You can also order an appetizer instead of a meal, or half portions when available.
Skip the sugary drinks. Water is always the best choice when it comes to quenching your thirst. Ask for a lemon for added taste. Avoid soda since it's full of empty calories. Unsweetened tea is another low-calorie option.
How to Make a Healthy Lunch
Making your own lunch means you get to turn fresh ingredients into healthy meals and save money. It might feel like too much of a hassle, but it doesn't have to be. Here are three tips for making an easy, tasty, and healthy lunch:
Start with dinner. Make extra food at night so you can have leftovers for lunch. Make a large batch of healthy soup or chili. If you make grilled chicken for dinner, have chicken salad the next day.
Keep it simple. If you're overwhelmed by planning a lunch menu, think of your meal as a puzzle with vegetables, a protein, a healthy carb, and fruit as pieces. For example, you could pack a leafy salad, tofu, quinoa, and some grapes for dessert. It's easy to mix and match so you don't get bored.
Embrace the bento. Japan is the home of the bento, or boxed lunch. The biggest benefit of a bento is portion control. You can use a cute bento box, a plastic container with different compartments, or a regular plastic container. It's up to you! Pack your bento with a variety of healthy, delicious food.
Your lunch is your midday refuel, so it should be delicious, nutritious, and easy to prepare. Once you get into the habit of making and ordering healthy food, it will seem easier. And best of all — you'll feel better!