When I was growing up, cauliflower was a bland, tasteless, and much avoided vegetable. I rarely saw it used in recipes and when it was served on a raw vegetable platter, it was the last veggie standing.
These days, I'm more health conscious and love cauliflower. It's an amazing culinary addition for those who don't eat grains, have diabetes and are looking to control sugar intake, or who are looking for a healthier and low-calorie alternative to carbohydrate-rich foods. Cauliflower is a great source of Vitamin C, has anti-inflammatory benefits, and supports digestion.
Cauliflower recipes run the gamut from simple to complex and can be used as a carbohydrate substitute in all types of dishes. A quick internet search will bring up recipes for cauliflower pizza, mashed "potatoes," biscuits, breadsticks, tortillas, hummus, baked cauliflower tots, and even nachos!
One of the more popular variations is cauliflower rice, or simply "cauli-rice," and it's gaining momentum as a rice substitution. If you grew up in Hawaii, you're probably very fond of rice so the thought of trying cauli-rice may not appeal to you. However, if you're willing to try something new, I personally know many people who enjoy cauli-rice and use it as a rice substitution.
The first step to a cauliflower "rice" dish is the actual ricing of the cauliflower head. With a knife, a food processor, and a few simple steps, ricing cauliflower is a cinch. Check out this video, which shows you how easy it is.
Need a basic cauliflower rice recipe? Here's a simple cauli-fried rice recipe. If you're looking for more tasty and healthy variations for cauli-rice, be sure to check out our next issue of Island Scene magazine, hitting your mailbox in October.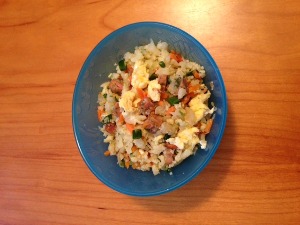 Basic Cauli-Fried Rice
Prep Time: 20 minutes Serves: 4-6
Cook Time: 15 minutes Serving: 1 cup
Ingredients
1 head cauliflower, riced
1 lb. chicken breast or other protein (pork, bacon, sausage, tofu), cubed
3 eggs, beaten
1 Tbsp. freshly grated ginger
1 bunch of green onions, finely diced
1 cup shredded carrots
1 cup frozen peas
1/3 cup cilantro, finely chopped
3 Tbsp soy sauce (tamari or coconut aminos for gluten-free)
1/2 Tbsp sesame oil
1 tsp. hot chili sauce (optional)
2 Tbsp. coconut or olive oil
Lime wedges for serving (optional)
Directions
1. Rice cauliflower and set aside.
2. Dice the chicken breast and chop the veggies. Heat about half the oil in a wok or a large skillet over medium-high heat. Add the eggs and scramble. When cooked, set aside in a bowl.
3. Add a little more oil to the pan and add chicken, ginger, and garlic. Stir fry until chicken is almost cooked through and then add the carrots and cook for about another minute. Remove mixture to another bowl.
4. Add the "rice" to the pan and cook until soft, about 3-5 minutes. Do not overcook or "rice" will become mushy. Add egg and cooked ingredients back to the pan.
5. Add in the peas, soy sauce, and chili sauce. Add the green onion and cilantro last and serve warm with the lime wedges.
Nutritional Info
Per serving: Calories 340, protein 34 g, carbohydrates 16 g, total fat 12 g, saturated fat 6 g, cholesterol 160 mg, sodium 700 mg, fiber 6 g, total sugar 6 g
Other Variations
Ginger Chicken Cauli-Rice
Cold ginger-chicken sauce (green onion, grated ginger, salt, oil) and diced cooked chicken.
Edamame Cauli-Rice
Ochazuke wakame furikake, nametake mushrooms, and edamame. (Look for the first two ingredients in the supermarkets' Oriental foods section).
Curry Cauli-Rice
Sauté chopped onion and red bell pepper with minced garlic and curry powder in a little oil. Toss with cauli-rice. Add dried cranberries, black beans, and chopped green onion.
Poke Bowl
Mix cauli-rice with bottled sushi seasoning. Top with your favorite poke.
Do you have another creative way to use cauli-rice? Please share your inspirations with us by commenting below.