Debates can get heated when talks turn to who makes the best shave ice in Hawaii. The shave of the ice needs to be just so, the syrup must be poured in a certain order, and then there's the eternal question – condensed milk, yes or no?
Even the name of this icy treat is up for personal interpretation. Shave ice, slushies, ice shave … in Italy, they call it granita.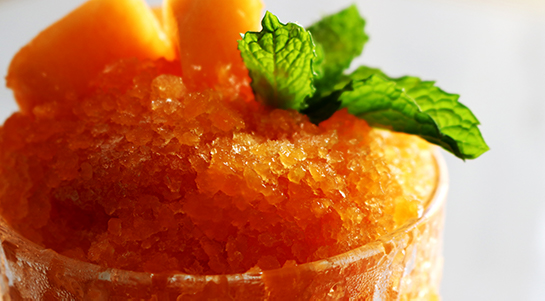 Fresh mint and chunks of cantaloupe make this summer treat extra refreshing.
Originally from Sicily, granita is a semi-frozen dessert made from blending fresh fruit and water into a smooth puree, then freezing the mixture until icy. After an hour or so, you get to flake it with a fork … how cool is that?! Continue the process a few times – freeze, flake, repeat – until you're left with a light, crunchy ice treat perfect for a hot Hawaii day.
Enjoy solo or serve with a dollop of yogurt, a splash of sparkling water, or fresh fruits and herbs like we did here. There'll be no question who makes the best local-style granita. (You. The answer is you.)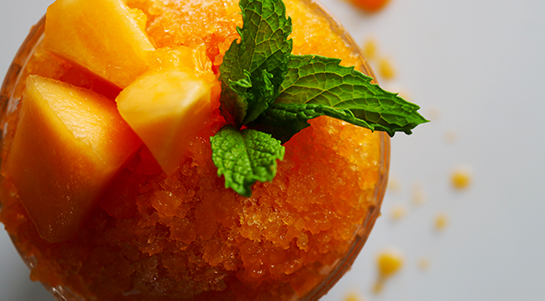 Grab a spoon and dig in to this tropical-inspired granita.
CANTALOUPE PAPAYA GRANITA
Ingredients
1 cantaloupe, about 3 lbs.
1 papaya
1/4 cup sugar substitute, e.g., stevia, sucralose
1 cup water
2 Tbsp. freshly squeezed lime juice
Directions
Using a sharp knife, cut cantaloupe in half. Remove and discard seeds. Slice off rind and pale-green flesh and discard. Cut cantaloupe into large chunks. Place in the bowl of a food processor.
Cut papaya in half. Remove and discard seeds. Using a spoon, scoop the flesh into the same food processor bowl with cantaloupe.
Blend until smooth. Transfer mixture to a stainless steel bowl and set aside.
Combine sugar substitute, water, and lime juice in a small saucepan. Cook over medium heat until mixture thickens slightly. Remove from heat and let cool completely.
Stir syrup into the melon puree and mix well. Pour into a 13-by-9-inch metal baking pan and place in the freezer uncovered. Freeze for an hour, until the edges become slushy. Remove from freezer and scrape ice crystals using a fork. Return to freezer and freeze for 3-4 hours more, scraping the ice once every 30 minutes. Cover and freeze up to 24 hours.
Remove from freezer and let stand at room temperature 5 minutes. Before serving, scrape surface with a fork or spoon. Makes 4 servings.