Old Stadium Park holds a lifetime of memories for Hawaii's longtime residents.
"The old stadium was called Termite Palace," says Honolulu City Councilmember Calvin Say with a smile on his face. "We used to have stock car racing. We had the Hawaii Islanders baseball team, the University of Hawaii, you name it."
Today, it's a revitalized green space that welcomes families to play once again, thanks to the vision and partnership of Blue Zones Project® Hawaii.
BZP's mission is to improve the places that we live, work, and play toward the goal of enhancing the well-being of Hawaii's people.
"HMSA has been such a helpful partner," Crystal Germano, BZP Hawaii community engagement lead says. "Not only are they a great partner, they sponsor Blue Zones Project Hawaii to work to create a happier and healthier Hawaii."

"I was able to organize a group of leaders in our community, the community being Manoa, Makiki, Moiliili, and McCully. And that's known as the 4Ms. And Stadium Park was our marquee project," says Wes Oda, HMSA Director of Business Intelligence.
Families and community groups from 4M are at the park for Keiki to Kupuna Family Fun Day. The hope is that more residents, young and old, will come to enjoy one of the few green spaces in the area and bring back smiles, laughter, and exercise to Old Stadium Park.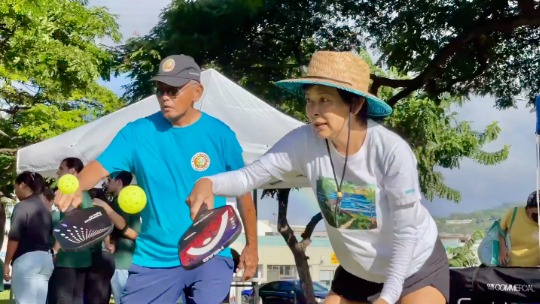 Playing pickleball in the park.
"It's very exciting. I wish more of our residents could come out and get to experience all the different organizations that are providing health care services and ideas about how to live a healthy life," says Say. "So far, we have Hawaii Bicycling League, Hawaiian Humane Society, the police department, and Moiliili Community Center for the senior citizens."
"These types of events can really help to bring people together to enjoy where they live and to ultimately create a healthier atmosphere," says Germano.

With these shared goals, we can make meaningful changes that strengthen the fabric and resilience of the community.
"We want to improve the overall health of not only HMSA members, but the health of all residents of Hawaii. And I think Blue Zones Project is a great way for HMSA to work toward that," says Oda.
"One of the goals is for people to live longer, better," says Germano. "HMSA working toward this vision for all of us is an amazing endeavor and I'm so happy to be a part of it."
Blue Zones Project® is a trademark of Blue Zones LLC and Sharecare Inc. All rights reserved.