When I first learned about Bikeshare Hawaii's Biki bike share program, I was intrigued. Learning to ride a bicycle without training wheels is among my fondest childhood accomplishments — right up there with learning to tie my shoelaces. I remember the sense of pride and freedom I felt in learning a skill that allowed me to travel greater distances faster than walking through my own physical effort. Since then, bicycle riding has been one of my favorite activities.
I eagerly signed up for the Biki when it launched and opted for the Free Spirit Plan, which provided me 300 minutes of bike use at my leisure. Initially, I was curious to see how I could add cycling into my daily life. Don't get me wrong, I love driving my 2013 Honda Civic, but I have lots of issues with Honolulu's regular gridlock and the ever-challenging parking lot shuffle. I thought Biki would be a convenient way to travel short distances while getting some much-needed exercise.
Six months after I began my experiment with Biki, it's become my primary means of transportation to and from work. On most weekday mornings, my commute begins with a five-minute walk to one of the three Biki stations around Thomas Square. I use the GPS-enabled Biki app on my phone to get an access code and unlock a bike. After unlocking the bike and adjusting the seat, I begin my short bike ride down the King St. protected bike lane to a Biki station near work. The whole trip takes me about 15 to 20 minutes from door to door. I've even used Biki to meet up with friends in Waikiki, Kakaako, and Chinatown. I don't have to deal with traffic or parking, only a bit of perspiration.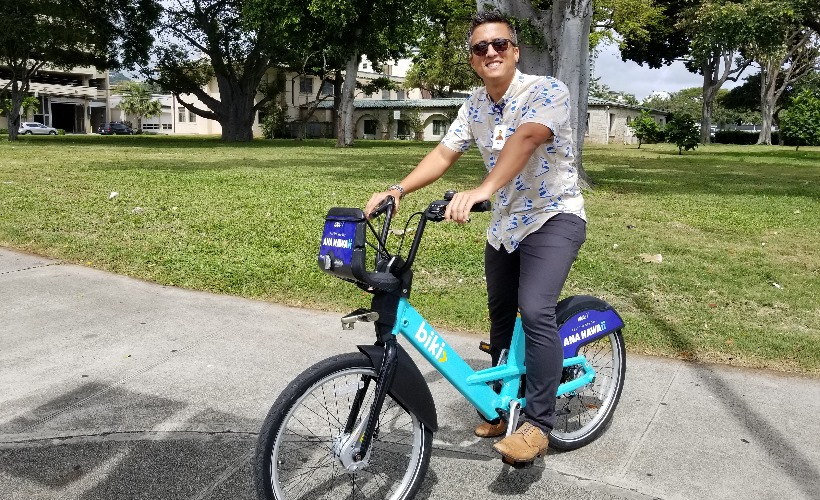 I've come to appreciate the burst of physical activity in the morning. It helps wake me up and prepares me for the work day by getting my blood flowing and elevating my heart rate. I've noticed subtle changes like feeling more energetic, alert, and not automatically opting for that morning cup of coffee when I get to work. Plus, the morning and afternoon physical activity have been a nice compliment to my renewed efforts at the gym.
Honolulu streets are busy and dangerous. Making use of Biki, like walking or driving, requires caution and conscientiousness. I've had my share of close calls with cars and pedestrians alike, so a helmet is definitely recommended for added safety. If you're curious about giving Biki a try or looking for a way to fit more physical activity into your routine and traffic is gridlocked — try hopping on a Biki bike! It's an easy and convenient way to get around town.