Nationwide and around the world, cycling is having a moment. Bicycle stores across Hawaii were deemed essential businesses at the start of the pandemic. Now, they're selling out faster than they can order bikes due to a nationwide stock shortage. A co-owner at McCully Bike in Honolulu says the store sold their last shipment in two days. The store hasn't been closed since March and she's grateful for the business boom. Most of all, she's happy to see people getting outdoors and making positive changes to their lifestyle despite the challenges of the pandemic.
Jon Mizushima's family became part of the boom when they started cycling together. "We wanted to find something physically active to do to get out, get off the electronics, and where we could still maintain our social distancing." But before they could cycle with their kids, Jon's wife, Angie (a senior manager at HMSA), needed a bike. She hadn't ridden since she had her first job more than 20 years ago.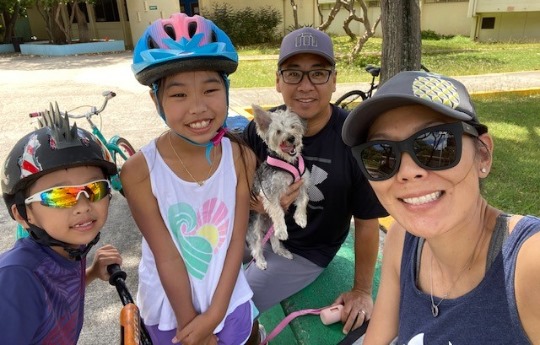 Jacob, Alyssa, Jon, and Angie Mizushima with their dog, Mele.
All the stores they checked were sold out, but they were able to find a used beach cruiser online. Many adults are hesitant to ride after a long hiatus, but Angie says she was comfortable right away. Biki, Oahu's bikeshare, says many new riders are more comfortable getting back on a bike because there are fewer cars on the road now. "Sometimes, you just have to get someone on a bike one time for them to realize how easy and fun it really is," says a Biki representative.
Jon says there are times he and Angie are ready to stop riding, but the kids want to keep going. It's been good motivation. Jacob, who's 7, enjoys the chance to get out of the house and Alyssa, who's 9, says her favorite part of cycling is the time she gets to spend with her family. Their advice for other keiki who want to start riding? Jacob says to learn by "going down grass hills and knowing how to use your brakes." Alyssa recommends that kids "wear sunscreen and be confident."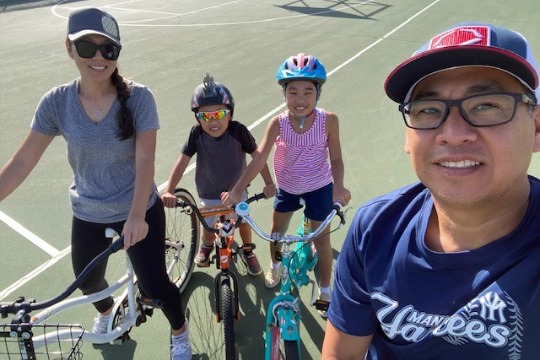 Jacob and Alyssa love riding bikes together as a family.
Jon has been teaching Jacob and Alyssa about cycling safety and how to fix their bikes. He says it's best for parents do a bit of research before they head out. "Scout areas, find places with low traffic volume, wider streets," he says. "Those things are very important to us when we're looking for a place to ride. And take the time to teach your kids rules and regulations of riding a bike on the street. Have fun but safety has to be number one."
Biki, who partners with Hawaii Bicycling League to offer cycling safety courses, agrees. They say some cycling laws surprise people. For instance, it's illegal to ride on the sidewalk in business districts like downtown and Waikiki. If you have your own bike in Honolulu, it needs to be registered and have proper safety equipment, like a light for night riding. Biki recommends the Lei of Parks Trail, King Street Cycle Track, and the South King Bike Way for safe riding. For more route and trail suggestions, visit the Biki website and the Oahu Bike Map.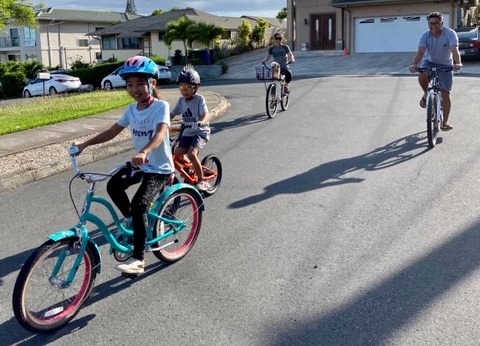 The Mizushimas like to ride around their neighborhood where the streets are wide and safe.
As for the Mizushimas, they hope to keep riding together after they go back to school and work. In addition to more family time, Jon likes the connection they've created with their neighbors. "So many times we're riding and we're waving to the neighbors or just strangers saying 'Hi, how are you doing? Good morning. Good afternoon.' When you're driving in your car, you don't have the opportunity to connect with other people."
Angie hopes that this will be the beginning of something meaningful for her family. "I just love when we're out there together," she says. "It's so fun and it slows us all down to the dizziness of life. No one's on a device. We're not on our phones. We're just enjoying the time and the outdoors and building memories. I hope that they'll remember this when they're my age, how we used to always bike together as a family."