Dogs bring joy into our lives. They're loyal, sweet, playful, and incredibly intelligent. They can learn basic skills like how to "sit," "stay," and "roll over," as well as how to turn lights on and off and open doors.
That's what Assistance Dogs of Hawaii (ADH) trains their pups to do. The Maui nonprofit has trained nearly 200 dogs to help people with physical disabilities. The dogs also help their partners psychologically, socially, and emotionally.
ADH's current priority is to support those affected by the Maui wildfires. Therapy dog teams have been deployed to bring comfort to first responders and those who evacuated to shelters. Just the dogs' presence can put people at ease.
"Dogs have such a calming influence on people," says Maureen Maurer, ADH co-founder and executive director.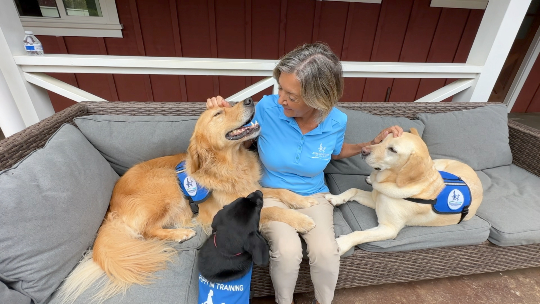 Maureen Maurer with some puppies-in-training.
At your service
ADH focuses on training three types of assistance dogs:
Service dogs that bring freedom and confidence to people with limited mobility.
Hospital dogs that provide companionship and comfort to patients.
Courthouse dogs that offer courage and support to children who are victims or witnesses to crime.
The dog's personality helps determine what type of assistance dog they'll be.
"Hospital dogs may not have the same work ethic as a service dog, but they enjoy everyone and enjoy being pet and comforting people," says Maurer. "Service dogs should have a little more drive and enjoy working. They must be good in public and not easily distracted. They're usually more of a one-person dog."
ADH dogs can help people with cerebral palsy, muscular dystrophy, ALS, and spinal bifida. They learn about 90 commands, ranging from getting a drink out of the refrigerator to pulling a wheelchair.
"Some of our clients have said their dog makes their wheelchair 'disappear,'" says Maurer.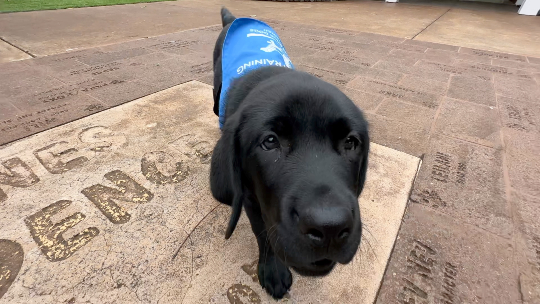 A puppy-in-training.
Bond for life
Gabe Nyrkkanen was just 23 years old when he injured his spinal cord after swinging off a rope and into a river 20 years ago. ADH matched him with Gigi after he applied for a service dog last year. They've been inseparable ever since.
"We're emotionally bonded to each other. We have a strong connection and are almost always together," says Nyrkkanen.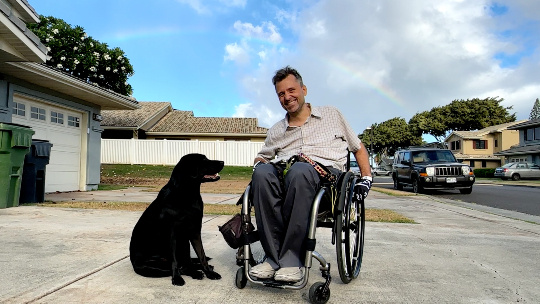 Gigi is always by Gabe Nyrkkanen's side.
While Nyrkkanen moves adeptly in a wheelchair, Gigi has created new levels of independence. She's trained to close doors and pick up or fetch items that Nyrkkanen may need. She's serious about work, but the black lab also loves to cuddle, hang out, and play.
"From sunup to sundown, she's there doing things or there just being a happy dog," says Nyrkkanen. "She's part of the family. When she wants to be a dog and play, she can cut loose and have fun. It's like having the best pet you could ever imagine."
Training for success
Gigi was fully trained by the time Nyrkkanen was matched with her. So when he flew to Maui to pick her up, it was time for him to learn some tricks.
"I was the one who needed to be trained!" says Nyrkkanen. "Several people, including Maureen, her husband, Will, and their principal dog trainer, Emily, taught me how to work with Gigi and understand what she could do. It was a whole team effort that was very comprehensive."
He stayed in an apartment on the ADH campus during the week-long training that involved classroom instruction and hands-on experience. Nyrkkanen then brought his new best friend home to Honolulu for an additional week of training. ADH continued to support the pair by making sure Gigi was settled in. There's also lifetime training.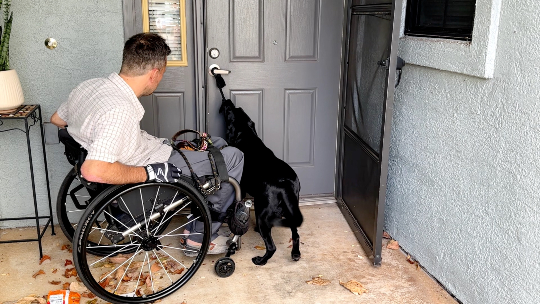 Gigi helping Nyrkkanen open the door.
It can cost up to $50,000 to acquire a trained service dog from other programs. But ADH makes sure their assistance dogs are provided free of charge, thanks to donations from the community.
"It's a lot of fun because it's not a business," says Nyrkkanen. "They're a part of the community and I consider them my friends."