If you're planning on having a child, you may be nervous to ask your doctor about infertility. Well-Being Hawaii spoke with Dr. Christopher Huang, an OB-GYN, who specializes in reproductive endocrinology and infertility at Kapi'olani Medical Center for Women & Children.
WBH: Let's start with one of the most common questions people have about infertility: when is a patient considered infertile?
Dr. Huang: Thank you for highlighting such an important topic for couples wanting to expand their family. A patient is considered infertile if they've been unable to get pregnant after one year of trying.
WBH: What is the most common cause of infertility?
Dr. Huang: The most common issue is age. Egg quality drops as a woman gets older. The highest number of eggs a woman will have is 6-7 million eggs and that's while she is still in her mother's womb. During reproductive years a woman has 300-500,000 eggs. On average, a woman loses about 1,000 eggs per month.
Men may not experience age-related infertility issues until after 60 years old.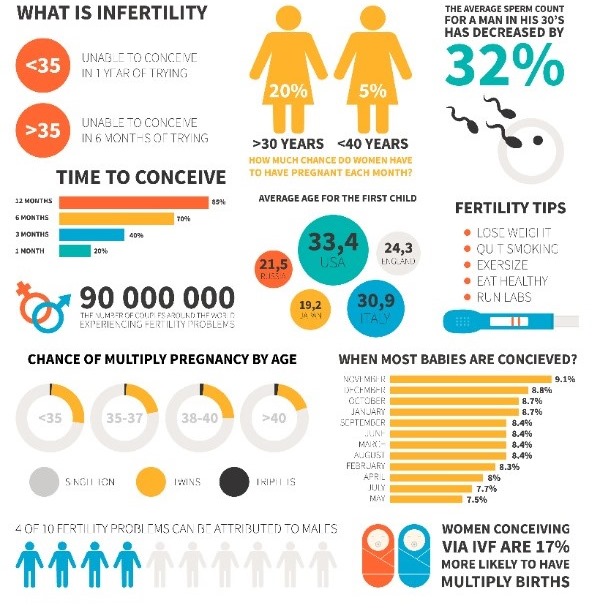 WBH: What infertility issues do males and females experience, respectively?
Dr. Huang: When people have trouble conceiving, there's a 40 percent chance the man is infertile, and a 40 percent chance the woman is. For men infertility can be caused by low sperm count, which can result from childhood trauma, infections, or an undescended testicle. Other factors like concentration, motility, and morphology (shape) of a sperm, chronic illnesses (hypertension, diabetes, and thyroid problems), and smoking can also affect sperm count.
For women infertility can be due to issues like closed fallopian tubes, irregular ovulation, heavy bleeding preventing egg implantation, sexually transmitted diseases, or endometriosis.
Twenty percent of infertility cases are unexplained.
WBH: Can you walk me through your process, working with a couple who is infertile?
Dr. Huang: I'm a big believer in educating my patients. When a patient comes into my office, hopefully as a couple, they can expect to sit down with me to review the common causes of infertility, the woman's physical and period history, — things like age, diseases, and irregular or painful periods — her partner's history, the different tests they 'll need to take, and next steps.
WBH: What are the next steps in terms of treatment?
Dr. Huang: First, it's important to know that IVF (In Vitro Fertilization) isn't the only treatment. There are other simple therapies available that are less invasive and less costly. The type of treatment a patient receives is based on their cause of infertility. Your doctor can discuss these options with you.
WBH: What advice would you give to couples experiencing difficulty getting pregnant?
Dr. Huang: There are four things you should know:
Don't wait! See a doctor if you don't have a 28-day period cycle (irregular period). This isn't meant to scare you, but more for you to be aware that you might not be ovulating properly.
Surgery is rarely the first answer. Your doctor should discuss other simple therapy treatments before talking about surgery.
Infertility is a sensitive and complex issue that should be handled with care and compassion.
Marijuana can affect the sperm and egg quality.
For more information on the benefits your plan covers, read the Guide to Benefits for your specific plan on hmsa.com.
Dr. Christopher Huang is an OB-GYN that specializes in reproductive endocrinology and infertility and Kapiolani Medical Center for Women & Children. Learn more about Dr. Huang on Hawaii Pacific Health's website.